After last year's snowpocalypse that closed roads, trapped cars, and ruined days, the greater Seattle area is bracing itself once more for a week's worth of snow in next week's forecast. Cold air is expected to dip into our area from British Columbia as soon as Monday morning, which sets the stage for some snow in the lower elevations. As the area is not necessarily built for snowfall, only time will tell whether the city of Seattle has learned from the horrors of the past. But the college and city have sent out several advisories on ways to prepare oneself for the uncertain – but cold – future.
For one, students and employees alike should evaluate their situations first when reading weather advisories. Seattle Central sees people from all over the surrounding areas come through its doors each day, so individual neighborhood weather and street conditions may vary wildly.
The district does attempt to make closures unanimous, but specific campuses may be worse off than others. To determine closures and delays, the timing varies by conditions. If the worst hits overnight, decisions will be made by no later than 5 AM. If conditions begin to deteriorate during the day, the decision to close will be made by no later than 3 PM.
Seattle Colleges recommends signing up for Seattle Colleges Rave Alerts and keeping a watchful eye on your student email, as well as reviewing the full emergency procedures for inclement weather closures and delays.
Above all, safety comes first. While it may not turn out to be the second coming of the snowpocalypse, the bitter conditions alone can be hazardous, particularly to aging citizens and those with medical conditions. Community members who may not have a warm enough place to take shelter from the bitter cold are advised to seek out one of the emergency severe weather shelters in the area. The Seattle Police Department has transport vans available to take those who might not be able to travel by themselves. All in all, Seattle Central students and staff should bundle up, be prepared, and look out for each other as we brace for another potential "snowpocalypse."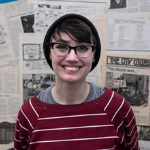 Danny Barber is the Managing Editor of the Seattle Collegian and an English student at Seattle Central college. She enjoys writing creatively, drawing, baking, video games, and going on long-winded random internet research sessions. After Seattle Central, she plans on getting her Master's in English and working on the editorial board of another paper someday.