Are you a new student? Are you looking for some events that are occurring at Seattle Central College? I have a recommendation for you to explore the Teacher's Day celebration, which is held on the 20th of November annually in Vietnam. This is a traditional event in many Asian countries, including Vietnam, held to appreciate educators who are passionate about teaching and helping future generations. Here at Seattle Central, the Vietnamese Student Association club has been reconstituting the event for a while.
But how did it begin?  What is its message? The Federation Internationale Syndicale de L'Enseignement (FISE), an international organization of educators based in France, was founded in 1946, and issued a 15-chapter "Charter of Teachers" with the purpose of protecting the rights educators, and proposing the responsibility of teachers and their position within the system of education. Since the Vietnamese Education Federation is a member of FISE, in 1958 it decided to celebrate Teacher's Day on the 20th of November annually, naming it "International Charter of Teachers' Day." Initially, the event was only held in the Northern part of Vietnam, however, after a few years, it started spreading to the rest of the country and officially became a traditional day of education in Vietnam.
How is it celebrated in Vietnam? I am lucky enough to have been born and raised in Vietnam. I lived the first 18 years of my life in Ho Chi Minh city before studying in Seattle, so I can proudly say I know the perspectives and traditional customs of Vietnam pretty well. The photo at the beginning of the article is from my high school's Teacher's Day celebration in 2016. On Teacher's Day, Ao Dai, our traditional garment, are wrapped and presented as gifts for beloved educators, as are red roses. It is not important how big or valuable the gifts are, though, as even a hug is a very meaningful present. During the celebration, many performances are held. This includes dancing, singing or even a short play embracing the day's spirit, all of which are generally planned several months in advance just for this special day. The day belongs to every single teacher who puts their heart and soul into every word they speak and every second they spend teaching. It is also a perfect occasion for former students who wish to visit their beloved teachers after many years. Many Western people may find gathering after graduation astonishing, but with Vietnamese people, it is an essential part of our lives. It helps to remind us what we have been through and is an encouragement for the future. You can see how this date plays a significant role in Vietnam!
At Seattle Central, you can be part of the celebration!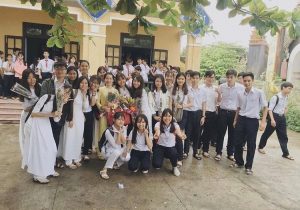 On November 20th last year, the Vietnamese Student Association of Seattle Central had a successful celebration in the large BE 1110 meeting room. Even days after, many people were still talking about the fascinating dance performance by the Step-Up club and the various community games. Not only did VSA show photos and videos of many students and their favorite professors in our school, but they also encouraged students to make small speeches in order to express why those professors were their favorite.
This young Vietnamese cohort dedicated themselves to running this traditional day regardless of how far away from home they were, as well as to show the world their pride. This year, they are planning on doing an Ao Dai fashion show, and obviously they will also have some delicious Vietnamese dishes like spring rolls, banh mi and Vietnamese street food. In case you missed their show last year, you definitely want to seek it out on Nov 20th this year in BE 1110.
This would be a perfect opportunity for you to get in touch with the diversity of our school. You can even join in by preparing some small gift for your favorite professors in Seattle Central College. To our president, our professors, and other school employees, I wish you good health and a successful life. You are doing really great jobs in creating this educational environment that allows us to challenge and explore ourselves.