On January 30th, the WiSE Club (Women in Science and Engineering) held Seattle Central College's "Engineering Mentor Night", co-sponsored by Seattle Central College and the Puget Sound Engineering Council, in the Atrium from 6-8 P.M. The event was an opportunity for students to explore the engineering field and learn more about their specific field, focusing specifically on students that are women.
An hour before the event, about twenty volunteers started to sort all the tables and chairs into a squared formation. On each table, volunteers placed black tablecloths on each desk, organizing specific fields for each mentor. There was an open space for students to make their way through all the tables. Moving closer, one could observe volunteers placing pizza boxes and refreshments on extra tables around the squared-placed tables. In front of the opening space were circular tables for students to converse with each other while eating pizza.
People gathered in the atrium to exchange handshakes and meet some of the event sponsors, who by now finished organizing in front of the podium on the east side of the cafeteria. Among the sponsors were WiSE, TRiO, SACNAS, MESA, and the faculty advisors, who were ambassadors of information for the event. "Working with academia and working with an institution has been a little bit complicated, because there were lots of moving factors at play and it takes more time," said the president of the WiSE club, Rebecca Barbanell.
The event suddenly became a crowd of students lined up at two-registration tables; some STEM, some non-STEM, and some students from outside of campus. After the mentors wrote their name tags, they made their way to their marked tables and set up their work materials. Members from different clubs could be seen socializing with one another and walking about the mentor tables. Both Barbanell and Benito Elmer, vice-president of SACNAS, were very transparent and informative regarding the roles of participants of the event. "Organize us first, in order to better organize the people who don't have directory in hand. And with that we can run an event smoothly," commented Elmer.
At 6:15 P.M, the event started with what was called the Atrium Panel. People settled in at the tables in front of the podium as Rebecca Barbanell stood behind the lectern. Barbanell thanked all attendees, and sponsors from different clubs and the faculty for their contributions in making the event happen.
As Barbanell finished her statement the event highlighted several speakers: Rachel Brooks, an Environmental Engineer and Dam Safety Engineer from Seattle City Lights, Jessica Coleman, an Electrical Engineer from Seattle City Lights, and Henry Wheaton, a Mechanical Engineer from Boeing. All were alumni Seattle Central College students who showcased their personal paths from being a college student to a professional engineer.
After the panel, STEM students made their way from one table to another, networking with their preferred engineering field mentors. The evening continued with the similar atmosphere as students, including the non-STEM, listened to mentors in big groups as they spoke.
As Barbanell prepared to close the evening, club members and sponsors shook hands with some of the mentors and listened to the closing. Rebecca Barbanell expressed thanks to all the attendees, including the speakers and mentors once more, until everyone made their way home from the event.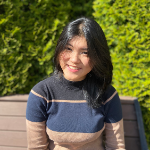 A young STEM student aspired for Mechanical Engineering and a staff writer at the Collegian. She's interested in design, machines, and the advancement of technology. Her dream is to use her design and technology skills to achieve a significant role in a dominantly male field. She enjoys playing video games, cooking, and mostly spending her time studying.