As college students, it's common to explore and pursue different artistic outlets through poetry, dance, theater, music, or even cooking. These have always been options for students attending Seattle Central College in the past, but the Apparel Design and Development program has been around as long as the college itself. 
The program traces its roots to before Seattle Central was officially opened. The campus was originally called Broadway Edison High School, and students there were trained to sew professionally. After World War II, the school transformed into the Edison Technical School, and in 1966 the building was converted into Seattle Central College.
The program seeks to prepare students by helping them develop the necessary skills to launch their careers. Tanya Knannlein, an instructor and lead program coordinator says the program is hands-on and gives students access to sewing machines lined up in a massive classroom dedicated to their creative visions. 
"Students develop their patterns, they sew up the garments, and they create all of the paperwork necessary to have it manufactured," Knannlein said. "The program has really evolved with the apparel industry and now we train students for jobs like pattern making, design, technical design, and styling."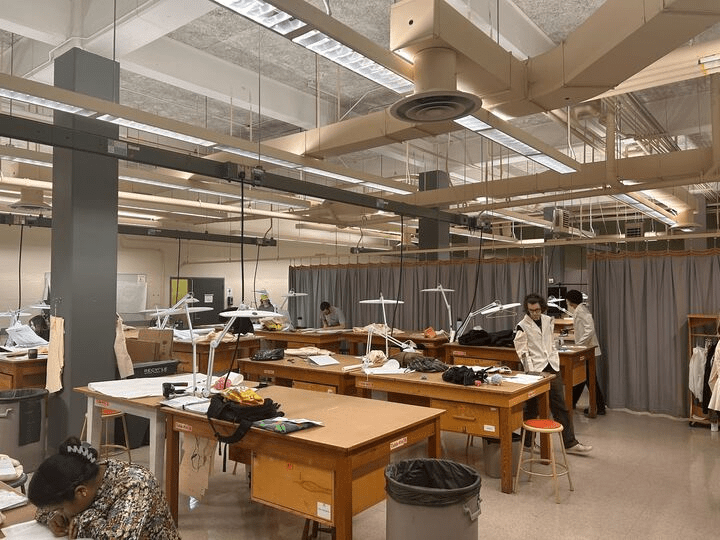 The process allows students to pursue their ideas and have them manufactured.
"An idea might start with a sketch, then a student would develop a pattern, figure out what size they're going to make and what fits the clothing. Then they sew it up, and in that sewing process they record how to sew it," Knannlein said. "Then in the second year, students learn how to make a size run. You might have a sample size, but you need to create that clothing for all sizes."
Knannlein has noticed a new emphasis on inclusivity in both the program and in the fashion industry in general — specifically through gender-neutral and plus-size clothing. She also noticed students designing their clothing out of more environmentally friendly materials.
The program has attracted a lot of talented fashion designers over the years. At the age of 19, a current student, Matthew Nava, moved to Seattle from Florida. He began working at Crossroads Trading Co. on Broadway when a customer overheard him talking about his interest in fashion design and referred him to the program. Nava says his favorite part of designing clothes is taking an idea from his head and turning it into a three-dimensional item.
"Out here I've grown to see how to layer outfits better." He lists different workwear brands such as Carhartt and Dickies which he describes as "Seattle staples for the most part".
Nava takes inspiration from eras of fashion such as the 1970s and early 2000s, and hopes to gain the general knowledge and experience needed to apply for any job after college.
"After this, I plan on going into costume design to learn how to make more one-of-a-kind dresses so I can pursue a career in making couture," he said.
Tristian Goecke also uses fashion as a creative outlet. Goecke moved to Seattle from Idaho two years ago and joined the apparel design program because of his love for fashion.
"I have always had an interest in fashion since I was little, especially since I looked up to my oldest brother, who was always really fashionable and into art," said Goeke. "Fashion was always the best outlet for me, especially because my uncle would always give us clothes. I would be excited when there would be new clothes for me to try on."
Goecke's favorite part of the design process is similar to Nava's, coming up with an idea and making it a reality. Some pieces that Goecke enjoys designing are jackets, high-waisted flare pants, and button-ups.
Goecke takes inspiration from designers like Kiko Kostadinov, artists like Tyler The Creator, and the people he sees on the streets of Seattle. He hopes to one day start his brand — it has been a goal of his since high school.
With goals to design clothing and send it to manufacturers, Goecke and other students at Seattle Central grow alongside the industry, and the program itself.
Angelo Harper is a first year student at Seattle Central College perusing his AA degree for Journalism. Born in Seattle and raised in Shoreline, He wrote for his high school newspaper for two years before graduating and on the side he likes to write rhymes and perform under the stage name "Lil Fax Machine" where he has collaborated with local artists from the Seattle area on several tracks and a few music videos.