It was one of the first sunny days in Seattle this year. I went for a short bike ride around Occidental Park in Pioneer Square to brainstorm story ideas to write. I'd drawn circles around the park, but nothing seemed to come to me, especially when my head was occupied with all the other noises from my life, like rats chattering in the alleyways of my mind. For a moment, I was overwhelmed and felt the need to stop. But just like a pied piper, a street performer charmed the chattering away. I was detached from the murkiness and brought back into the present. 
I spend so much time thinking about what I should cover in the Seattle music scene, but admittedly, I never really thought of writing about the street performers of Seattle, not until that moment at the park. It felt like a disservice not to write something dedicated to them.
This article is an ode to the Seattle street performers. 
This article is dedicated to the multi-instrumentalist and vocalist Izzy and her accompanists – with an instrument that I'm not even sure what to call – making waiting in line for a cheap burger feel like an open banquet.
This article is an acknowledgement to the spectacular talent that is Pasqual Santos, a violinist since 1978, who fills the empty spaces of the farmers market. Gluing together the chaotic, and weaving a thread through the community that somehow sews both light and serenity through one's ears.
This article goes to the guitarist at the Pioneer Square park, who reminded me that there is life outside the chambers of my mind; that sometimes there is great value to being present and still. 
And lastly, this is a piece to show gratitude to all of the street performers who don't beg for an audience but deserve all the credit; they make what was deemed a dying city into a breathing one. This one is for those who don't need a stage, but simply a space where they can place their empty hats and hope that perhaps the dollar that you spare them will help them make it through the day.
To the Seattle street performers. Thank you.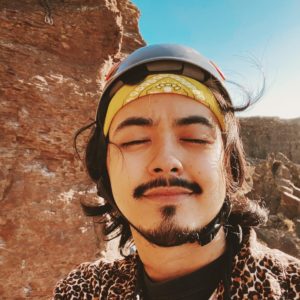 Juan Miguel Jocom, or Juanita Banana as his friends call him, is an Editorial Board member at the Seattle Collegian, where he focuses on writing about the experience of immigrant students at Seattle Central College. A documentarian, he hopes to create videos that will showcase the chaos and glory of humans.
As a Seattle local, he's an aspiring granola boy, who enjoys rock climbing and jumping off cliffs. His recent documentary, Welcome to the Neighborhood, was an official selected entry for the 2021 SCOOP film fest.