Faced with the cold grasp of isolation during COVID-19's infancy, Eroyn Franklin, a graphic design student at Seattle Central, turned to ceramics to reconnect with her loved ones. With devoted hands, she birthed phantasmagorical effigies of people she missed during the pandemic. "I'm kind of using these ceramic pieces to give energy to my friends and to send messages," said Franklin.
Franklin's friend, Lindsey, is a frontline worker in the healthcare industry. For her ceramic effigy, Eroyn enveloped the exterior in yellow and blue spikes. "I wanted to give her armor to kind of get through the day and to help fight off the virus," said Franklin, "but also to protect her from people who she felt were putting up walls and distancing [themselves] from her because of her job."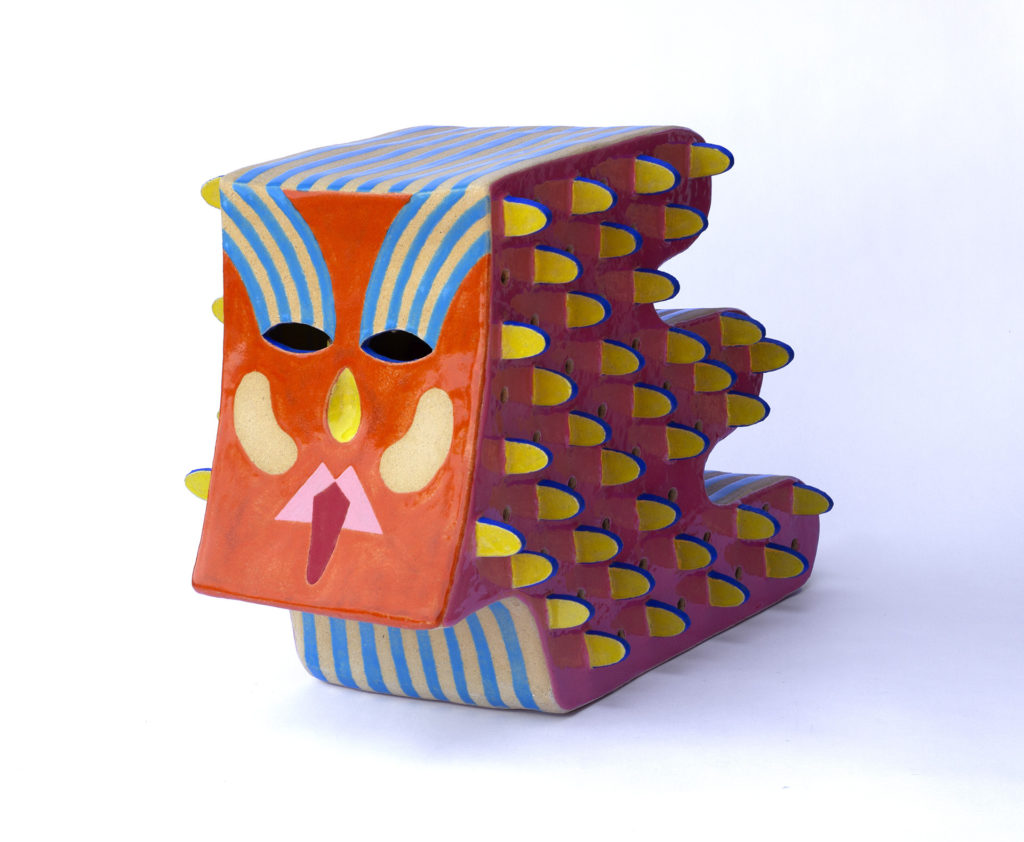 The front and inside view of Lindsey's bust.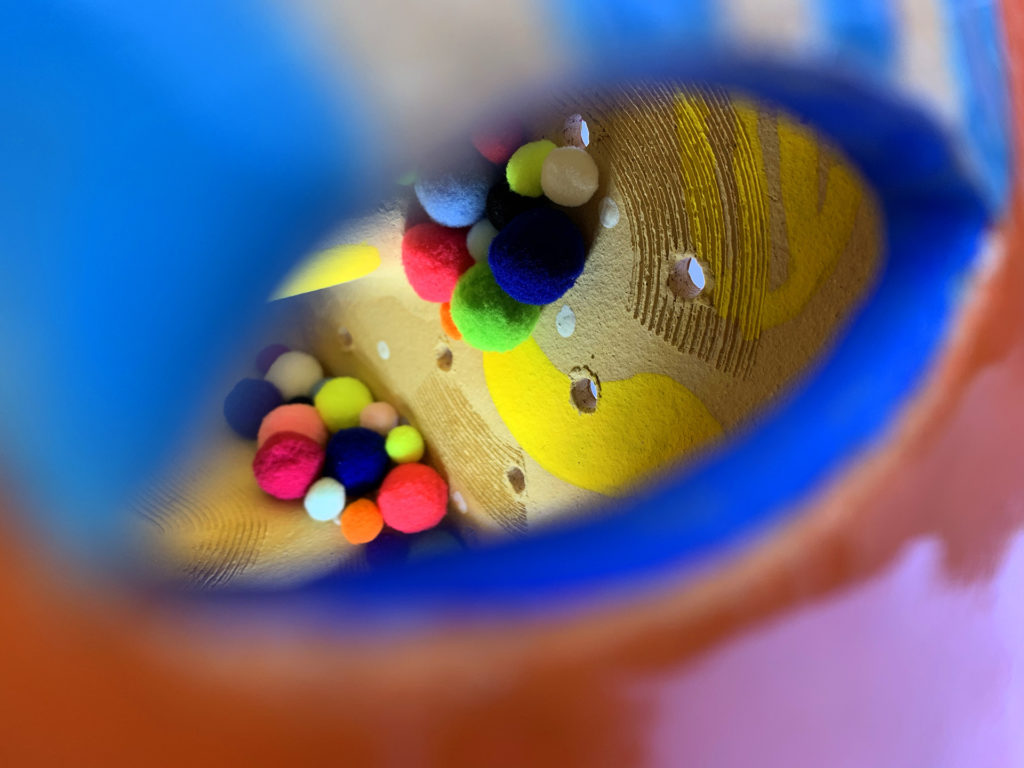 The eyes of Lindsey's bust reveal a colorful internal landscape of pompoms clustered on yellow clay; an allegorical diorama of what Franklin wished for her friend. "On the inside, I wanted to give her a party because she is the life of every party and she's so fun," said Franklin.
For Mita, Franklin was inspired by the Salmon Ladder. "I was thinking about how with a Salmon Ladder the salmon is trying to find the thing that it needs … trying to return to its home and trying to find a place to belong," said Franklin. On the opposite side of the ladder, Franklin formed sharp, jagged edges to represent the pixelated difficulty of online communication.
The front and inside view of Mita's bust.
"On the interior of [Mita's bust], I wanted to give her a space that felt calming and soothing," said Franklin. "She is really interested in marine biology so I created this cut vellum reef so that she could have this warm place to be comforted and soothed at this time."
For many years Franklin was a comic book artist. She and her friend, Kelly, founded a successful non-profit together, Short Run Comics and Art Festival. Franklin said of her friend, "We rage together. We get angry and we get heated. When we're talking about politics we sweat and we spit and we get really into it." Kelly's bust features rows of "accidental nipples" spiking their way across the shoulders, embodying the "anger we were feeling around the political world."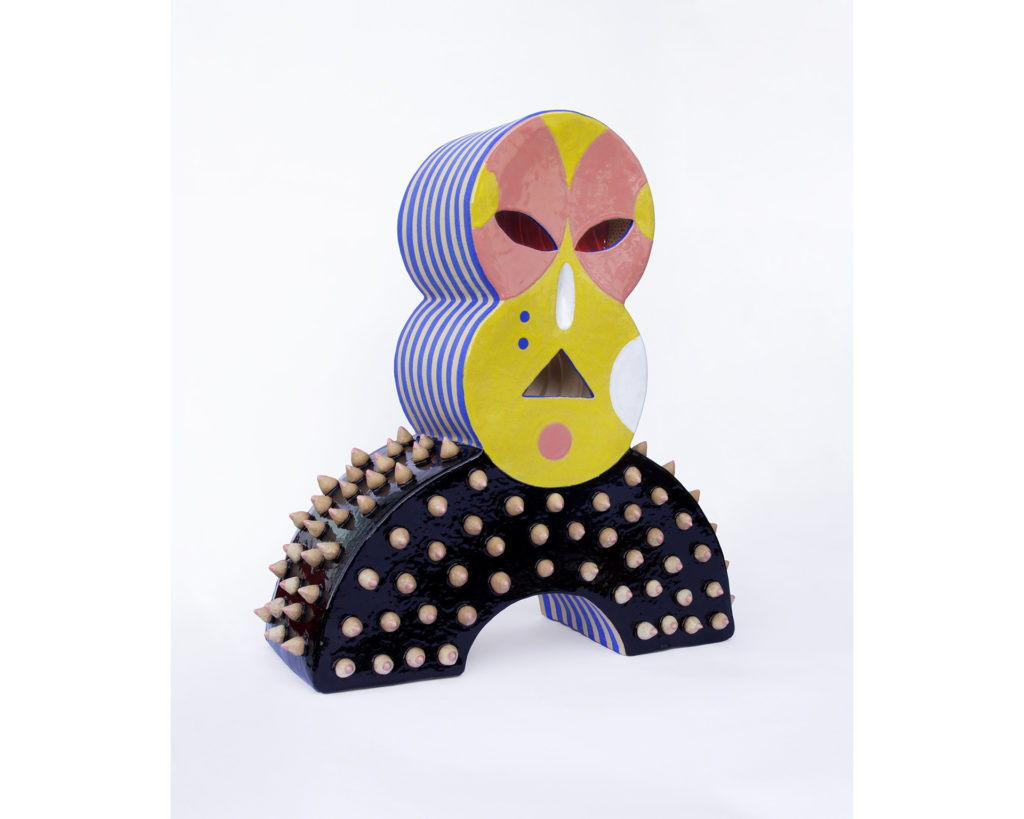 The front and inside view of Kelly's bust.
Reverberating red staircases and stampedes of evenly clustered dots envelope the inside of Kelly's diorama. "I wanted to create something that was kind of dizzy from the experience of all that anger, but that would [also] be kind of soothing … with each dot that I'm putting down, it's kind of like a little rumination, a little prayer bead where I'm thinking about her and passing her good energy."
What is your relationship with some of your other art? Is it always so cathartic?
Franklin: It always varies, for sure, but catharsis is definitely something that draws me to art. I think ceramics has been the medium that I pour my feelings into more than any other. However, when I first started making comics I was doing them on cut paper. That is also a very cathartic process: you're carving away, you're removing things, you're slicing into it, and editing. The process of both of these mediums is repetitive and soothing.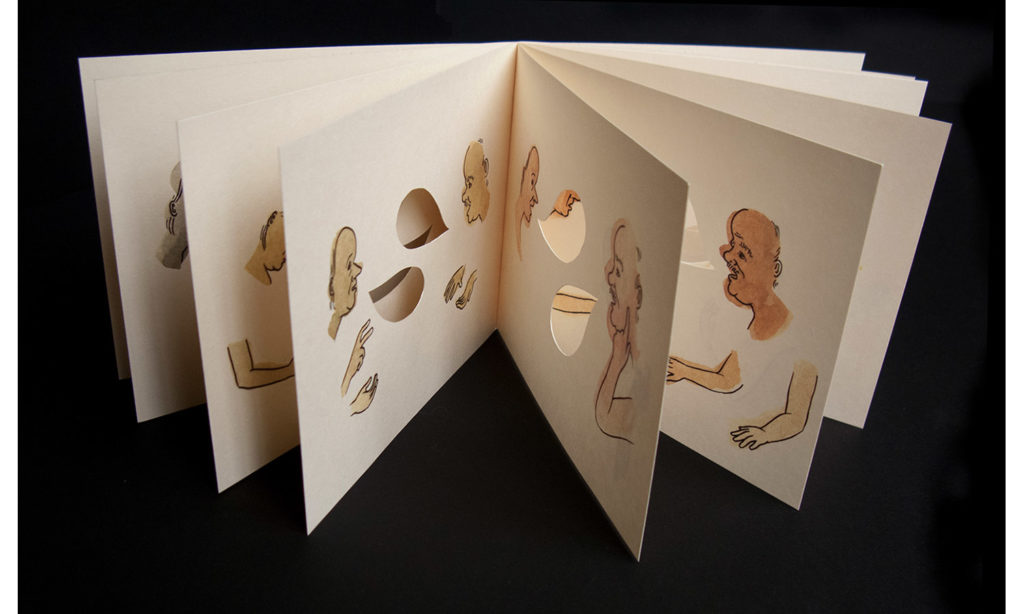 The creative process for comics [involves] a lot of being hunched over the desk, drawing, and furiously editing your stories. There's a lot of pain and misery. That's simplifying it and that's not true for everyone, but I would say that is kind of the archetype we see of comics people.
It's true because you're all in your head. You've created this entire world that you're living in, and you're obsessed with it, and it takes so much time, too. You have to write the whole fucking story and then you have to pencil it and ink it. There are so many different steps that have to happen. In the end, you've spent five years on a book, and then maybe no one buys it. It just felt like a lot more. Like there was a tightness with it. It felt like there was a lot of pressure to make this perfect thing.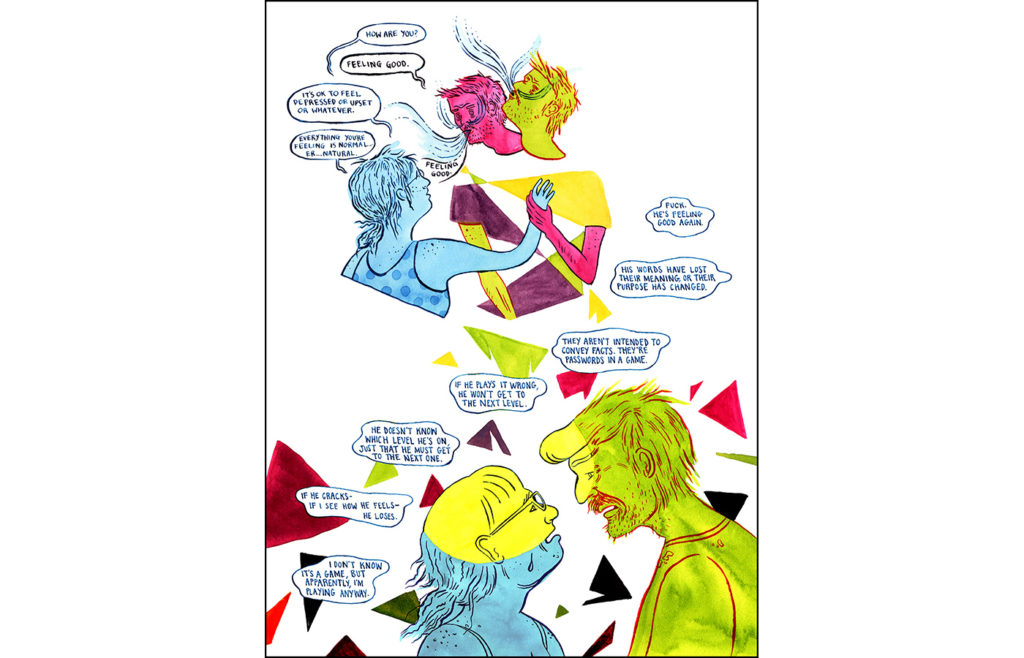 When I went into ceramics I had no idea what I was doing. It's not like I'd been with comics … I'd been doing it for a decade at that point. I felt familiar with it. I knew the steps and I knew everything. Then with ceramics, they're like here's a bunch of clay. Maybe make anything you want out of it. And I was like, I don't know what I want. It was really freeing to just let go and not be good at it.
Where do you pull your inspiration from?
Franklin: From all over, really. I've done a lot of work on mental health that is both personal and more about mental health in general. I've written graphic novels about divorce and immigration detention centers. I've released scenes that are drawings of weird creatures. I feel like my brain flows in many directions. I find something I like and I hold on to it for a little while — investigate it, look at it, and try to make some work out of it. Inspiration doesn't come from any one particular source for me and it also doesn't get expressed in one way.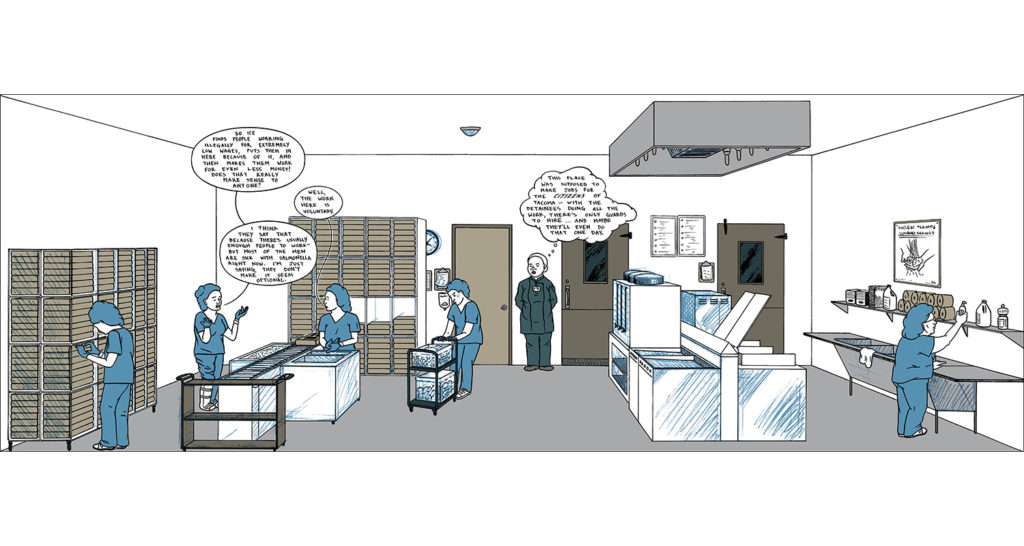 This is something that comes from my sister: that the idea should dictate the medium and not the other way around. If I have an idea that requires me to paint a giant wall and put ceramics on it, that's what I'm going to do. Or if I have an idea that has to be very small, and has to be very intimate, I'm going to make a tiny book. I will learn different skills in order to execute the idea.
Do you have any people who influenced your style?
Franklin: So many people. My sister has always been a huge influence on me, and I get a lot of influence from my community, for sure. If I'm talking to a friend who's working on a book I'll get to see their process the whole time, and that's so influential to be a part of the conversations, and be there as they are progressing through a piece like that. Seeing someone's process is a way to really connect with them, be inspired by them, and to hear what they're thinking about.
/////
Franklin's graphic design work: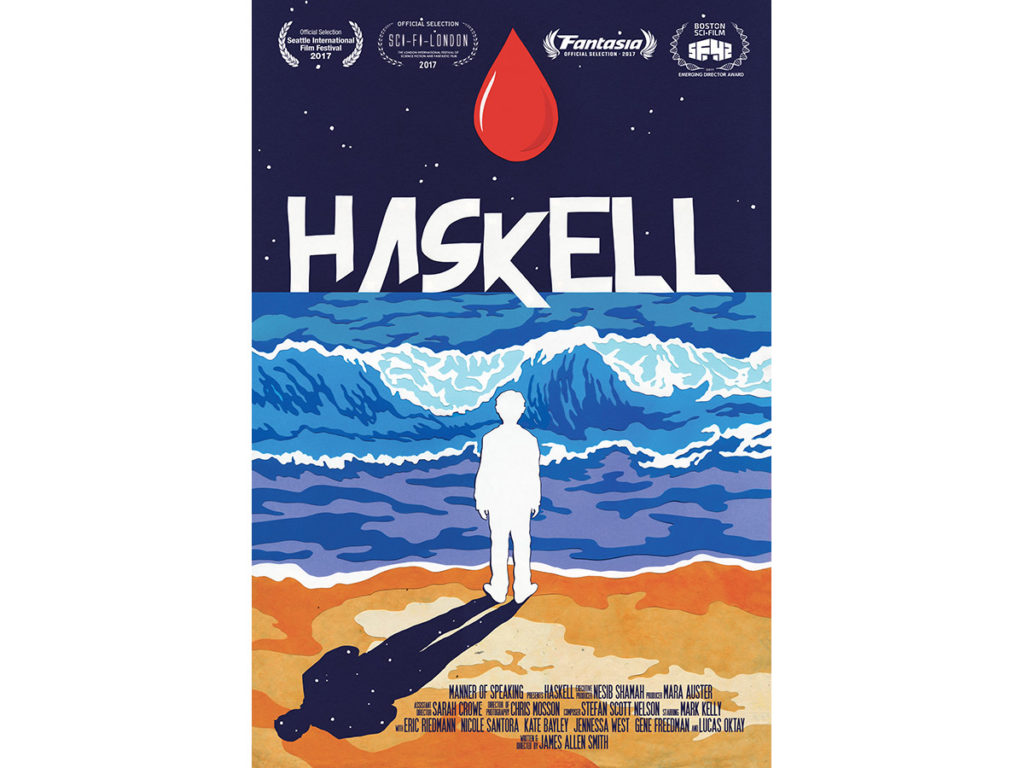 If you would like to see more of Franklin's work, visit her website at www.eroynfranklin.com.
Or check out her Instagram @eroynfranklin.
Franklin adds to her repertoire in the Graphic Design program at Seattle Central Creative Academy where she is currently in her last year.
Franklin has a cat named Feelings.
ARTSPACE is a weekly column highlighting local artists from Seattle Central. If you would like to be featured in this column, or if you would like to nominate someone, please email Harlow at harlow.poffenberger@seattlecollegian.com
Harlow Poffenberger is a Visual Media student at Seattle Central College where she works as an editor at The Seattle Collegian and curates the weekly ART SPACE column. Harlow also likes thru-hiking, traveling, and other adventurous pursuits, and once lived in a house with a bear.