Horror movies have never been the same after Ari Aster, A24's heavy hitter, dropped his first feature film, "Hereditary" (2018). I remember walking into the theater back in 2018 without any idea what I was getting into. It completely changed how I viewed horror movies, how they can be emotionally riveting and gut wrenching at the same time. Of course, there were horror movies before Aster's "Hereditary" that have been successful, but in my opinion, they don't quite match the complexity and thought that went into his craft. And who remembers the Halloween of 2019, when you were guaranteed to see someone dressed as the Mayflower queen after "Midsommar" took the public by storm. There's no denying that Aster keeps delivering crowd pleasers, but I'm afraid that his third feature film, "Beau is Afraid," may not be for everyone.
Directed, written, and produced by Aster, "Beau is Afraid " is centered around a paranoia-ridden middle-aged protagonist, Beau Wassermann (Joaquin Phoenix), who has to go through an odyssey after missing a flight to see his mother, Mona Wassermann (Pati LuPone). Touching on themes of generational trauma, mental health, and capitalism, "Beau is Afraid" can be a lot, especially with its very abstract way of storytelling. This made it very difficult for me to connect to the story to the message it was trying to deliver.
With the film always cranked up to the highest dial, it felt like a very long version of the third act of "Mother!" (2016). Even in the valleys of the narrative, the perspective of someone with anxiety is perfectly shown, not told. However, it took time for me to understand and enjoy the film, because I first viewed it as a straightforward narrative.
Reality is so loose in some points that you'll end up questioning what is real and what is exaggerated by Beau's anxiety. This makes the movie a bit confusing at times, but also effective when you realize that it's just absurd; that's not to say Aster was being less intentional with this story, however.
Lupone's performance is no doubt a standout of the film that made me wish that she had more screen time. After being such a one dimensional character, Phoenix somehow manages to give Beau's persona justice.
After finishing the movie, a friend and I walked out of the theater looking at each other saying, "What did we just watch?" But three days after watching the film, we both agreed how we misunderstood the movie and actually can't stop thinking about it. It's almost as if the movie is making you travel through a desert, hot and thirsty, just to reward you with a cold glass of water right at the third act. The glass of water is rewarding, but I wouldn't have crossed a desert for it.

I'm still not sure whether this is one of Aster's better films or one of the worst. On one hand, you've never seen anything like it – trust me on this. On the other hand, if you're not a big fan of  Kafkaesque storytelling, you're not going to want to sit through the three hour run time. But one thing we can guarantee is that Aster's "Beau is Afraid"  is only more proof that he is one of a kind director that will keep your mind busy, night or day, after watching his films. If you want to relive the mundane horrors of the already anxiety-filled life most of us endure, the movie is still screening in theaters.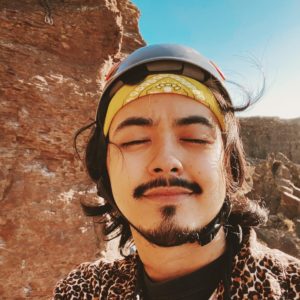 Juan Miguel Jocom, or Juanita Banana as his friends call him, is an Editorial Board member at the Seattle Collegian, where he focuses on writing about the experience of immigrant students at Seattle Central College. A documentarian, he hopes to create videos that will showcase the chaos and glory of humans.
As a Seattle local, he's an aspiring granola boy, who enjoys rock climbing and jumping off cliffs. His recent documentary, Welcome to the Neighborhood, was an official selected entry for the 2021 SCOOP film fest.