From the eerily smooth traffic to the glares one gets from a cough or sneeze instead of a "bless you," it's becoming clearer just how heavily the COVID-19 outbreak looms over the city of Seattle. As of this writing, Governor Jay Inslee is calling for a ban on events of 250 people or more, a restriction that applies to cultural events, sporting events, concerts and more. Seattle Public Schools will be closed starting Thursday, March 12 for a minimum of 14 days. The Sounders FC will postpone their game against FC Dallas in compliance with Governor Inslee's decision, along with Seattle Mariners baseball and XFL Seattle Dragons games. Restaurants are temporarily closing or reducing hours, and people are congratulating their friends with an elbow bump instead of a high-five. Here are just a handful of the closures and reschedules one can expect as a result of the virus.
1. Emerald City Comicon: postponed. Original dates were Thursday, March 12 through Sunday, March 15. New dates TBA as of this writing. An event reserved for geeks of all walks of life and mediums, featuring a variety of panels, shops, events and showings. Currently, there is no specific new date for the event, but there are plans to move it to summer of 2020. $30-$45
2. An Evening with Ciscoe: postponed. Original date was Tuesday, March 10. New date is Tuesday, March 31. The event plans to feature Seattle's favorite gardener, Ciscoe, known for his eclectic and cheerful personality and catchphrase of "Ooh la la!" The event is scheduled for 6 pm at the Bellevue Botanical Garden. $15
3. 35th Seattle Improvised Music Festival: postponed. Original dates were Wednesday, March 11 through Sunday, March 15. New dates TBA as of writing. A truly improvised festival where, in its dedication to "the music of the moment," local and visiting artists are brought together in one big jam session without a plan. The staff has stated they aim for "sometime in September" for the reschedule, but as of writing there is no concrete plan.
4. Rat City Roller Derby Season 16 Home Team Bout 2: postponed. Original date was Saturday, March 14. New date TBA as of writing. Local roller derby teams battle it out at the Edmonds Community College. As of writing, there were no notes from the staff or any projected range for the new dates. $10 for children and $15 for adults, single game. $20 for adults and $15 for children, double header. Children under 5 free.
5. Seattle Science Slam #24: postponed. Original date was Wednesday, March 11. New date is Wednesday, April 8, 8-9pm. Three scientists get together and pitch their research projects in short talks that are easy to follow. The audience's applause decides who wins. Free.
6. Seattle Public Library events through March: cancelled. A word from the chief librarian: "Due to current guidance from public health officials and in the interest of protecting the high-risk populations we serve and the high-risk populations who volunteer for us, the Library is canceling all programs, events, meeting room bookings, outreach activities and Bookmobile services during the month of March. At this time, all physical Library locations continue to operate with standard hours."
7. That's Debatable: Washington can decarbonize in a decade: cancelled. KUOW's series on current issues and public topics, addressed in a "a moderated lively pro/con debate-style format." KUOW and a panel of specialists square off over the topic of Washington's carbon footprint during this particular event.
8. Volunteer Park Conservatory events through March: cancelled. A note from the conservatory: "All Friends of the Conservatory events and programming will be postponed for the month of March, to be rescheduled on a later date this year. This decision weighed heavily on the FOC Board and Staff, as we know many of you were looking forward to attending these events. In the interest of public health, we feel it is important to be diligent about discouraging public gatherings to reduce the potential of exposure to coronavirus within our community."
9. Seattle Art Museum events through March: cancelled. A note from SAM's blog: "We want to share the proactive steps we are taking to safeguard the wellbeing of our staff, volunteers, and visitors. We have implemented extra precautionary measures to disinfect our spaces throughout the day. Public areas are already cleaned daily, but we are increasing the cleaning frequency of high-touch and high-traffic areas such as entryways, handrails, and elevators, and are providing additional hand sanitizers at all locations. We have posted prevention tips and reminders across all three of our locations. We encourage you to make use of these resources. We have also shut down touchscreens and children's play areas throughout our locations for the month of March. In addition, we have decided to cancel or postpone all museum events through March 31, 2020 in line with public health officials' recommendations on social distancing. Please see more information on event cancelations below. At this time, our three locations remain open during regular business hours."
10. Mercer Island Half Marathon: cancelled. A half marathon at various locations to benefit colon cancer prevention for international Rotary endorsed charities. A note from the organizers: "The mercer island half marathon will not take place on Sunday, March 22nd. The City of Mercer Island has issued a proclamation of emergency allowing the City to act quickly to protect against the spread of COVID-19 (coronavirus). The City of Mercer Island is following Public Health – Seattle and King County's latest guidance to avoid large public gatherings and has begun to cancel and/or reschedule events."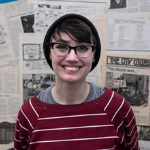 Danny Barber is the Managing Editor of the Seattle Collegian and an English student at Seattle Central college. She enjoys writing creatively, drawing, baking, video games, and going on long-winded random internet research sessions. After Seattle Central, she plans on getting her Master's in English and working on the editorial board of another paper someday.