April is a slow "hello" to spring in the forms of daffodils, 7 p.m. sunshine, and only needing a light jacket. If you're a student, something may be stopping you from embracing this time of new beginnings. That something is post-Winter Quarter burnout. Winter Quarter is hard enough, but its finale is brutal. All that's left behind is a shell of who you were before, but if you get a medialuna con dulce de leche at Boca Argentine Bakery and Pizzeria, all can be fixed.
My mental health and sanity were visions of the past as I swung open the door to the trendy semi-new Argentinian bakery and cafe. I don't know about you guys, but sometimes when things are going downhill, my anxiety levels feel like that of a person being hunted for sport. Boca's beautiful pastries put calm into my heart that I had not felt since maybe November. Medialuna con dulce de leche, biscotti, churros, and much more, all golden brown, glistening with butter, powdered sugar, or both. At that moment, I understood the cries of the anti-sugar party. I saw sugar as my own personal heroin that I needed immediately.
The inside of the restaurant is cute. A carefree, bohemian feeling, with fútbol always on. It was a weird mix of fancy and casual. I wish it leaned more into its casual nature because it did feel squished together. The line setup could be more convenient as well. Those trying to squeeze by somehow always managed to touch my butt with theirs. I'm no Big Booty Judy – I wish – so why is this happening? I need answers.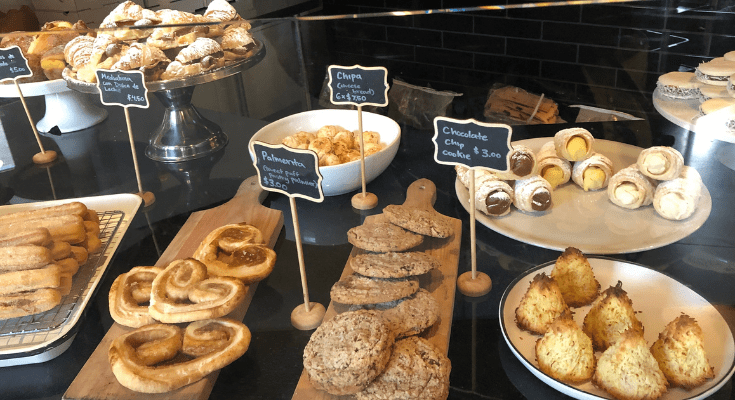 I ordered my medialuna con dulce de leche with hot cocoa. Awaiting my sweet treats, I had no clue where to stand or sit. After I ordered them to-go, my croissant was delivered on a plate, and they gave me a bag to put it in. I got crumbs all over the counter. Embarrassing! Why not just put it in the bag in the first place? No judgment, I'm just curious. I was filling this cafe with more awkward energy than an eighth grade dance. I decided to wait by the espresso machine as a safe bet. I kept making eye contact with the barista. I didn't want them to think I was staring them down, but I failed. Please just sit down, don't be like me.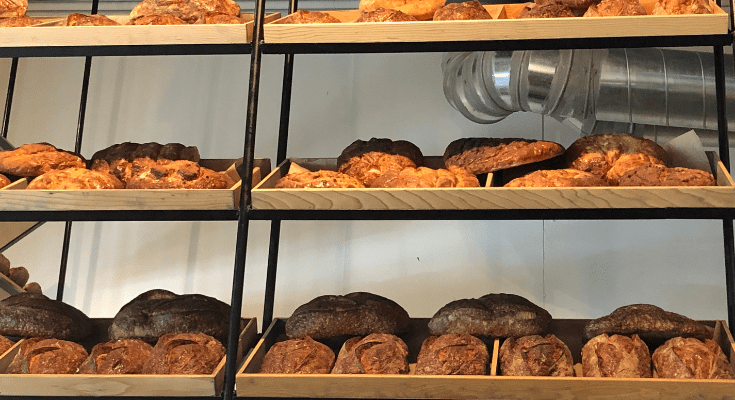 Now to my medialuna con dulce de leche – I love her so much. Medialuna means "half moon" in Spanish, and it's true. She's my moon, my stars, my everything. Like a croissant, its crust is light, flakey, and delicious. The harmony of a crunchy outside and a soft inside is heaven on earth. Inside, it holds the essence of love and comfort, otherwise known as dulce de leche. Its thick and silky caramel texture melts on your tongue with each bite. So out of this world.
 A smooth and playful bossa nova mix is played at the right volume, soothing my nerves. The music puts me in a trance-like spirit, especially when working on essays or articles for a particular student publication. Whatever's in this mix, it's stuffed full of creative fuel. An extended playlist is needed, though, as they're guilty of replaying songs. Not a good look!
After my experience at Boca, here are some tips for your trip. Try to go in the late afternoon. In the morning, the interior gets cramped. There's always an abundance of tables, so your study session can be solo or two-person here; they're also a substantial size which is a welcomed Capitol Hill rarity. For wifi, you have to ask for the password, so make sure you do that when you order!
At the end of the day, I will always ride for Boca Argentine Bakery and Pizzeria. I'm not a fan of their setup, and I might not have tried everything on the menu, but that goddamn medialuna has me in a chokehold, and I don't want it to ever let me go. Stop by for a little self-date or use it as a spring study spot to build back what Winter Quarter took away from you. Good luck.
Meet Haylee, a writer with a passion for the unique and the strange. When she's not writing for The Collegian, you can find her binge-watching Real Housewives or getting lost in the world of plane documentaries. When she's not in front of a screen, she's either tide-pooling or sipping on an oat milk latte, both of which provide her with a sense of peace and calm as a chihuahua dog mom. With a unique perspective and an eye for detail, Haylee uses journalism as a way to understand the world and the people that make it special.