On Friday June 12 the Capitol Hill Trader Joe's #130 on Madison St. closed its doors early. That afternoon, a sign posted on the store's front door stated that the store was closed "indefinitely". According to an anonymous group of the store's employees, this was a direct result of the employees' request to take time off to participate in the Black Lives Matter protest march, held on the same day.
According to employees of the store, on June 11 dozens of them had requested time off to participate in the BLM protest march. Store managers decided that, due to the overwhelming number of employees requesting this time off, they would simply close the store early so as to avoid staffing and security issues. Store managers had reportedly promised all employees that this time off would be an excused absence, and there would be no disciplinary action for attending the protest march. However, the employees claim that a representative from corporate called the store the next morning to inquire about the reasoning behind the early store closure and, apparently unsatisfied with the response, made the decision to close the store indefinitely, effective immediately.
The anonymous group of Store #130 employees claimed that the timing of this store closure was no coincidence. They believe that the abrupt shutdown was a direct response to the employees' organizing efforts.
According to a Twitter page created by the group, "TJs corporate has aggressively squashed worker organizing for years and has a long record of retaliation… While Trader Joe's has publicly voiced support for "Black crew members and customers", the company has done nothing to tangibly support the movement for Black lives, and they have penalized employees for supporting the movement."
"We, a group of Store #130 workers who wish to remain anonymous, believe it's no coincidence that the store was abruptly closed on the day that dozens of us took action in support of the movement for Black lives", the statement goes on to say. "We know that the company will try to avoid the appearance of being antagonistic to the movement."
The page also warned that the employees expected TJs corporate to cite "smokescreen" topics such as "personnel issues" and "safety concerns" as the reasons for the indefinite store closure.
The employee group has begun a signature petition campaign on social media to #SaveStore130. The petition states that "The Capitol Hill Trader Joe's location (Store 130) should reopen immediately and all crew members should have their jobs restored". The group's campaign has received an outpouring of support and solidarity. At the time of reporting, the petition had already garnered well over 22,000 signatures (their goal is 25,000) and hundreds of shares and comments.
Employees also posted signs on the front door and parking garage appealing to patrons to "call to save this store".
On the afternoon of Monday. June 15 a representative from TJs corporate, who signed only as "Jon", shared the following statement to social media:
"On Friday, June 12th, we closed our Capitol Hill location on 1700 Madison Street early because we did not have enough Crew Members available to run the store. During this temporary closure, we are taking the time to execute a remodel plan to address safety and security concerns that have developed over the last year. We will reopen the store as soon as these construction projects are completed, and it is our hope that we can welcome back our customers in the next week or two. As is always the case during an unexpected store closure, we are continuing to pay our Crew Members for their scheduled shits during this time. Additionally, as is also our practice, perishable product that would expire prior to re-opening will be donated to our neighborhood food banks. We appreciate that this is an inconvenience and value the patience and understanding of our customers."
The spokesperson also stated that "I can assure you no Crew Members were terminated."
The anonymous employee group has since reported that they received this message around 12pm on June 15 and are preparing an official statement in response, which will be announced very soon.
For more information, please visit https://www.savetjs130.com/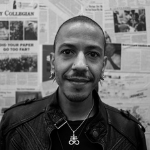 Astro (they/them) is the Editor-in-Chief of the Seattle Collegian, the President of Seattle Central's Queer Cooperative club, a fully-professed Guard with the Sisters of the Mother House of Washington, a social worker and behavioral scientist, founder of Transgender Day of Remembrance at Seattle Central (TDoR), Board Member-At-Large with Diversity Alliance of Puget Sound (DAPS), and a self-identified Queer-Alien-Person-Of-Color. They have won awards for their journalism and community service work as well as for innovation in leadership and academic excellence, and are an active and outspoken advocate and activist for both the LGBTQ+ and recovery communities. They speak regularly at events relevant to these causes, and work closely with their fellows to support these communities. Social justice, diversity, equity and inclusion are their banners, and their belief in the gifts, strengths, and resilience of all minoritized communities is the driving motivation behind their work and their mission: using the powers of journalism, self-expression, creativity, conversation and connection to uplift and foster acceptance for all peoples.