Going into the fourth quarter of online classes since the Covid-19 pandemic struck down classroom learning, students at Central have been expressing their longing for the school's library's atmosphere. In response, the school's student leadership created a Discord Server, calling it the "Student Hub", to facilitate students in making connections, sharing information, and having fun. As a member of the Seattle Collegian, I had the opportunity to experience one of the Student's Study/Social Halls on the Discord Server.
Discord is an online platform creating communities and is used popularly for collaborative connections, especially in the gaming community. Users connect through voice, video, text, media, links, and more.
The student study hall is from 4 pm to 5 pm every Wednesday. Students access the voice chat called "Study Cafe," where everyone but administrators aren't able to unmute themselves- a strategy used so students do not distract one another. There is also a voice channel named "Tutor Room," where tutors come in and do drop-in tutoring, and many more voice channel options for students.
So far, there is an average of two to seven students that come during the study hall.
I also had an excellent opportunity to interview Seattle Central College's Library staff member, Althea Lazzaro, who helps students during the study hall; and a member of the Associated Student Council, Alex Roque.
Lazzaro explained that her job is to help the students with library-related questions, but she will provide support and resources if they have concerns about something else. Lazzaro gave an example: if a student had a question about writing a statement essay for a college application, she would recommend the student either to the transfer center or the writing center.
"I help them access the contact information for both the writing center and transfer center and make sure they are comfortable making contact with them," said Lazzaro.
Lazzaro commented that she was enthusiastic to see the online space developed because of the connections that would result from it.
"I was so excited to see the Study Hall because, in the library, we know that being together with other learners in an environment where you can get help and encouragement is essential. Quarantine is a lonely time to be a learner, and every chance we get to be together and support each other is precious. That's what will keep us on our path," said Lazzaro.
Roque also had positive comments to make about the project.
"Looking at it feels like I am in a simulation of the campus's library," Roque explained. "I do get my studying done, and that's the thing when I am in that voice channel, I feel pressured to get studying done since everyone else is studying."
She suggests that participants turn the camera on while studying. She says because Discord carries an informal connotation, engaging with others feels casual, which she feels is better than Zoom where students have to participate with their real names.
"It'll be pretty cool to see others, and it will feel more like the library on campus," said Roque.
Overall, the student study session created for staff, tutors, and students encourages the connection and environment the community would have at Central's on-campus library. The digital space provides an opportunity for people to spend their studying time within a familiar community, on a platform where everyone can be comfortable. Additionally, students are able to get their needs met under the stressful environment of learning during a pandemic.
To join the "Student Hub" Discord server and gain access to the Study Cafe voice chat, click this invite link: https://discord.gg/9d2GpUevhZ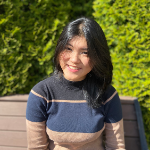 A young STEM student aspired for Mechanical Engineering and a staff writer at the Collegian. She's interested in design, machines, and the advancement of technology. Her dream is to use her design and technology skills to achieve a significant role in a dominantly male field. She enjoys playing video games, cooking, and mostly spending her time studying.