Our world is becoming increasingly accessible, both for those with disabilities and the able-bodied individuals who benefit from the accommodation needs set out by the Americans with Disabilities Act. We've come a long way since ramps and elevators. Ever since the late 1970s, when the Disability Rights Movement truly began gaining momentum, people with disabilities have been granted more and more of a voice. Disabled people have long been silenced and have many invisible histories. Despite the efforts of the pioneers within that movement, the ADA was not fully implemented until 1990. Seattle Central College does an amazing job of offering accommodations to those with medical needs, with our Disability Support Services Office at the forefront. However, as we have learned more and more about the range of disability, there are still areas for us to improve. The voices of students with disabilities themselves need to be heard.

The picture above was taken from the 3rd floor looking down at our cafeteria. There are ramps for those who cannot use stairs and ambulatory space but this doesn't mean it is a perfect setting for those with disabilities. Individuals with neurological conditions often have difficulty under fluorescent lights. The turnstile cannot be used by persons in wheelchairs and is unwieldy for those with canes. Many students with sensory disorders will simply choose not to utilize the cafeteria, due to the noise and chaos, especially at peak hours. Although there is plenty of space, the tables are extremely close together and are not arranged in a way that benefits all students. Someone with mobility issues may not be able to access the tables in the center when the seats on the end are filled.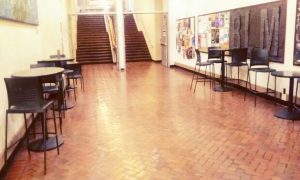 The image to the left shows the area near the Disability Office, a vital resource for students with disabilities. I highly recommend that those who need accommodation schedule an appointment or drop in. However, as someone who sometimes needs wheels, this area is especially difficult. There is no route up these stairs other than taking an elevator to the 3rd floor, walking or wheeling to another elevator, then dropping back to the first floor. This can be an exhausting extra step, especially for a student running low on spoons. The tables and chairs are high, a design that limits disabled students.
The final image is of the Disability Office itself. An ASL interpreter is on hand for those that need it, there is lots of ambulatory space, and the staff is extremely understanding. However, overhead lights are still harsh for those with neurological disabilities. After taking a few quizzes in the "dark room" I opted to replace the harsh fluorescent lighting with a luminescent bulb I brought to the office. Upon communicating that to the staff there was a sudden realization that this is a real need for people with disabilities of this nature.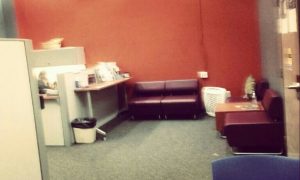 In the end, my experience with the lights in the Disability Office reminded me that the staff is on my side and simply didn't know the range of accommodations that those with invisible disabilities may need. Knowing there is a place to go if something isn't working for me is valuable. Knowing that the range of disability is broad can help us feel less alone. And most importantly, we are all in this together. Whether we are disabled or able-bodied, we need each other. When I react to a light being turned on, or can't make it up a flight of stairs today, knowing my classmates have my back is valuable. Having a faculty and student body that support our needs is necessary, important, and empowering.
Morgan is a Seattle Central alumni currently attending Oregon State University where she is majoring in Anthropology. In addition to writing, she enjoys painting and linguistics. She lives in a very small house with a very fat cat.