After premiering at the 79th Venice International Film Festival on Sep. 4, 2022,  the buzz around "The Whale" has been relentless. There was a good deal of praise for how this film was Brendan Fraser's comeback film. I was excited to see the movie and witness a nostalgic actor get a career revival but there wasn't much promotion behind it. In fact, since its premiere, there wasn't a formal trailer until just three weeks ago, which added to the anticipation of the film.
The screenplay for "The Whale" is based on a stage play of the same name by Samuel D. Hunter. Darren Aronofsky's latest film since "Mother!" (2017), "The Whale" follows Charlie (Brendan Fraser), a 600-pound gay English teacher who's trying to reconnect with his daughter, Ellie (Sadie Sink), while trying to navigate through his regrets, loss, and pain.
Like Aronofsky's previous films, "Black Swan" and "Mother!", "The Whale" is a discomfort-inducing drama that will make you question how you treat the people around you. I'm not surprised by the mixed reception the film is receiving: it's an Aronofsky film. At this point of his career, it might as well be his trademark. The movie may not be for everyone, but you cannot deny the stellar performance brought by the actors, especially Fraser's.
With a career-defining performance, Fraser single-handedly carries the film to another level. Characters like Charlie's best friend and caregiver, Liz (Hong Chau), also gives an incredible supporting performance that complimented Fraser's acting prowess. The film almost feels emotionally manipulative, but it does enough to justify it. There is an ample amount of context given to the pain and emotion of the characters. No eyes left the movie theater dry.
While very difficult to watch all the way through, the film gives you a sufficient reason to stay seated. It succeeds in instilling empathy rather than disgust to the protagonist's situation, which I was very wary of before the movie even started, especially because mental health issues are oftentimes inaccurately portrayed in films. "The Whale" went beyond the weight of Charlie; it brings light on how homophobia and religious stigma can destroy someone's humanity, making the movie grounded, human, and real. I saw many reflections of experiences of the people I know who are struggling with the same situation as Charlie's character. It never glorifies or defines the condition of the character.
I applaud the cinematography of the film. The color grading is tonally correct, and shot compositions are engaging despite them being mostly filmed inside a single room. However, many critics have complained about the claustrophobic feel of the film, but that is what makes the movie more effective and emphatic and I ended up liking it more because of that. It shows the isolating feeling caused by loss and grief, despite a home's purpose of being a sanctuary. Whether you end up liking or hating the direction and screenplay of the movie, it is undisputed that Fraser's performance shouldn't be taken for granted.
"The Whale" is a plea for more kindness in this world. The film is a mirror of how we misunderstand help and how it should be given. It is an appeal to be more honest. A reminder that being nice is not always kind. It's currently still in theaters, so I highly recommend you to watch it on the big screen while you still can.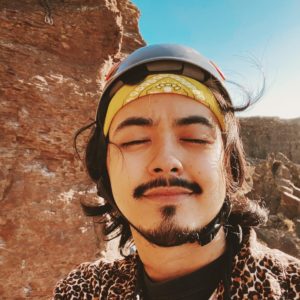 Juan Miguel Jocom, or Juanita Banana as his friends call him, is an Editorial Board member at the Seattle Collegian, where he focuses on writing about the experience of immigrant students at Seattle Central College. A documentarian, he hopes to create videos that will showcase the chaos and glory of humans.
As a Seattle local, he's an aspiring granola boy, who enjoys rock climbing and jumping off cliffs. His recent documentary, Welcome to the Neighborhood, was an official selected entry for the 2021 SCOOP film fest.