As unique and zany as Capitol Hill is, one of the strangest places I have been to is, undoubtedly, the Starbucks Reserve Roastery at Pike Street and Melrose Avenue.
Self-described on its website as "immersive, theatrical shrines to coffee passion," Starbucks Reserve Roasteries are so grand they teeter on being satirically absurd. They feel more like an art installation than a business enterprise.
Let me explain.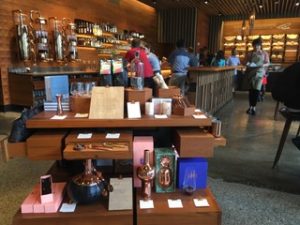 Behind the stubbornly heavy doors awaited a greeter who stood idly by his little cart, fully equipped with informative pamphlets and menus. To my right, I glazed over what I think is the best collection of useless and grossly overpriced knickknacks in the city (a big feat, I know). Beyond the coffee carafes, the Seattle-pride themed coasters, and strange glass contraptions that triggered distant, but disturbing, memories of my grade 10 chemistry class, I saw display cases filled with gourmet sandwiches and elaborately tiered cakes. These look much better than those tacky cake pops they sell at regular Starbucks, I thought to myself, but of course, this was no regular Starbucks.
I followed the length of the full-fledged bar replete with a spunky looking bartender, classic twisted mustache and all, to the only part of this whole place that resembles a regular Starbucks: the counter where us plebs can order our tall black drips. But to no avail – the cheapest drink in the joint is going to cost you $5 and a lot more in terms of your dignity. I passed.
I snagged a few photos to accompany my article and at every step, every photo, I was joined by at least three other customers taking photos, arms extended so the screen isn't even within eyeshot. I wonder if they, too, were taking photos for their articles.
As I walked further into the roastery, and further down into the figurative rabbit hole, the humming of monstrous vats and apparatuses on the second floor grew louder. Miniature tracks overhead conveyed what I can only assume were beans from the lower level coffee plant to the upper level coffee shop. Large cylindrical drums had pipes and pumps coming out of them leading to upper drums churning out some distinct Starbucks coffee, no doubt. I would later learn that this was called the "Experience Bar," and behind it was the "Coffee Library" stocked with "over 200 titles on coffee."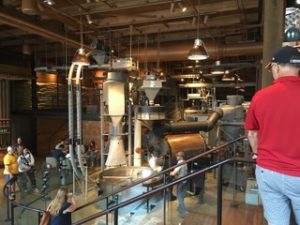 All of this is to say that Starbucks definitely achieved its goal of being an immersive and theatrical shrine to coffee. But that's not to say it wasn't an over-the-top, Willy Wonka-esque shrine to coffee either. If you ask me, I'd say walk up a block and hit up Kaladi Brothers Coffee, or down a block to the regular Starbucks if you actually want a coffee. If you want to be bombarded by tourists, tempted by big-budget souvenirs, and pay for coffee that costs its weight in gold, then you know where to go.