On December 8, 2019, the launch party for The Hill With a Future: Seattle's Capitol Hill 1900-1946, by Jacqueline B. Williams, took place at Vermillion Art Gallery and Bar from 5 pm to 8 pm. The event celebrated the official re-publishing of the book, which had been out of print for quite some time. Hosted by the Capitol Hill Historical Society, there were opportunities for purchasing signed copies of the book and chatting with Williams herself.
Of her writing process, Williams said: "It was fun to write this book. I had lived on Capitol Hill, and I had been writing some other books, and I thought 'Well, I don't know if I can find a publisher for this book, since it's such a narrow field.' So I thought 'Well, I'll do it myself!'". Originally published in 2001, The Hill With a Future is the only history book written about Seattle's Capitol Hill proper, with dozens of first-hand accounts and over a hundred pictures painting a thorough picture of the neighborhood's adolescence. With William's dedicated research, one can find out about the early institutions of Capitol Hill as well as its denizens, such as Seattle's first female mail carriers.
The book is up for preorder on The Capitol Hill Historical Society's website, set to ship in early December. The board of CHHS also announced at the event an oral history anthology set in the half century after the book, offering a springboard for those who want to continue the legacy Williams has created. They are also aiming to donate a copy of Hill With a Future to the libraries of each of Seattle's public schools.

You can watch our own Bryant Ouch's Two-Minute Warning video of the book release party, including a short interview with the author, Jacqueline B. Williams, here.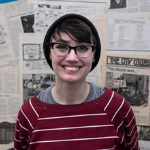 Danny Barber is the Managing Editor of the Seattle Collegian and an English student at Seattle Central college. She enjoys writing creatively, drawing, baking, video games, and going on long-winded random internet research sessions. After Seattle Central, she plans on getting her Master's in English and working on the editorial board of another paper someday.