I recently talked to my mom over the phone about how we are financially overcoming the pandemic. We had both giggled about the irony in the fact that the price of college textbooks in the U.S. is the same as the average monthly salary of a citizen in Ukraine, where we are from.
That is why I, as an international student, know firsthand that the financial situation for some foreign students studying in the U.S might be mind-boggling.
It is difficult to stay motivated and concentrate on studying when you are struggling to cover tuition or find ways to save on books by buying used versions and shopping at thrift stores on Capitol Hill. Are there any legitimate ways for international students to improve their financial life and not worry about bills?
Throughout the pandemic, I tried out many "how to save money" habits — but none of them worked. I realized I do not need to save money, I need to make money.
Before jumping into a pool full of financial advice, I want to emphasize that I am not a professional financial or academic advisor. I won't speak here about reinvestment plans, loans, or money laundering.
My goal here is to share my personal knowledge on becoming more financially sustainable while being an international student. On top of that, you will also hear from another international student who implemented and reached her financial goals while studying full time at Seattle Colleges.
Let's face it, whether you depend on your parents or not, it can be challenging to manage and organize your financial situation. Your peer students might not feel open to discuss this subject; however, knowing what existing financial college resources are available will help you keep up with your personal and school bills.
So here is what international students should keep in mind to improve their finances.
Apply for scholarships at Seattle Colleges
You might think, "Meh, I am not good enough to apply for a scholarship."
Nonsense.
If you are passionate and persistent about getting a degree, you deserve to receive financial help from your college. Whether it's a $500 or $3500 reward, scholarships will help you tremendously to pay your tuition and school supplies.
One of the best methods to make this process smooth is to keep an eye on the Seattle Colleges Foundation web page.
The Seattle Colleges Foundation provides annual scholarships for residents, international students, and undocumented students. Thus, your attention is essential! Carefully go through the detailed information regarding eligibility and required documents. Remember that you can apply for multiple scholarships at the same time.
After skimming through the information provided on the website, go ahead and start your application process using the Seattle Colleges Application Form. The Seattle Colleges Foundation is serving all students from Seattle Central, North, and South College.
Once you have decided to apply for scholarships, remember you need time to prepare for a pretty complex application.
Most importantly, you will need to write scholarship essays about yourself. Considering questions like: "What is special about my academic goals?" will help you understand how to write your personal statements and essays.
It is crucial to spend quite a lot of time writing essays that fully describe your personality. Remember that every word, which comes from your honest heart, will be recognized and considered.
Once you have devoted some time to thinking introspectively about yourself and your academic goals, it is time for action.
Applying and filling out scholarship forms may seem as time consuming as when you are trying to resolve a complex equation. Read the questions carefully, proofread your answers, and ask questions as they come up.
With this, make sure to responsibly plan a schedule to prepare these essays. Time management is crucial since you do not want to overwhelm yourself while contemplating writing your essay and also attending school.
You may start to think: "I am not a writer, and I can't write about myself." However, did you know that Seattle Colleges provides helpful resources to help with scholarship applications?
Every student can ask for college staff assistance to complete the scholarship application. Learn more by contacting Central's Writing, E-tutoring, or Student Learning Center, who will help you with overviewing written statements and completing applications at Scholarships Campus Resources. Do not hesitate to ask your peers or instructor to give feedback about your statements.
As the Rolling Stones sing, "You can't always get what you want, but if you try sometimes, you might get what you need." Some things might feel impossible to achieve initially. However, the answers become more clear when we try.
The scholarship application process might feel complicated, but since other students have done it, you can do it too!
Find and apply for an on-campus job.
Following the USCIS law statute, international students, more precisely F1 students, can work up to 20 hours per week during the academic quarter. You might doubt yourself because "your English is not good enough," or "the process of getting a job as an F1 student is complicated, it isn't worth the time."
Hell, no! Let me break it down for you.
International students may work on campus or at an educationally affiliated off-campus location up to 20 hours per week during the academic quarter, or 40 hours a week during a break or vacation.
Let's translate these hours into numbers: If the minimum hourly pay is $16.69, you can earn around $1100 a month during your academic quarter, and close to $2100 as a full-time employee during the academic break. Of course, these numbers may differ, but now you understand how working on campus can provide funds for the school.
Besides money benefits, working part time as a full-time student will improve your skills. In the frenetic pace of the current world and to be professionally successful, we are required to be organized and responsive. That is why the campus is the best place where you will train to manage your academic achievements, along with your work and personal life.
"Working on the campus could bring you a lot of benefits such as gaining work experience, learning social skills, being flexible on work schedule, and more. Since international students are not allowed to work off-campus," says Jane Eunju Yang, an international student ambassador at North Seattle College.
"You can work on campus and get paid legally. So they can afford to pay for school supplies, textbooks, or even their hobby with extra money! If there is an opportunity to work on campus, then go for it! Don't wait until it is too late", added Eunju Yang.
But how do you find a job and apply for it?
Unfortunately, the system that shows open job positions on campus is hectic. Looking for an available job opening on campus might make you have to think and act as if you are Sherlock Holmes.
According to the Handbook for International Students, "There is no central employment office for hourly and student workers at Seattle Central. All offices hire students on their own." While there is no central platform with all open positions posted, international students should visit and ask every department for available work possibilities.
I found my job on campus through social media. Many job openings will be posted on social media, especially when offices are urgently hiring.
Depending on what department you want to work in, you should know and start following their social media today. You might consider looking for job openings at Student Leadership, International Programs, Human Resources, the Mitchell Activity Center, or the campus cafeteria!
For instance, I have always had a passion for helping other students like me, so I wanted to be an ambassador for international Students. On the first day of school, I followed the International Students Programs on Instagram and soon I saw they were looking for new ambassadors, I immediately applied and successfully got the job.
In addition, try to visit your school's web page for updates. For instance, usually, college departments are looking for new student employees towards the end of the spring quarter. This is the way for various college departments to get staffed and ready for the summer and fall quarters.
For this reason, if you want to work on campus, be prepared to send your resumés during the spring quarter. However, some college departments may still look for help during the year.
The primary resource where you will find open job postings is the ctcLink Careers website. I know how confusing it might be, but do not neglect it, the ctcLink Careers page has a more updated job list than the information on the college website.
I understand the fear or disappointment when international students try to learn more about scholarships and available jobs on campus. Sometimes it feels like you are looking for a needle in the haystack.
Nevertheless, Seattle Colleges provides great opportunities, and it is up to students to use them or not. So, what is stopping you from using college resources and improving your financial situation? Just go for it!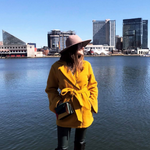 Veronika is a student from Seattle Central College, an International Student Ambassador, and a member of the Editorial Board of Seattle Collegian. She loves to cook Ukrainian dumplings, travel in the Pacific states, read E.Hemingway, listen to The Rolling Stones and Led Zeppelin. Veronika is pursuing her degree in web development. Her goal is to own her own business and financially contribute to Seattle Colleges Foundations to support low-income international students. While being a member of Seattle Collegian, Veronika is eager to share her own experience of living, visiting, working, and studying in foreign countries.