It was during the pre-show trailer of DreamWorks' "Puss in Boots: The Last Wish" that I saw the trailer for "Knock at the Cabin." Gay family on the screen? I was invested: was this going to be a wholesome queer family movie? Then came flashing the name of the director, M. Night Shyamalan. The first thing that came to mind was "Will I like this or not?" After terrorizing my childhood by making "The Last Airbender" and his not-so-good recent film, "Old" (2021),  I was conditioned to automatically expect the least from this hit or miss director. Sadly, Shyamalan's new horror flick is another addition to his failures.
The movie quickly cuts to the chase as it opens, with Wen (Kristen Cui) capturing and logging grasshoppers as Leonard (Dave Baustista) approaches her, explaining why he is sad to be there. The movie sets up a moral question to the audience during its first act. It's usually effective for a movie to start with a moral question, as it gives the audience enough time to simmer through their thoughts, but "Knock at the Cabin" asks too many questions without really answering any of them. 
The film is based on the 2018 novel by Paul G. Tremblay, "The Cabin at the End of the World." "Knock at the Cabin" is a story of a gay couple, Eric (Jonathan Groff) and Andrew (Ben Aldrige), with their adopted daughter Wen, who are staying in a cabin for their summer vacation. Things take a bad turn as four armed individuals break into their cabin and ask the family to make a decision that could either result in an apocalypse or the salvation of mankind.
"Knock at the Cabin" is Shyamalan's attempt to produce an elevated horror film the way Ari Aster or Robert Eggers does, but unfortunately–compared to those other elevated horror movies–the movie lacks confidence to firmly give a direction towards the message it's trying to portray. Its desire to be palatable somehow makes it less appetizing to sit through. For example, the out-of-place Marvel-level humor injected in the middle of its most intense scenes are just too corny and not funny. And then there was the very cheesy director's cameo that didn't serve any purpose other than cheekily including Shyamalan into the film; it's tonally confusing and unnecessary. The film also didn't have Shyamalan's trademark twist in the third act. 
Arguably Bautista's best performance to date and Cui's decent acting chops are the only saving graces of this film. There were a lot of very close up shots that felt manipulative and claustrophobic. The break-in scene was poorly choreographed and directed; nothing annoys me as a viewer more than an intense scene that is forced and formulaic. And the flashback scenes added in order to make the audience more sympathetic to the family are just distracting.
With the movie's subject matter surrounding religion, morality, and humanity, "Knock at the Cabin" could have done better, but it gave us half-baked characters that you'll forget about the moment you step out of the theater instead. With an aimless plot that should have been released in 2012 back when these types of disaster films were popular, this movie just feels outdated and unoriginal. And with a director that sadly is as inconsistent as my emotional stability during Seattle's rainy season, it's totally okay if you miss this one.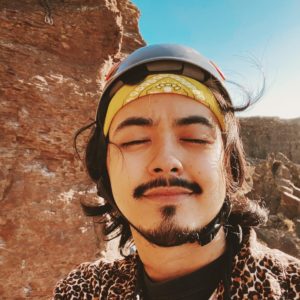 Juan Miguel Jocom, or Juanita Banana as his friends call him, is an Editorial Board member at the Seattle Collegian, where he focuses on writing about the experience of immigrant students at Seattle Central College. A documentarian, he hopes to create videos that will showcase the chaos and glory of humans.
As a Seattle local, he's an aspiring granola boy, who enjoys rock climbing and jumping off cliffs. His recent documentary, Welcome to the Neighborhood, was an official selected entry for the 2021 SCOOP film fest.