On Nov. 12, 1993, the world was made witness to the effectiveness of Brazilian jiu-jitsu when Gerard Gordeau was submitted in one minute and 44 seconds via rear naked choke by Royce Gracie. The question of which martial art was the best had been answered. Equipped with this knowledge, one might venture out into the city of Seattle to find a gym that can train them in jiu-jitsu. However, prices for training are higher than ever, with monthly tuitions being as high as $180 per month. There is nothing wrong with these gyms; they are businesses and have to make ends meet, as most people understand. However, the price is steep, and many people can't afford it.
Your oasis in this desert of high prices is Midnight Jiu-Jitsu Club, a gym with a mission statement that says, "Midnight is a 501(c)(3) non-profit gym dedicated to training Brazilian Jiu-Jitsu for the purposes of personal fulfillment, community, and sport." The gym is at 755 Bellevue Ave E in Capitol Hill, not too far from Seattle Central College on Broadway. They are the first official affiliate of Clockwork Jiu Jitsu in New York City, whose instructors have connections to fighters competing as high up as the Ultimate Fighting Championship (UFC). The caliber of training received at Midnight Jiu Jitsu should not come at the low price of $100 per month, but their non-profit operation allows the training to be accessible to as many people as possible.
Uniforms and equipment can be expensive, too, but don't worry: this is a gym that keeps on giving. You can loan gear at the gym – so long as you promise to wash them – until you can get the money to buy a gi, the standard uniform worn during most of the classes you'll be attending. If you don't think you can afford the gi at the retail prices, Midnight Jiu-Jitsu has you covered there, too. They have a beginner special deal, where if you pay $150 for the first month, you will get a quality Fuji gi to train in. If you're a student, the deal gets even better, because you can get a discount on your monthly tuition. Midnight Jiu-Jitsu Club goes the extra mile to ensure the practice stays available to a greater public.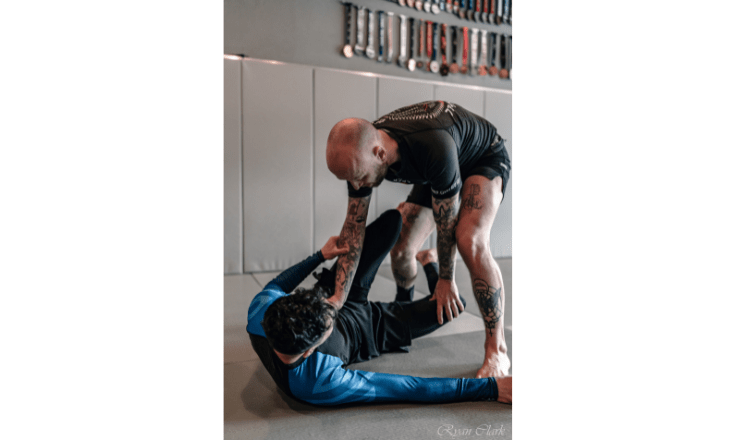 You don't have to be in amazing shape to start training at all. Brazilian jiu-jitsu is a fantastic way to get in shape and have fun while doing it. Before you know it, your internet history will be cleaned up with pages and pages of your new obsession. If the Seattle Freeze is hitting you hard, then jiu-jitsu is a fantastic way to make friends – how much closer of a friend could you have than your buddy who got a clean triangle choke on you last night? – and can really boost up your social life. Getting tapped eight times by a brown belt is a low price to pay for friends in this city, and you'll eventually get him anyway!
The accepting environment and mat culture at Midnight Jiu Jitsu promotes a training experience in which everyone can feel safe. The team makes everybody feel welcome, and when asked "I am LGBTQIA+. Will that be a problem?", as quoted on the FAQ page on their website, their response is direct and concise: "Of course not! Come train." As a matter of fact, a plethora of the "is it okay if . . ." questions on their FAQ page contain the same response: "Just Come Train."
Brazilian jiu-jitsu is a grappling-focused martial art that started in the early 1900s. It involves takedowns, throws, joint locks, foot locks, and all manner of chokes. One of the great advantages of training in Brazilian jiu-jitsu is that, as long as you have a training partner, you can spar – commonly known as "rolling" – as hard as you feel comfortable; there are no strikes, and stopping the action is a quick tap out away, which you'll find is encouraged to do early and often. The ability to practice techniques with live resistance from your training partner allows for practical growth in skill. All you have to do is keep showing up to practice.
There is a structure to the classes you'll be attending at Midnight Jiu-Jitsu Club. Monday, Wednesday, and Friday are gi classes, and no-gi classes in plain gym clothes are on Tuesday and Thursday. The class will begin with a set of various warm ups, both in the form of stretches and partnered exercises. Next will be the techniques that are drilled for an hour, typically following a curriculum where any of the nine coaches will demonstrate different ways to deal with certain positions. Afterwards, you will go and drill those techniques with your training partner. After the techniques, students and instructors roll for an hour to close out the class.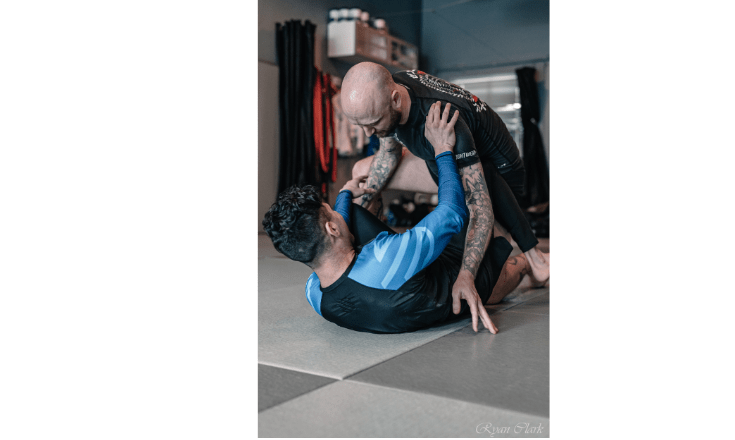 Many gyms might pressure you to compete, either due to representing the team or in order to advance in your belt rankings. When asked about whether or not they are a competition-oriented gym, coach Aaron Rodriguez responded: "We have members that do compete, it really is just dependent on the person and their goals in jiu-jitsu. We don't force anybody to try to compete, we're not a quote-unquote 'competition' school. We love it if members compete. Like I'll come out and coach folks, I have before in the past. . . We don't put that pressure behind people because it is pretty nerve racking to go out there and try to perform in front of a lot of people." In conclusion, there will be no pressure to compete at the club. You get to do as much as you are comfortable doing in the sport.
Midnight Jiu Jitsu Club is a gem. Seldom will anyone have easier access to Brazilian jiu jitsu and all the benefits that come from practicing the martial art. Whether you want to try something new, want to get in shape, make new friends, or become the IBJJF World Champion, I'd tell you: just come train.