In response to a January article published by the Seattle Collegian titled "Seattle Central to close its doors in 2023?" The Capitol Hill Seattle Blog quoted Roberto Bonaccorso, director of communications for Seattle Central, who said, "In my 24 years in the state of Washington, no community college in the system has closed its doors." A striking example of normalcy bias, this makes us feel that the answer is certain. But fallacies like this don't change the fact that we are facing uncertainty at Seattle Central College.
Other reactions to our article expressed shock and sadness. In a Facebook post, Dawn Dailey commented "quite sad. It will impact so many students, local economy, and student accessibility," Still others have expressed little to no concern. When asked for an interview by the Collegian, one faculty member declined, saying of the closure, "I do not believe the school is going to close" adding "we have been through many storms during the time I have worked here."
This has made me question if this lackluster response was due to the inadequate understanding of the college educational experience of immigrants, queer, and other minority students like myself.
Let's face it — Bonaccorso is most likely right. The school is not going to close, but that is not the issue here. The issue here is the normalization of the challenges that these budget cuts can impose. The school system is its own ecology, and just like biological ecosystems, the structure of a community college is sensitive to change. 
The school system has a disease

As mentioned in our article "Seattle Central to close its doors in 2023?," this is not the first time that this has happened, and this is probably the reason why most people have gotten less alarmed over the years with this kind of news. Then there is the pandemic that is wreaking havoc to the whole school system, not only statewide, but nationwide.
But we are failing to notice something here. This is a symptom of a greater disease in our school system. This repeated lack of funding speaks volumes on how the school system is structured as a financially driven institution,  and how it is not prioritized by the US government. In 2019 the education sector only received 74 billion federally, compared to the 730 billion funding the military received. Just like a body that is immunocompromised, with this kind of budgeting, it doesn't take much for schools to fail. Schools shouldn't have to worry about funding to provide quality education.
Seattle Central prides itself as a diverse community. As an immigrant and a queer student, I've seen the effort that's been done to make the college a more welcoming place for minorities and other groups. Seattle Central means so much more than it being a school. It is a sanctuary. A safe space for targeted individuals, like the members of the LGBTQ+ community. One former queer student, Ryan Lewis, has expressed their concern about the school's insolvency. "I came here 20 years ago, and it was the first place I ever felt safe," Lewis said.
Lastly, this problem doesn't only extend to the local Seattle Colleges but to all community colleges across the US. Due to different curriculum requirements, most immigrant students have to start from the beginning if they want to continue education here in the US. I experienced this first hand, and it makes life in the United States less enjoyable than it promises it to be.
Why should you care?
Community colleges are important to immigrants like me. I used to believe that the only path to college is to be in debt, and the thought of that discouraged me from continuing higher education, but Seattle Central changed that narrative. I am now on my Direct Transfer Agreement (DTA), about to graduate with my Associates of Arts degree with zero debt!
Community colleges make it visible that higher education is possible later in life. They are important because it makes it possible for immigrants and international students to access higher education. Whereas I wouldn't be able to attain it if I had to start at the University of Washington where tuition is sky-high.

Sure, the school might not close, but let me remind you that one of the school board's solutions is to cut classes and lay off 15% of the administration. Any movement towards less accessibility affects minority students disproportionately. It is also discouraging to enroll in a place that might not even offer the course you are looking forward to taking.
The Capitol Hill Blog article stated that "The answer, of course, is no… probably," but we cannot take a "probably" as an answer anymore. We need certainty, actions, and initiatives that the future of students who are in need are not held by the word probably.
We should take action now to prevent things like this from being the norm. We need to care more about this news, not because a landmark school like Seattle Central will close down, but because cuts in the institution and its services will disproportionately impact minority students. 
The liberty to not care about what becomes of minority students like me is a sign of privilege, so I implore you, instead of residing in the comfort of not caring, use your privilege as a voice. Demand the people in position for a better financial system. Seek for a better future for incoming community college students. Minority students shouldn't have to wake up every day worrying about whether they will have accessible quality education.
Students deserve to feel that higher education is achievable regardless of their background. I know this because I thought higher education in the United States was unattainable until Seattle Central College, a community college, made it possible for me.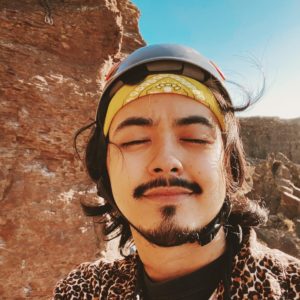 Juan Miguel Jocom, or Juanita Banana as his friends call him, is an Editorial Board member at the Seattle Collegian, where he focuses on writing about the experience of immigrant students at Seattle Central College. A documentarian, he hopes to create videos that will showcase the chaos and glory of humans.
As a Seattle local, he's an aspiring granola boy, who enjoys rock climbing and jumping off cliffs. His recent documentary, Welcome to the Neighborhood, was an official selected entry for the 2021 SCOOP film fest.