On September 8, 2019, longtime faculty member of SCC's Arts and Humanities and Social Sciences division Osei Bonsu passed away. Bonsu, who had been at Central since 2006, taught political science and humanities classes, as well as teaching in Seattle Central's Bachelor of Applied Science program. There will be a celebration of life held from 4:30 PM to 6:30 PM on October 30 at the One World restaurant, which is located in the Broadway Edison building next to the Atrium. Faculty and students alike are encouraged to come and celebrate Bonsu's life and the lasting impact he had in his 13 years as a professor, colleague, mentor and friend.
Bonsu earned his BS in Finance, as well as his PhD in International Studies, from Old Dominion University. He also received an MBA from Texas A&M International University. Ever dedicated to the pursuit of knowledge, he continued to research independently at the University of London after receiving his PhD. Bonsu had also been working on a book on African development and the legacies of colonialism before his passing.
"He was just a warm personality, always laughing, always smiling," recalls Jesse Hernandez, an instructional technologist. "Really intelligent and had the funniest, smartest jokes. I remember him always coming in and always kind of brightening up the room." Humanities and English professor Stacey Levine, one of Bonsu's office mates, recalls that he made it a point to get to know everyone that crossed paths with him: faculty, staff, administration, and students. "He was a deeply moral/ethical person who was so accustomed to doing the right thing that it was seemingly effortless for him. Late on many days– even in the evenings, I'd see him in his office deep in conversation with [people] who had some advice to seek or burden to share," Levine expresses via email.
Despite his passing, the friends and colleagues who organized the event at the One World restaurant want to emphasize that it's a celebration of life, rather than a memorial. "All that knew him and were impacted by his very presence" are welcome to join the gathering, according to Marilyn McCamey, the Director of Instructional Operations.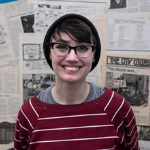 Danny Barber is the Managing Editor of the Seattle Collegian and an English student at Seattle Central college. She enjoys writing creatively, drawing, baking, video games, and going on long-winded random internet research sessions. After Seattle Central, she plans on getting her Master's in English and working on the editorial board of another paper someday.