The 2020 Seattle Asian American Film Festival is set to take place at Seattle Central's own Broadway Performance Hall from February 20 to February 23. In addition, it will also take place at the Northwest Film Forum. The festival showcases both feature-length and short films by and about Asian American creators, aimed at holding space for Asian American voices, perspectives and histories. In addition, there will be an opening party in Washington Hall at 9 pm on February 20, featuring musical performances, live spoken word and dancing by performers such as G YAMAZAWA and rogue pinay.
Seattle Asian American Film Festival is notedly the only one of its kind in the Seattle area, going through well over a decade – as well as a name change – yet still dedicated to providing voices to local Asian American creators. From 2003 to 2007, it went under the name of Northwest Asian American Film Festival with its former director Wes Kim. Under Kim's guidance, the festival was revived in 2013 by new festival directors Kevin Bang and Vanessa Au under the name Seattle Asian American Film Festival. This year, one can find anything from animations like Little One to LGBTQ documentaries like Born to Be in the lineup.
Tickets can be purchased to individual films, with or without a pass to the party at Washington Hall; or a festival pass can be purchased for access to all films plus the party. For details on the schedule and a list of films set to air during the festival, please refer to their sections on SAAFF's website.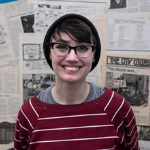 Danny Barber is the Managing Editor of the Seattle Collegian and an English student at Seattle Central college. She enjoys writing creatively, drawing, baking, video games, and going on long-winded random internet research sessions. After Seattle Central, she plans on getting her Master's in English and working on the editorial board of another paper someday.