Today Seattle schools are seeing the second weather-related closure this year. Some may question the reasoning behind today's closures, but there are several factors that come into play when determining the safety of keeping schools open during inclement weather conditions. Even when the snow stops falling, there can still be dangers on icy roads, particularly side streets that are not maintained by the city. This can make walking to bus stops precarious especially for those with mobility issues.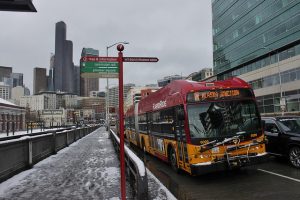 While Seattle is known for its rainy conditions, Seattleites don't always drive well in the rain. Snow and ice cause even greater difficulties for drivers, including those driving Metro and Sound Transit buses. Seattle's hills and lack of winter weather infrastructure can make these conditions perilous for commuters. Seattle has just forty-two snow plows and enough chains for about 5400 buses. Other cities in the nation that see regular snowfall are set up to deal with snowy and icy conditions. Historically, snowfall in Seattle has been a rare occurrence but in recent years the snow seems to be coming more often and sticking around much longer. King County Metro will enact Emergency Snow Network (ESN) route changes, and in severe circumstances will activate Route 90 in downtown, First Hill, and Capitol Hill. For a complete list of ESN information, click here.
To make determinations of school district closures, superintendents check in with weather reports, the National Weather Service, and local transportation authorities. The decisions made based on available predictions serve to gauge the probability of a safe outcome for the majority of commuters. Not only are road closures a factor, but the consideration of temperature, wind chill and the likelihood that students waiting at a bus stop may be subjected to frostbite. School closures are not taken lightly as snow days are often required to be made up or content is lost, so if our school is closed know it is for the safety of students, faculty and staff.
In addition to the Seattle Colleges closure, Seattle Public Schools, Highline Public Schools, Highline College, and the University of Washington are among other schools closed for the weather today.