The 2020 version of the holiday season has arrived, and although the Black Friday doors remain open, the pandemic has been sure to shift both business strategies and consumer demand. Major Thanksgiving Day retailers will be closed on Thursday, but most will re-open in the early hours, starting from around 5:00 AM. Businesses will be adhering to the pandemic protocols, enforcing "No Mask, No Entry" policies, while also providing supplies and enforcing social distancing. What's more, internet sales and overall profits have ascended to unprecedented heights (for the big businesses, anyway).
Major retailers, like Amazon, Wal-Mart and Target, have all seen record-breaking profits particularly due to their expansion of online options and goods, and the loopholes that allow them to sell non-essential goods. Meanwhile, the pandemic continues to undermine small(er) business owners as they become largely shut out by larger company's influence, power and prices. There's no denying that cost and convenience are the driving forces – a thief of our focus. And although this is justifiably the case given these exceedingly difficult times, my hope is that we shift gears with whatever action and intention our capabilities allow on this most controversial of holidays, and support local businesses – the integral underpinnings of a healthy, thriving community.
With that said, the following are a bunch of hand-picked local businesses to consider purchasing from as we flow into the holiday season. The majority of the businesses below are community run and/or owned and operated by persons of color. There are many, many more where these came from!
Herban Farm – a lauded herb shop in Pike Place Market that, due to the pandemic, is selling its products exclusively online, which span from teas to sauces to a variety of herbs.
Valerie Madison Fine Jewelry – Environmentally conscious, sustainable and 100% transparent, Valerie Madison sells a wide array of beautifully crafted jewelry.
Lika Love – A women's boutique based on style, personalization and inclusion.
Urban Feed and Garden – A shop that specializes in all things green, and also supports local artists in the community, selling masks, ceramics, paintings and more.
Adorned Adobe – A Tacoma-based shop that sells a wide selection of home décor and holistic items and gifts, from plants to fragrances to incense to crystals to games.
Artists and Craftsman – An employee-owned arts and craft store in the University District that offers a substantial online selection of goods.
Flowers Just-4-U – A revered Columbia City flower shop that offers a variety of mesmerizing assortments that can be delivered to your door!
Central Co-Op – Seattle's well-known community-owned grocery store that is providing online service and delivery.
BookShop – An online bookstore that supports local bookshops around the country.
And a few local food spots open for takeout…
Jerk Shack – Belltown's only black-owned business that offers authentic, flavorful Caribbean cuisine, and is open for takeout!
Plum Bistro & Quickie Too – Two vegan-based restaurants owned by the Howell family in Seattle and Tacoma, respectfully, that offer a vast selection of non-dairy and non-meat diets, open for takeout!
Pam's Kitchen – A Trinidadian hotspot for tasty food in Wallingford, open for takeout!
Meskel – An Ethiopian restaurant gem in Seattle's Central district, recently offering an expanded take-out menu.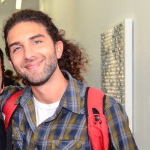 Jordan Somers is currently in his second year of Visual Media at Seattle Central College. He specializes in photojournalism and documentary work, with a particular emphasis on social movements happening throughout the city. His 2020 documentary, Hope is Not Cancelled, was an official selection at the Local Sightings Film Festival, and won an award for best editing at the Oregon Documentary Film Festival. Jordan is an avid traveler when granted the opportunity, and has a keen interest in psychology and existential philosophy.