The recent success of Bird Box (2018) has made Netflix more popular than ever before; that film alone was watched by 45 million Netflix subscribers on its opening weekend, the highest debut of any Netflix film to date. The streaming giant has also managed to produce numerous quality TV shows which have garnered their own followings. As a matter of fact, some of the best shows and movies on television are on Netflix, and many of them don't get the hype they deserve. When you find yourself bored on the weekends with nothing to do, here are some film and TV show suggestions to help you relax after a long stressful week.
10. Train to Busan (2016):  I am a huge fan of zombie films, and in recent years this sub horror genre has exploded thanks to shows like The Walking Dead on AMC. The South Korean film industry is booming and has a lot to offer, with such films as The Host (2013), I Saw the Devil (2010), and more, and Train to Busan is another excellent one to come out of it. It's a very intense film, and viewers will be glued to the screen for the whole of it. The film is in Korean with subtitles, but that doesn't take away from it at all. I highly recommend this over something like the rather disappointing and dull World War Z (2013). Train to Busan is sure to entertain, and it will have you wanting to see more films from the South Korean film industry.
9. The Invitation (2015): The Invitation is a dark and eerie thriller; I found myself engaged in the characters and constantly wondering what was going to happen next as scene after scene got more and more sinister. The Invitation is directed by Karyn Kusama (Girlfight), who really does a good job at slowly building up the tension until the very end. The characters are very well developed, and not a single one goes to waste or feels like filler. The plot is simple, centering around a dinner party among friends that's not what it seems. I think you will enjoy this, just be patient until the end; I promise you won't be disappointed.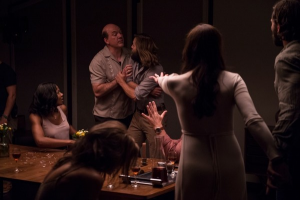 8. Spectral (2016): This film really impressed me, especially because of its originality. Spectral reminds me of some of the Call of Duty game series, which I believe inspired this film, but it also has a lot of its own twists. It follows a group of special forces soldiers who encounter an otherworldly threat and must band together to stop it. The plot is easy to follow, which is nice for when your brain is worn out from school, and the film is very well-produced. Try the film out once and I promise you will wanna see it again.
7. A Dark Song (2016): This is not a horror film, but rather an engaging slow-burn supernatural drama. It's slow at first but rewards you in the end, and it's not boring at all. Every scene takes you further into the story and leads you towards a fascinating twist at the end. I won't give any spoilers, but I will say that when you watch this film you must pay attention to everything: it's one of those films where if you look away you might miss something. A must-see for sure.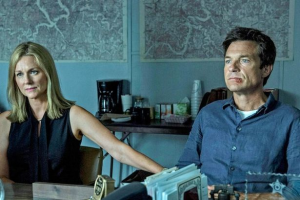 6. How it Ends (2018):  It seems that Netflix has been making a lot of end-of-the-world films lately, including Extinction (2018), The Cloverfield Paradox (2018), and more. This film is about Will Younger, played by Theo James (Divergent), who must travel from Chicago to Seattle with his fiance's father, played by the always great Forest Whitaker (Last King of Scotland), to save his pregnant wife as a major catastrophe sweeps across America. The two men must learn to work together in order to survive in a post-apocalyptic dying land. This film won't be for everyone, and the premise has pretty much been done before, but if you like post-apocalyptic films it's still certainly worth a watch.
5. Ozark (2017-Present): This is a fantastic show. It stars Jason Bateman as Martin Byrd, a financial advisor who gets caught up with a drug cartel to launder millions of dollars. In my opinion, this is the cousin to Breaking Bad (2008-2013) (arguably the best show in the history of television). Ozark is one of the reasons I encourage people to even subscribe to Netflix; it shows how Netflix originals are often superior to even the traditionally produced content on there.
4. Mindhunter (2017-present): If you like shows like Criminal Minds, then you will love this show. Mindhunter is a crime series based on a true book about the start of the behavioral analysis unit of the FBI in the 1970s. It's fascinating to see how that field arose, especially in an era infamous for characters like Ted Bundy, Charles Manson, and more. I like to think of this show as a prequel to Criminal Minds, so if you like that show or other crime dramas then you will love this one.
3. Altered Carbon (2018-present): One thing that Netflix does well is science fiction, and this show is no exception, with spectacular visual effects and world-building. I couldn't help but think of the Blade Runner franchise and some anime cartoons while watching this show, which is based on a book of the same name by Richard K. Morgan. Altered Carbon is centered around Takeshi Kovacs, played by Joel Kinnaman, a specially trained soldier who must solve the very complex murder of an aristocrat. I highly recommend this show if you love science fiction, anime, or mysteries.
2. Black Mirror (2011-present): This show is the 21st century's answer to The Twilight Zone. It's centered around the horrors of the future of technology, often extrapolating from issues that already exist due to today's tech. Black Mirror is already pretty popular, but it deserves an even bigger following because of its originality and mind-bending themes. When watching Netflix, this show should be on everyone's must-watch list.
1. The Haunting of Hill House (2018): Wow! This was a truly excellent horror series, possibly the most brilliantly written and acted show in recent years. The horror genre has been booming thanks to the success of films like Hereditary (2019) and Lights Out (2016), but Hill House blows them all away. It was directed by Mike Flanagan, who adapted Stephen King's Gerald's Game earlier last year and seems to have a great eye for horror. The story is about a family who moves into a well-known haunted house that seems to have a mind of its own. The show is told from the point of view of the family's children as grown adults, flashing back in forth from past to present. This tattered family must come together and battle the evil presence that has taken a hold of their lives and sanity. A great show to binge watch late at night with the lights off.
Let us know if you've enjoyed any of these films or TV shows, or if you have any suggestions of your own!