Under gray looming clouds, protesters representing different generations of queerness and allyship gathered at 4 p.m. on Mar. 31 at Volunteer Park. Even as attendees exhibited contagious smiles, a sense of grief hung over us like a veil. The reason lies in the 435 anti-LGBTQ+ bills that have been introduced to states nationwide.
Families, friend groups, and many solo attendees, myself included, waited as the organizers of the march, locally unnamed, but nationally known under the movement Queer Youth Assemble, set the stage with a variety of sound equipment for the day's performers. 
The event began later than planned, but as a local activist began to take the amphitheater stage, I found myself surrounded by all walks of life. There's proof in the numbers, a realization that the vast majority of support for the LGBTQ+ community, more clearly now for the transgender community, is a power that cannot simply be erased by unjust bills that would continue to perpetuate harm.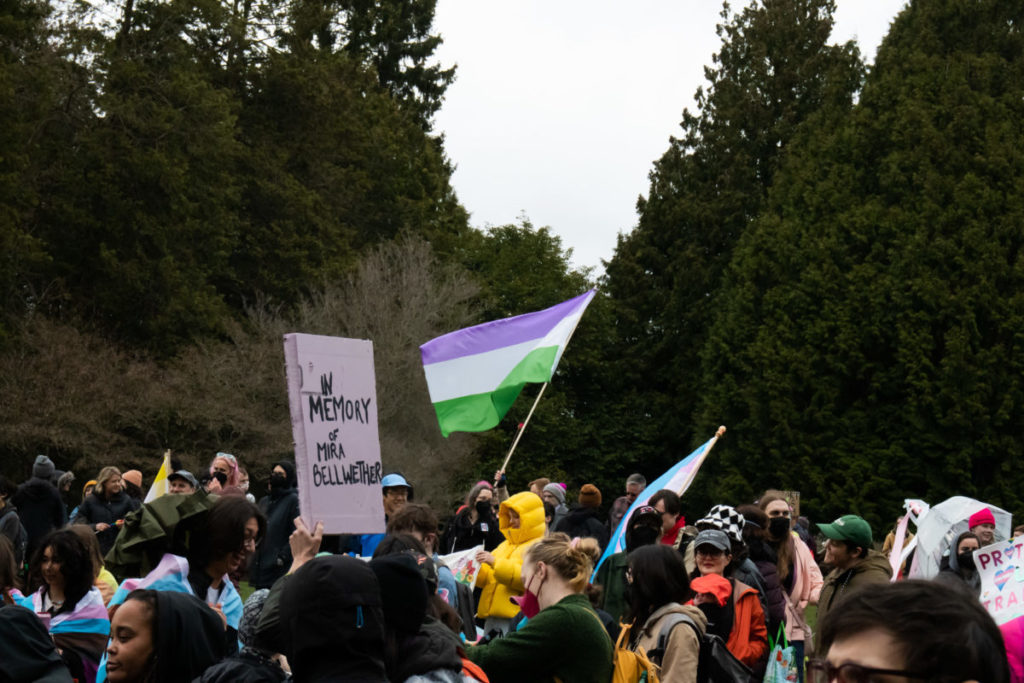 Queerness allows joy in self-expression. It allows many of us to live outside the norm and unweave ourselves from societal norms into the fabrics of our own choosing. Autonomy, we know, is a basic human right. And at this moment, it is something that conservative republicans want to take away. That is the main goal behind these bills.
Bills such as HB 1156, introduced by the state of Arkansas, mainly targets trans youth who are being forced to comply with their biological sex in public restrooms as well as changing rooms. This comes to the public eye as the state has also approved the ban on personal pronouns for trans and non-binary individuals, known as HB 1468. The main point provided by local sponsors is that to use any pronouns opposite of biological sex would prohibit any religious belief that relies on an individual's birth sex. 
Trans youth aren't the only ones facing critical oppression in conservative states. Effective Apr. 1, 2023, the Tennessee bill known as SB0003 directly incites that any activity seen as "pornographic" or "lewd" towards any individual who isn't an adult is a criminal offense. False narratives alluding towards Drag Story Hour have made it impossible for drag performers to continue spreading joy to all communities. However, a Tennessee judge has temporarily blocked the ban for drag shows in the state.
The bills don't stop there; they also target gender-affirming care. According to the American Civil Liberties Union website, any person under 18 who has been receiving care in Tennessee will no longer be able to continue once the bill takes effect Jul. 1, 2023. Alabama, as well as a few other states, are expected to follow. 
It was 4:30 p.m. when the acts took the stage. Solo performers Devorah the Maccabee and Aleyanna Grae started with musical and poetic entertainment. Following the acts were three drag performers who also identify as trans individuals. Siren St. James was the first drag performer, ensuing a hilarious rendition of 4 Non Blondes' song "What's Up." Following them was Solana Solstice and drag king performer Sid Seedy.
After the queens finished another round of performances, the crowd was elated to welcome the band Gender Envy, followed by Bat Box.
In between one of the acts, an activist who helped organize the event came on stage. They pulled out their phone and began to read a speech they had prepared beforehand. Their words touched upon how they shouldn't be up there on the stage having to make a plea for basic human rights.
The young activist went on to quote Martin Niemoller's poem, "First They Came." After concluding the passage, the activist stated, "If you aren't trans, but you are queer and support these bills, who do you think they'll come for next? If you are a woman and support these bills along with every other thing that has been enforced upon you, what do you think they're going to do when they're done with us?" Continuing on to those who may be on the fence entirely, the activist asked, "Which side is more appealing? The community that just wants bodily autonomy and just to be happy," pausing for a brief sigh, the exhaustion hanging on their words, "or the white skinheads throwing up the Nazi salute in Ohio, calling for our extermination?"
The speech concluded with one last plea, "I ask for our lives to be protected. I ask for the liberty of self-governance and bodily autonomy, and I ask that this happens soon so I can go home and just be happy!"
The sound of screams, powered by both grief and anger, is a sound that can be heard neighborhoods away. Youth who represent the new generation of the queer community jump with energy, enlightening the millennial and older crowds that the fight for individual autonomy is infinite. That although we shouldn't have to be fighting for basic human rights in 2023, the next generation holds the consciousness that many conservative elders lack.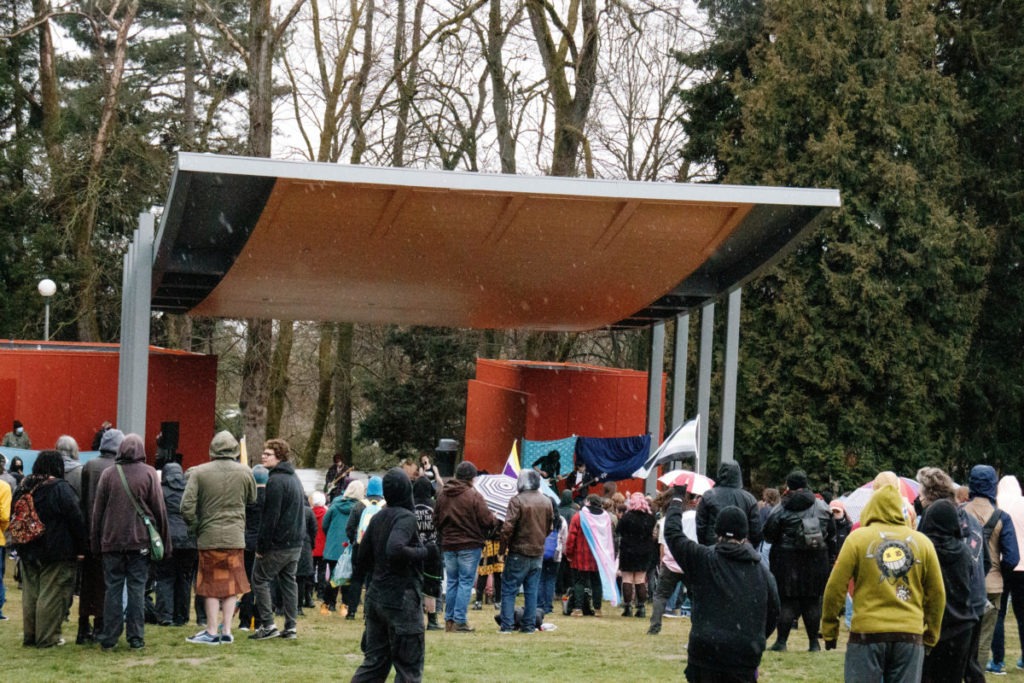 I looked around at my community and witnessed how revered we are in fighting for true justice. After leaving the amphitheater, I reached the top of the hill and turned to look down upon the crowd. Flags were held high, banners with the trans colors spread throughout the clump of people that have proven time and time again that our community, mirroring past generations who have fought for the right to simply exist, is stronger now more than ever. Hope reigns down upon us, upon the road that lies ahead.