The M. Rosetta Hunter Gallery opened fall of 2022 with the show ¡Viva La Comunidad! (Cheers to the Community!) with pieces that depict the culture, history, and identity of Latin America and its diaspora. The exhibit celebrates the Latinx & Hispanic Heritage Month (Sep 15 to Oct 15). Being a partnership between the Student Leadership department and the gallery, the exhibition features pieces from five different artists, ranging from paintings to prints to even a video art piece.
The opening party took place on Sep 29. Scott Méxcal, one of the featured artists, was joined by the staff and students of Seattle Central College (SCC); outside visitors were also welcomed. The event offered delicious food platters from Pecado Bueno, a local restaurant.
The show contains beautiful works, some of which brought me in touch with my own community and childhood in Brazil – running through cobblestone streets under the scalding sunshine of the tropics.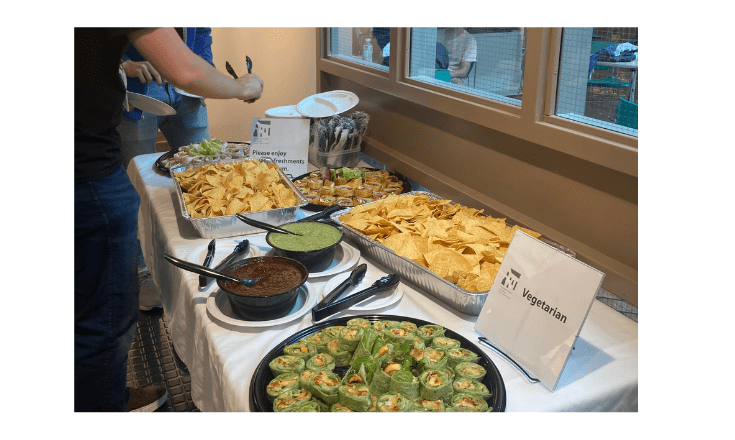 The pieces center around matters such as the immigration process and what it means to leave your homeland under harsh conditions in search of a better life, many times with a pure, altruistic sense of providing one's children with a different future. Other pieces speak of generational heritage and how culture and language merge, shift, transform, and are shared through generations.
Some works explore the artists' intrinsic experiences and portray pieces of their own lives (which, I believe, inevitably all pieces of art do). When working on the installation of the exhibit and thinking about the broadness of the works shown at the gallery, I asked myself, what defines an artwork? What does art mean? What is its purpose? Who decides if an artwork is good or bad? And, more, who's to say if one is an artist or not?
All these are common questions we stumble upon when pondering an abstract piece at a gallery, a colorful flyer we're handed while walking through town, or even a generic piece that hangs above our bed at a cheap hotel. We can go for hours on end on this delightful pondering, but I'd like to specifically point out how the dawn of digital art, the world of non-fungible tokens (NFT), and social media may contribute to our answers. The piece "Ojo De Brujx" featured in the exhibition led me to think.
The piece, which consists of an eight minute and 53 second video, was made by the artist Edgar Fabián Frías (they/them). Such a piece brought a scope of different reactions from the public, making us wonder how technology is shaping, and perhaps changing, what art means. With this in mind, I reached out to Frías, who kindly responded to my email clarifying some aspects of their work.
At first, we from the gallery were under the impression that the piece was for sale, but Frías stated, "I wanted to clarify that 'Ojo de Brujx' is not for sale! At least not at the moment. 'Ojo de Brujx' is actually a part of a larger installation that I created in Portland, Oregon titled 'Nierika: Santuario Somatico'."
Frías also explained how the sale of digital art, such as their piece, proceeds, "I have been minting other artworks as NFTs and have been selling them for the last two and a half years on various platforms. It actually opened up another avenue for artists who create digitally native and screen-based art. As prior to this, the sale of digital objects has been rather tricky. Once an artist decides they're going to sell their work as an NFT, they can decide if it's going to be a single edition work or if they want to create an editioned series of multiples." Similar, I thought, to how an original painting has prints.
"Now, with that being said, I am still unclear of what it means for a work to be sold as an NFT in the blockchain and what it means to have your work sold in the traditional art market. As I know, some artists are on the side of 'the NFT is the artwork itself', and others are on the side of 'the NFT is the NFT version of the artwork.'" Frías added.
The artist also shared, in response to my curiosity, their thoughts on what the digital world means for art and artists and how it may contribute to what an artwork is: "Your comparison to 'prints of a painting' is quite a good one, as I do feel like it speaks to the type of process these works undergo when they're sold. But, then again, this is all still emerging as a technology and as a cultural product and marker for artists, so we will see how the consensus decides in the future what this means for artists." Once again, we observe that complex questions might not have a single answer, and, oftentimes, these answers are developed with time and the succession of generations.
I tend to think that what makes an artwork an artwork is the viewer. Because after an artist completes their labor, they become, themselves, an observer of their piece. So it is up to them to decide its significance and value; just as much as it is up to the public, who are viewers, themselves.
It reminds me of an English class I took here at SCC in which we studied short forms of literature. When discussing what a prose poem was, both the author of our textbook and our professor concluded – after long paragraphs of exemplification and explanations – that a prose poem is a prose poem "because the author says so."
Within further personal thoughts, I believe all things are indeed relative; their meaning is volatile, and their values are inherently dependent on perspective. To me, such a belief is both comforting and maddening. The world of art is undoubtedly expanding each day, but the most noble role of what I consider to be the artist remains untouched: to share a story. A story that brings comfort, discomfort, relief, power, destruction, construction, and truth.
Finally, returning to the theme of the exhibit, Frías shared with us that "Latinx and Hispanic communities are incredibly diverse and deserve a full spectrum of representation and support within our community's cultural centers. As a queer, nonbinary, and indigenous (Wixárika) artist, I am proud to weave in some of my community's wisdom, knowledge, and sacred stories into my psychedelic, glitchy, visionary artwork. Our heritage is a rich one that is full of nuance and complexity, and it's an honor to be called in the role of a storyteller and myth-maker." 
Below are excerpts from featured artist's bios. If you wish to read their full statements or more information, visit the gallery's website.
"Frías is Wixárika, and their family is from Mexico, though they have lived in the United States for most of their life. […] Their art addresses historical legacies and acts of resistance, resiliency, and radical imagination within the context of indigenous futurism, spirituality, play, pedagogy, animism, and queer aesthetics."
"The themes and images of Nico's art often reflect Indigenous life and immigration throughout the Americas. He is a faculty art instructor at North Seattle College through their continuing education program. He is also a full-time web developer at the same college. His art has been exhibited throughout Washington State, and he has art on permanent collection with the city of Seattle and many other locations."
"Méxcal was born amidst the nopal and yucca on the bank of the Rio Grande river in Albuquerque, New Mexico. Scott spent his young life in the family garage building lowrider bikes and cars, in the barrio creating street art and tattooing, and in the Catholic church where the lines between spirituality, healing, and art blurred together in his mind. […] Wherever he goes, his ancestors and cultural traditions are with him in his heart."
"[Prendez] was born in San Jacinto, California but raised in Bothell, Washington. Jake is a strong advocate for youth empowerment and the power of positive reinforcement. He became involved in gang culture as early as middle school. Later, he began to turn things around and became heavily involved in the Chicano Movement and organizations like MEChA.​ Prendez's work is an amalgamation of his life experiences. […]It's as if he took all his life experiences, put them in a blender, and poured them out onto canvas."
"As the daughter of two immigrant parents from Mexico, my artistic creation is not merely centered on my own realities, but also focused on articulating the livelihoods of those who oftentimes go unheard and unseen. Over the past couple of years, my artwork has conceptually and aesthetically focused on illustrating different perspectives of the labor conducted by Mexican migrant farmworkers – whose arduous labor and work supports the thriving agricultural industry of Central Washington. Most recently, this series has expanded to include portraits of people who have served as essential workers during the pandemic."
If you wish, come by the gallery to check out the exhibit and share your thoughts, feelings, and questions.
Remember, the role of the spectator is just as noble as that of the artist themself. 
M. Rosetta Hunter Gallery's Fall Hours:
Monday, Tuesday & Wednesday: 10 a.m. to 3 p.m.
Thursday: 10 a.m. to 6 p.m.
Admission is free for all.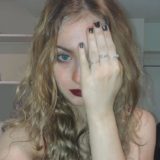 Sophia is an internationally published author with her book Primeira Pessoa, as well as a young classical singer. Born and raised in Brazil, music, writing, and Astronomy are her greatest passions. She believes the greatest role of a writer is to bring forth the truth, the honesty, and the humanity that echoes within each one of us. Journalism, while Art, is for her a portrait of the fraternity of the Earth. At the moment, she works for both The Seattle Collegian and the M. Rosetta Hunter Art Gallery, while completing her AA degree with a focus on Anthropology & English.