With the continuation of social distancing and efforts of mass vaccination, things are starting to look better for the Coronavirus pandemic. Seattle Colleges have announced that classes will return back to 'normal' during the fall. With that in mind, we will share some insights of the Collegian staff's future plans. 
What plans do you have for and after the summer quarter?
I am moving, taking a much needed vacation, studying for my certification test to be fully licensed as a Substance Use Disorder Professional, and preparing myself for the next phase of my academic journey: attending University of Washington's Master of Social Work program beginning in autumn.
– Astro Pittman, Editor-in-chief
I have quite a few plans for this summer. In terms of professional plan, I'll still be a social manager and staff writer at the Collegian. And also, I'm working on an article about the Sinovac vaccine and it will be my first piece for this upcoming Summer quarter. Besides, I just interviewed for 2 part-time jobs in downtown Seattle, one is in a restaurant and the other one is in the boba tea shop. I'm so excited to start working at these places next week! 
On the personal side, I decided to 'glow up' this summer. My plans are sleeping early at night, waking up early in the morning, working out, reading books, manifesting, meditating, writing journals, running errands, spending time with friends, and working hard. I'm doing these activities everyday now, and I hope they can gradually become my regular habits as well because they help me realize that I still owe this life many things to accomplish and they're worth striving for. In other words, it's hard for me to think about giving up my life while there are so many beautiful moments waiting for me to explore and experience. 
– Lolita Kim, Social Media Manager
This summer quarter of mine will be hectic because I'm taking four classes instead of just three. The reason is some classes are offered only in spring and summer. If I don't take them now, I may graduate one or two quarters late. It's a challenge to handle all the classes and god amidst the record-high temperature of summer. I feel the fire inside and out.
– Gift Homsaen, Web Manager
I plan on finishing my last quarter in the fall at Central after summer break. Then I'm looking at getting into Seattle University for the winter quarter.
-Danny Barber, Managing Editor
Following completing my AA at Seattle Central, I began attending Oregon State University remotely, so I remain in Seattle while I finish my Senior year online. Next year, I will be moving out of Washington State to attend a Graduate Program, and I have no idea where; it's an adventure. I have finally fully stepped back from my involvement at SCC, and I'm really glad I was able to contribute to and benefit from that community for an extra year as a result of the pandemic. I have since taken on several leadership positions at OSU, including as a remote correspondent for The Daily Barometer, OSU's student-affiliated newspaper.
-Morgan Wigmore, Staff writer
I currently do not have any plans for and after the summer quarter. As of right now, I am enjoying my summer break, doing activities that I like, and working on my personal projects. In addition, I might go on another trip to the who-knows-where land later this summer!
-Thang Nguyen, Staff writer
Since Spring 2021 was my graduation quarter, I have the entire summer to reflect and prepare for the next chapter in my academic journey. I was accepted into the University of Washington's Pre-Sciences program and I plan to transfer there for the autumn 2021 quarter. I have been revisiting the hobbies that I haven't had time for during the school year while also doing my research for future career opportunities. 
-Alex Su, Staff writer
I am not taking classes this summer so I can have a break from online classes. I have been taking vacations and figuring out different hobbies during my break. I will be moving out soon and settling into my new apartment with my friend and starting school at University of Minnesota.
-Smile Tongkaw, Staff writer
What is the most crucial thing you have learned from your time at Seattle Collegian?
I have learned how to navigate bureaucracy and institutional systems, to manage my time more effectively, and to be unafraid to use my voice to advocate for myself and others when injustice or inequality goes unchecked. 
-Astro Pittman, Editor-in-chief
Working at the Collegian is one of the best decisions I've ever made in my life. I met a supportive team, we worked and learned from each other. Everybody here is super kind, friendly and helpful, they're always there whenever I need help. I've evolved a lot ever since I've been working here, including my personality as well as my writing skills. I learned how to work as a team where everybody supports and helps each other for good. Moreover, since I worked here, I realized that I also had an interest in writing, which is something I initially thought I'm not good at. The best thing I've ever received while working here was the feedback from readers. They were the sweetest things ever. I'm touched when I read them because I acknowledge my articles help the readers out with their own issues somehow, even if just a little bit.
-Lolita Kim, Social Media Manager
Communication skill. I used to be a person who avoided public speaking or making presentations because of nerves and over self consciousness. Having to make a presentation every week to report about the Collegian website performance gives me a chance to improve myself and get more comfortable with the uncomfortable. Besides speaking, I get to develop my writing skills consistently through covering the column "Give me a break"!
-Gift Homsaen, Web Manager
I would say the most important thing I've learned is teamwork and project management. It takes a lot of grease to keep the gears turning in a newspaper, even a small student newspaper, and you have to be willing to work with people as well as keep up your end of things. And really, that's the main thing I want to impart onto the staff of the paper.
-Danny Barber, Managing Editor
I learned a lot as a staff writer for The Collegian. I gained a lot from simply learning to pitch story concepts and working with an editor, while also growing as a writer. Learning journalistic standards and actively seeking first-hand investigative data have both made me a better researcher. Having a reason to actively write has helped me to become a stronger writer overall.
-Morgan Wigmore, Staff writer
The most crucial thing that I have learned from my time at Seattle Collegian is patience. There are many articles that I have rushed to finish, but I end up thinking it's not a very good one, so sometimes I have to work them all over again.
-Thang Nguyen, Staff writer
The Seattle Collegian was one of the first organizations I became a part of since the beginning of my education at Seattle Central. As someone who was still adapting to the first world culture of Seattle, being able to carry out something familiar to me–writing–with a diverse and inclusive community that welcomed me beyond my expectations was like a safe haven to me. Something I learned from the Collegian that I will cherish forever is that our voices matter and we can make a lot of difference by putting our work out there. 
-Alex Su, Staff writer
I have been part of Seattle Collegian since my early start at Seattle Central College. Even though I am majoring in mechanical engineering, writing has been one of the hobbies I have been passionate about and would like to keep learning. Here, I get to be comfortable expressing my writing for others to read. I have learned how to write better, and putting my work out there feels like an accomplishment. 
-Smile Tongkaw, Staff writer
Do you have anything special you would like to share from your time at the Collegian? What is your favorite article (either written by you or another staff member)?
Looking back now, I am quite fond of my articles entitled "The Multiplicity of Oppression", "Letter from the Editor: George Floyd protests", and "Letter from the Editor – Austerity response". All three of them speak to my personal and professional values and to the work I hold dear as an advocate and activist for social justice and institutional change.
My time at the Collegian has been such a wonderful opportunity to showcase worthy voices, to seek the truth and report it, and to do so with respect, accountability, legitimacy, openhandedness, honor, professionalism and fairness. Every voice deserves to be heard, including those who have not been afforded this opportunity previously. I believe in holding space for everyone, even if I disagree with their views. I also believe in being the firestarter of intelligent banter and respectful dialogue. And I was able to fulfill these visions during my time at the Collegian, an experience I will never forget, and one I will cherish fondly, always. When we openly exchange ideas, opinions, viewpoints and experiences with each other, we can learn a great deal. I certainly have! 
-Astro Pittman, Editor-in-chief
My personal favorite article for now is an article about the CtcLink snowball effects. One of the reasons that I liked it is because it got the most views (relatively 133 views) among 7 articles that I wrote so far. I put so much effort in there so I'm blessed that it was recognized by many people. And also, a few readers contacted me and said thank you because that ctcLink article was so relatable to them.
-Lolita Kim, Social Media Manager
My favorite article I wrote was the recent one, Give me a break!: Photo essay: I'm Isabelle. It's an angle of presentation I had never tackled before. I told stories through my cat Isabelle's point of view. There are videos and lots of pictures in the article, too! The idea was vaguely formed in my head while spending time with her and seeing random things that cracked me up. It felt great to be able to make the idea come alive and (hopefully) be entertaining! Another favorite article was Carlos Hernandez retires after 39 years with the Mitchell Activity Center, written by Jordan Somers. He did an amazing job at capturing major events in Hernandez's life, blended with heart-felt quotes and his own thoughts. It's a beautiful piece, a mind-blowing one.
-Gift Homsaen, Web Manager
It's difficult to think of a favorite piece because I love every piece the paper puts out, knowing the amount of effort that goes into each one. But I would say some of the pieces that stick out the most to me are the opinion pieces, especially ones that cover very personal topics. Jordan Somers does an excellent job on his opinion pieces, they're really works of journalistic art.
-Danny Barber, Managing Editor
My final articles for The Collegian were primarily media reviews.
-Morgan Wigmore, Staff writer
My most memorable moment during my time at Seattle Collegian is the "A Tale of a College Application" article. It was crafted when I was having a really tough time at Seattle Central, mostly due to catching up with deadlines while trying to keep my University application on time. I would like to give a huge shout-out to Harlow; she was an angel and she helped me a lot during the formation of the article!
-Thang Nguyen, Staff writer
Something special that I will remember for a long time is how everyone was able to band together and still produce great content when lockdown first started. Despite the burden of online school, the team persevered and continued to be on top of things, whether it be being aware of any online events happening in Seattle or brainstorming ideas for new articles. 
-Alex Su, Staff writer
My favorite article was "What's Happening in Thailand." It was devastating to see what was going on in my country when I was here in the states. Another thing special about the Collegian was the people. I am grateful working with editors and other staff writers with talent, and I am glad that I get to put my writing skills to use and learn from writing for the Collegian. 
-Smile Tongkaw, Staff writer
What made you struggle the most during the pandemic?
For me, the pandemic created a challenging mix of stress, boredom, isolation, and discomfort that I had never experienced before. I think I struggled most with depression, lack of motivation, and poor self-care. I found myself losing my optimism and inspiration, because I am inspired by being in the presence of exceptional persons and finding hope in community, which was not possible for many months. I withdrew and struggled not to disengage from prosocial activities, commitments and responsibilities, which I know I am not alone in.
     I am so grateful to have survived this once-in-a-lifetime trial mostly intact, to have still graduated with honors, and to be coming back into the spaces and communities I so dearly love and have sorely missed. I watched so many beloved ones fall on seriously tough times or into darkness during the pandemic, and my heart has been grieving for the individual and collective hardships I have witnessed. I am hopeful that we will all dust ourselves off, carry our lessons forward, and rise up to new heights in the wake of this global crisis.
-Astro Pittman, Editor-in-chief
One of the things that I hate about the pandemic is it made me look at everything in a more negative way. I'm feeling like it is because I had to stay at home for over 12 months and the only interaction that I had was with myself, a mirror and 4 boring walls in my room. Those things have bound me for such a long time and I didn't see any way out, literally mental breakdowns and depressions were my 2 best friends during the crisis. However, things did get better when I started to make friends online, even though I haven't seen them in real life but talking to them somehow soothes me and keeps me calm. I no longer feel lonely and depressed anymore, I'm healing and getting better.
-Lolita Kim, Social Media Manager
I'd say time management. I spent much time on screen, like hours, days, with little physical activities. Lots of things going on virtually, whether studying, working at the Collegian, distractions, lots of noises. I wasn't the most organized person, so I spent my time with what my heart wanted and ended up rushing to get my homework done hours before the deadlines. It was unhealthy. These days, I'm better. I have become better at focusing and getting things done and taking a break away from the screen.
-Gift Homsaen, Web Manager
Honestly, the pandemic put me back several years in progress on my mental and physical health. I learned to thrive on a routine and became dependent on people and getting out of the house as my daily routine after years of being nearly bed and housebound. Then I was suddenly placed back in that traumatic environment. It was bad; I wound up having to take incomplete tests in the spring quarter and go into intensive therapy due to repeated emergency room visits. It's one of those things where I just have to brace and learn how to suffer through it until things become a little more normal again. I see the light at the end of the tunnel, though — for me and for everyone.
-Danny Barber, Managing Editor
As a result of the near-total isolation I experienced during the pandemic, being able to engage in media really helped my sanity over the past year. As someone going into a social science discipline with a focus on research, which requires the ability to engage with potential contacts and network remotely, writing for The Collegian gave me a truly invaluable skill set that I will continue to draw on as I pursue my Masters and beyond, wherever I end up living and studying.
-Morgan Wigmore, Staff writer
I'd say being solitary during the pandemic. Sometimes it's just a small inconvenience, but it can also become unbearable at times. I really hope that no one had to feel that way during the pandemic.
-Thang Nguyen, Staff writer
Taking pre-med classes online was one of the most prominent struggles I had as a college student during the pandemic. A more personal struggle would be that my home country was going through a political crisis at the beginning of 2021. This caused my financial situation to be in a more critical state, which put a lot of stress onto my family. 
-Alex Su, Staff writer
Everything has mainly been a self-taught situation which was overwhelming. However, the biggest struggle I had was time. Since most of my time at Seattle Central was online, adapting to the virtual education environment with the time I had for myself at home created a haphazard personal routine at first, which had me faced with unnecessary time management issues. Nevertheless, I managed to get back on my feet in no time. 
-Smile Tongkaw, Staff writer
We hope that during this fall, students will again be able to experience in-person classes, activities and events. As some of the Collegian's staff move on to new endeavors and others take their place in the fall, we hope that more students will join the Collegian family of staff writers and continue publishing news to the community.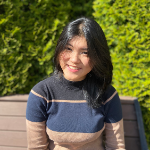 A young STEM student aspired for Mechanical Engineering and a staff writer at the Collegian. She's interested in design, machines, and the advancement of technology. Her dream is to use her design and technology skills to achieve a significant role in a dominantly male field. She enjoys playing video games, cooking, and mostly spending her time studying.