Friday nights at Queer/Bar are one for the queens. There's a static of excitement that hangs in the air as patrons wait for the show to start. Everyone gathered here for Willow Pill's February 17 show, "Oops…She Did It Again," were amped from previously watching the latest episode of "RuPaul's Drag Race" as a community. While experiencing queer joy in all its glory, it'd be easy for one to forget that lawmakers in states such as Montana and Tennessee are seeking to ban drag-oriented events based on Republican rhetoric. Bills being introduced into congress, such as House Bill 359, seeks to ban drag as a "sexually oriented" business, criminalizing events like drag story time, from ever taking place. According to an article posted by LGBTQ Nation, there have been 32 bills looking to further criminalize drag.
The show was preceded by the MX Cast (MX is gender neutral terminology as it also caters to non-binary and gender non-conforming people), a variety of queens who perform during weekend nights to support the headlining queen visiting their bar. Drag names are a sacred part of drag culture, holding the aesthetics of a queen but also sometimes incorporating camp into their presence. There's Norvina "The Rainbow" Dubois, Arrietty, Caramel Flava, Issaman, MyAiko and Jane Don't. Each queen goes through two cycles of performing, still with Willow Pill being the last queen to perform for the night.
Through the crowd chatter comes the opening melody to "Cell Block Tango" from the motion picture version of 2002's "Chicago." An uproarious cheer ignites once the crowd see's the guest of honor take the stage. Willow Pill, season 14 winner of RuPaul's Drag Race, struts onto the stage, blonde-wigged and wearing a black sheer dress adorned with strands of diamond chains that sway with each movement she gives to the song. Her lip-syncing can sometimes feel directed to the audience as her intense gaze matches the mood of the lyrics, but it's customary for most queens to take on a role when giving a performance. 
Although the space in Queer/Bar is compact, the audience, a mixture of the LGBTQ+ community and heterosexual admirers of the drag scene, are respectful when it comes to breathing room. The performing queens strut around the stage, jump up on chairs, fall into a supine position with one knee bent and the other straight (commonly known as the dip); they utilize the small aisle of space between tables and countertops to entertain and excite the audience.
Willow continues her number, finding moments in the song to pull off her blonde wig to reveal a mid length brown wig, to a teased blonde pixie wig, all the way to a bald cap topped by a small cowboy hat. She works through the excited screams while dollar bills from the audience come soaring through the air. As is customary in any performance, drag queens earn better compensation from tipping than from their flat rate pay per gig.
After the cycle of queens filter through again, the emcee, Jane Don't, yells into the microphone "I said Queer Bar, can you show her how much we love her?!" They are met by a booming applause blended in with whistles. "Then give it up," she continued to scream, "for Willow Pill!"
"I Love You" by Goldilox begins to play as Willow makes her way back out onto the runway. This time wearing a wig that closely resembles a beehive style. She once again goes to separate points in the audience, lip-syncing to the song while reaching to the hands extending their dollar bills at her.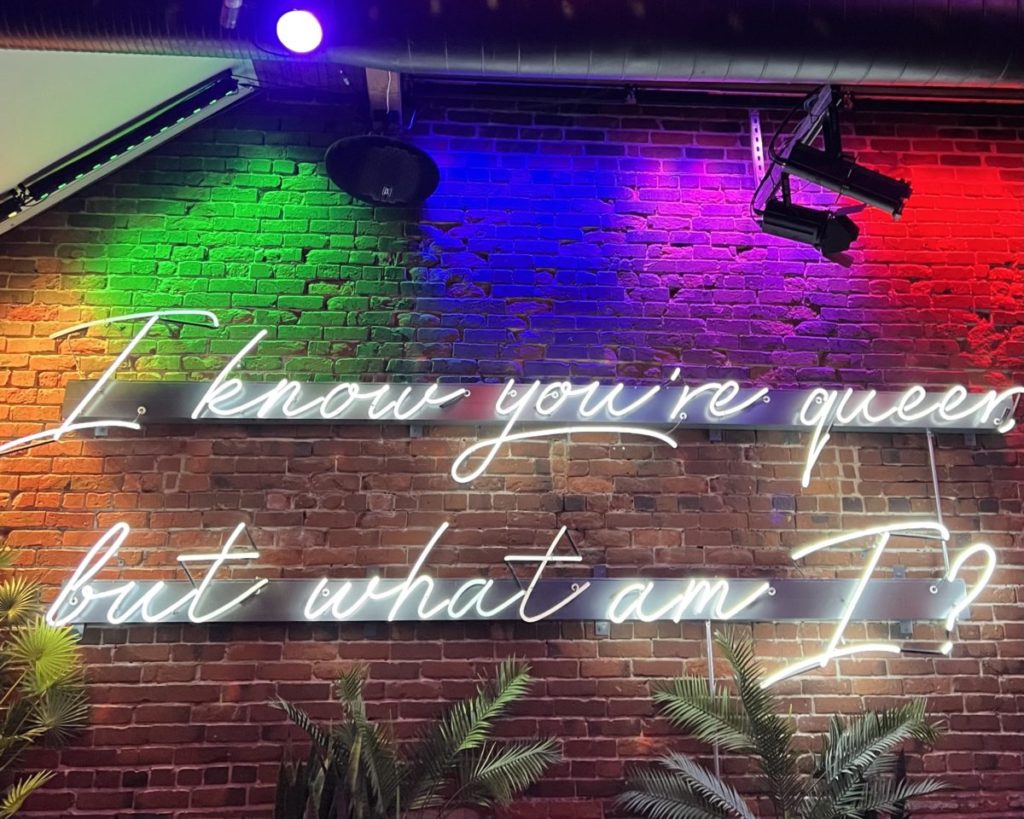 The crowd erupts into a cheer as hurls of dollar bills hail over Willow as she takes a bow. On the wall behind her is a big neon sign that reads, "I know you're queer, but what am I?" A sentiment towards the reclamation of a term once used as a slur is now held as a freeing identity in the community. The power of reclamation is strong as patrons come to performances like this to continue establishing safe spaces within the community. It holds a sacredness to those who have spent most of their lives behind closed doors. Seeing Willow Pill, a drag queen who had been diagnosed early on with a rare genetic disorder known as cystinosis, power through the performance appearing as invincible as the day she was crowned America's next drag queen superstar back in 2022 brings the sensation of star power to one of the many safe spaces for the LGBTQ+ community here in Seattle.