The upcoming closure of the Alaskan Way Viaduct is going to have a significant long-term impact on Seattle commuters. The #realign99 project is set to begin this January. Ninety thousand cars currently use SR99 and the Viaduct on a daily basis and those cars will be forced out onto surface streets. Representatives from the Seattle Department of Transportation and King County Metro came to Seattle Central College today to discuss options for student and faculty commuters. With rerouted buses and traffic delays anticipated, there are some key things you need to know to ensure you'll be able to get to campus effectively and on time.
Important Dates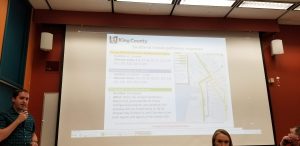 January 4th – Closure of two SR99 SoDo ramps, northbound offramp at Atlantic and southbound onramp at Royal Brougham.
January 11th – Permanent closure of Alaskan Way Viaduct will begin after the evening commute.
February 4th – Planned tunnel opening.
What you need to know: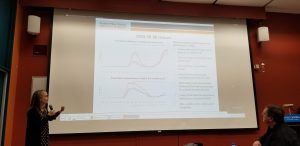 The closure of SR99 begins at the West Seattle Bridge onramp in the south and extends to the Battery Street Tunnel in the north.

The Battery Street Tunnel will remain open but will be reduced to one lane in each direction.

The impact to the West Seattle and South Seattle neighborhoods will be significant for a minimum of 4 to 5 weeks until the Dearborn Street exit on northbound SR99 opens.

Bus routes impacted by the closure include 21x, 37, 55, 56, 57, 113, 120, 121, 122, 123, 125, C Line.

Adjusted routes will use Marginal Way and the Spokane Street Viaduct and Lower Bridge in the afternoons.

West Seattle Bridge Bus Lane will be extended to 4th Ave S to accommodate for adjusted bus routes during the morning commute, where buses will use the SoDo Busway and dedicated bus lanes on 4th Ave.

Other lines not rerouted will still be impacted by increased traffic and extensive delays.

Water Taxi service will increase, adding a second boat to provide twelve morning, one midday, and twelve afternoon trips.

Routes 773 and 775 that service the Water Taxi route will increase van size and add another van.

Bus routes are planned to add ten minutes to the commute time; this only accounts for additional distances, not for delays in traffic.
Here are some things you can do to make commuting better for everyone: 
Do not drive.

If you absolutely have to drive, always carpool whenever possible to reduce vehicle traffic.

Adjust your schedule to work earlier or later in the morning to avoid prime commute hours.

If using Uber or Lyft, choose pool or share options rather than riding alone.

Use Uber and Lyft to take you to public transit hubs going into or out of downtown, for example to the Water Taxi or a Light Rail Station – don't have them take you all the way home.

If you're planning on using an alternate route, try it out now to practice.

Plan on giving yourself an extra hour for your commute until you know how much additional time it will actually take.
Start planning your commute now to avoid last minute issues this January. Several resources are available to assist you with commute planning, including SeattleTraffic.org, which will allow you to subscribe for daily updates to your regular commute. Real-time updates and a 45-minute planning window with travel times from impacted neighborhoods into the Seattle Commercial Core are also on this site. Other sites with valuable resources include seattle.gov/traffic, commuteseattle.com/sr99, and kingcounty.gov/getready.  Stay tuned for more information on the Viaduct Closure and other major traffic impacts coming to the Seattle area in the near future.