Perhaps this weekend while wandering around downtown, sightings of people in strange costumes occurred. What could the cause of this oddity be? A rift in the space/time continuum leading to another dimension? Seems unlikely, after all it still looks like Seattle, rain and all. Perhaps it's Halloween? Whoops, still April, can't be that. Perhaps it's just a bunch of nerds enjoying a convention? Seems like the most realistic choice.
This last Easter weekend was in fact Sakura-Con. Sakura-Con is an annual anime (cartoons), manga (comics), and gaming (of all kinds) convention run by the Asian Northwest Cultural Education Association (ANCEA) at the Washington State Convention Center. ANCEA is a 501c3 nonprofit, which means their convention is mostly volunteer-run and donations to them are tax deductible. If it sounds interesting so far, volunteering is easy; simply be 18 years of age or older, sign up on the website (sakuracon.org) and agree to give a minimum of 16 hours of your time over the course of the weekend, and attend one of their general meetings to get an overall view of what will be expected of you.
People come from all over the world to enjoy this convention and share in their love of anime, manga, and gaming. This year's featured guests included voice actors/actresses Alexis Tipton, Cherami Leigh, Cristina Vee, David Vincent, Erica Lindbeck, Erika Harlacher, Justin Briner, Kari Wahlgreen, Ian Sinclair, Jamie Marchi, Tony Oliver, and more. Other guests included illustrators such as Ryukishi07, Yukata Minowa, just to name a few.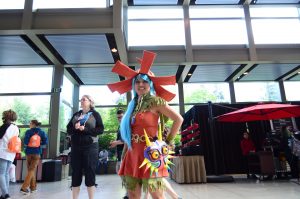 While some go for the celebrities and their autographs other people go to cosplay (wear costumes of characters from various shows, games or even memes) and participate in photoshoots while they're there, or just wander the con showing off their hard work. Some of those cosplayers even compete in the cosplay contest held every year. Current trends in cosplay seemed to center around the League of Legends, K-Popesque group KDA, as well as a resurgence in Homestuck (a webcomic) based cosplays for it's 10 year anniversary.
While the previous points may seem like some of the main features to someone who's never gone to a convention, almost all attendees stop by the vendors in the exhibition hall and artist alley to get some new apparel, prints, gear, media, or a variety of other things. A variety of cosplayers and normally dressed con-goers alike can be spotted all around these areas. Others go for the 24-hour free arcade and adjacent tournaments. Those who like to dance go for the variety of parties held over the weekend, including a masquerade ball and a few raves. People's reasons for going are as varied as the average number of attendees (around 25,000 per year).
Regardless of the variety of reasons, most go because they share some sort of appreciation for anime, manga or gaming. Want to know what the inside of the convention looks like? Check out the video footage of Sakura-Con here!