The first death in the United States from the novel coronavirus known as COVID-19 occured on February 29, 2020, at EvergreenHealth hospital in Kirkland, the Eastside suburb of Seattle. The victim was a Washington state man in his 50s who purportedly suffered from underlying health conditions. Since then, The New York Times has crowned Seattle America's coronavirus capital, perhaps because the number of coronavirus cases here has grown from a handful to 80 in just under one week. Of the 15 deaths across the country so far, 14 have happened in Washington state. 
The epicenter of the outbreak in Washington is a long-term care center in Kirkland. Life Care Center has been in quarantine since Monday, March 3, when a patient was rushed to Harborview Medical Center with the disease. One potential confirmed case has popped up at the University of Washington, leading to the cancellation of all face-to-face classes. The University stated in an announcement that starting Monday, March 9 that classes would not be meeting face-to-face until the end of winter quarter. The president of the University stated remote learning would be utilized when possible. However, it was also stated that in some cases, professors may need to submit grades based on completed work.
So what are administrators at Seattle Central doing in response to the outbreak? At the time of this writing, the school remains open for face-to-face classes, but administrators have suggested social distancing and lots of handwashing. They've inaugurated a website dedicated to information on the virus. Additionally, lots of meetings have been canceled.
Dr. Jaime Cardenas Interim Dean of the Arts Humanities and Social Sciences division recently canceled a division meeting. Additionally, Cardenas recommends that faculty in the division cancel office hours or meet with students via Zoom.
In response to administrative concerns, English Program Coordinator, Erin Steinke, cancelled this week's English Department meeting. While Steinke hasn't yet noticed any student absences in her classes, she says she's "noticing absences in terms of hallway traffic." She also says English instructors have been emailing her to say they're staying home due to cold-like symptoms.
While some faculty report that students have been emailing them with health concerns, many students at Central seem to be taking the outbreak in stride. "We went through a coronavirus epidemic already," said independent filmmaker, Bryant Ouch, referring to an earlier outbreak of SARS. "We survived that with chicken noodle soup and Sprite."
Student Sierra Siegal-Brugh noted one of the bright sides of living at the epicenter of the coronavirus. "I have never seen the bathrooms cleaner than they look this week." 
Mario Dunham, an Afghanistan war veteran and student said," I personally think we're freaking out too much." Another student, Jacob Flatt, agreed; however, he also noted that he has a three-and-a-half-year-old child. "My own opinion is one thing," he said, "but having to be responsible for someone else's life trumps everything."
Meanwhile, full-time student, Thang Nguyen, who lives at home with his aunt and her newborn baby said his family has developed a protocol for re-entering the home from public that includes taking a shower and changing clothes. Nguyen, who rides public transit to and from school, also mentioned, "On the bus, when you used to sneeze, people said 'bless you.' Now people look at you with strange eyes, like they want to kick you off the bus."
Other students report similar situations in the halls of Seattle Central College. Gianna Bonnalie said, "I sneezed in the hall yesterday and a lady gave me a very pointed look, as if to say, 'Really? You're here today?'"
Some faculty have even dealt with suspicion from their neighbors. Paul Croon, a full-time English teacher, said he got on the elevator at his apartment building yesterday. He spoke with two delivery men who shared the elevator about Covid-19. "Then this young guy gets on the elevator and immediately turns his back to us," Croon said. "He gave us a stink eye and his cheeks puffed up. I swear he was holding his breath."
Living at the epicenter of an outbreak like this, imaginations run wild. We see threats of contagion around every corner, in every other seat on the bus, and at our local grocery stores that run out of hand sanitizer and canned goods just as quickly as they can restock the shelves.
"We fear what we can't control," says Seattle Central psychology professor Shaan Shahabuddin. He says people overreacting to others sneezing on the bus or in the hallways is a case of classical conditioning. We associate sneezing or coughing with coronavirus because we hear about the symptoms through the media. We develop a cognitive bias, or a mental shortcut wherein we convince ourselves that anyone who coughs must be infected with the coronavirus. The particular cognitive bias at play here, according to Shahabuddin, is called the availability heuristic. In simple terms, this just means that after you see or hear so many stories about the coronavirus in the media you begin to believe that cases of the illness are much more common than they actually are. So what's the antidote for this cognitive bias? Shahabuddin says, certainty would help. "If they found a cure people would chill."
To combat the flow of paranoia and misinformation, Julia Buchans, Manager at Information Central, said Info Central's been updating their social media whenever new, accurate information becomes available.
On a personal note, she added, "there's a fine line between vigilance and paranoia and I can't tell which side of the line I'm on." She told the story of her friend with a compromised immune system who has a daughter who attends a school that's now closed due to contact with an individual who's tested positive for Covid-19. In response, her friend put herself and her daughter into self-quarantine, but not before spending $500 on supplies. For her part, thinking about a possible future self-quarantine, Buchans ordered 200 pairs of latex gloves from Amazon.com, where she also encountered $200 bottles of hand sanitizer. Putting the whole situation into perspective, Buchans said, "Nothing like this has happened in my lifetime, in my parents' lifetime, or in my grandparents' lifetime."
At the time of this writing, no one has found a cure or a vaccine for coronavirus, but Seattle University, Seattle Central's neighbor on Capitol Hill, has followed the University of Washington, announcing that they will suspend face-to-face classes from Monday, March 9 until the end of winter quarter. Bellevue College has also closed for in-person classes.
Here at Central, many instructors, like Erin Steinke, are making accommodations for students. She's letting her students decide whether they want to finish the quarter in the classroom or online. "I feel confident the administration would support whatever the students want in this situation," she said. 
But despite Steinke's confidence, a cloud of uncertainty still hangs over Seattle Central. Whether the administration will follow the University of Washington or Seattle University has yet to be decided. So far, we have no known cases of the virus at our school. But most people you meet in the halls agree that it's just a matter of time.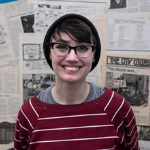 Danny Barber is the Managing Editor of the Seattle Collegian and an English student at Seattle Central college. She enjoys writing creatively, drawing, baking, video games, and going on long-winded random internet research sessions. After Seattle Central, she plans on getting her Master's in English and working on the editorial board of another paper someday.