The Buzz cafe has been a hallmark of Seattle Central's main campus for quite a while, located directly to the left upon entering the Broadway-Edison building's main entrance. During the pandemic, the school's campus went largely empty – and with it, the business that would keep the cafe open. Recently, however, the Buzz has reopened to the public as the school prepares for the return to campus on November 1, 2021.
"We are proudly serving Caffe Vita coffee and pastries and salads made here by the Seattle Culinary Academy," states Sasha Hartanov, manager of the Buzz. He hopes that the reopening will bring back some life to the main campus, which has slowly started to see students and staff warm its cold brick halls once again. "[The cafe's] just a part of campus life." The Seattle Culinary Academy includes the Buzz as part of its list of available restaurants on campus, including the One World restaurant and Square One bistro. The Buzz is currently the only one of the restaurants that has fully resumed normal operations.
The cafe's hours run from 7:30 a.m. to 2 p.m., Monday through Friday. Coffee, tea, and pastries are served all day, while grab-and-go lunches are available after 11 a.m. Foods available at the counter, including the pastry case, are rotated on a regular basis, and depend on availability from the Culinary Academy students that so proudly supply it.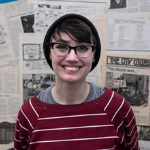 Danny Barber is the Managing Editor of the Seattle Collegian and an English student at Seattle Central college. She enjoys writing creatively, drawing, baking, video games, and going on long-winded random internet research sessions. After Seattle Central, she plans on getting her Master's in English and working on the editorial board of another paper someday.