Rooted in providing accessible public education to underrepresented communities, Seattle Central, which has a diverse racial makeup and takes pride in its mission to provide opportunities for the most marginalized demographics, prepared a lengthy agenda for this year's Black History Month.
As of the 2018-2019 demographic collection, 20% of Central's student populous identifies as African American — a significant number when compared to Capitol Hill's overwhelming White majority where just 3.8% of the populous identifies as Black. 
In the midst of a national outcry for racial justice, Black History Month at Central is providing an opportunity for education and context for the demands of those seeking to dissolve the racist systems that define the lives of the Black community.  
With over ten events organized throughout the month by the school for a variety of audiences, Central is immersing those interested in the programs with topics ranging from music, intersectional activism, art, and sex.
To plan, host and facilitate these events, the school organized its own Black History Month Planning Committee including Dennis Denman, Student Leadership Advisor; Dr. Valerie Hunt, Equity Diversity and Inclusion Office Associate Vice President; and Chelsia Berry, the Associate Dean for the STEM department.
This year, the theme for Black History Month is "Virtual Congo Square," as announced by the team in an email to the school community. The announcement cites the theme as a "recreation of the shared space of New Orleans' Vieux Carre and Faubourg Treme neighborhoods that is the historic gathering space for the city's Black and African American community."
Congo Square, the shared space that is referred to, has been a historical place of solace for slaves and Black people to find comfort in community and celebrate their cultures.
Central says that in the "spirit" of Congo Square, the month's activities and community events will focus on the values and characteristics that define the Black community, like the joy of life and resilience.
Already, Central has hosted a Professional Development Day for faculty, featuring the Black Solidarity Think Tank; and "Emerald Street", featuring humanities faculty member Dr. Daudi Abe.
In the coming weeks, programs aiming to strengthen community will continue to ensue. Events like "Fellas Friday," which aims to empower Black men; "Seattle Central Sister Circle", which works to empower Black women, and "Black Creativity: Paint, Sip, & See" which will feature local artist and Central student Myron Curry, will foster collective discussions forward for the community.
Students, staff, and faculty can find the events planned for the month here.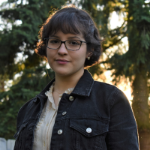 Alexa is an avid journalist seeking an A.A. with an emphasis on Global Studies at Seattle Central College. She's interested in pursuing investigative journalism to report on social struggles like immigration, civil rights, and access to education in South and North America. She is currently working to cover budget cut reforms at Central and civil rights movements in Seattle. Alexa is also a Youth Council Member at OneAmerica, advocating for greater access to quality education for immigrants and refugees in WA. She is a first-generation American who has travelled to 13 countries to explore world cultures and politics.