On June 3rd, the Seattle Central College library hosted another event in the Conversations On Social Issues (COSI) series, featuring NYU professor and co-organizer for numerous organizations dedicated to abolishing student debt and pushing for tuition-free colleges: Dr. Andrew Ross.
The discussion was hosted by Kimberly Tate-Malone, who opened the discussion with the Land Use Acknowledgement. Then, the discussion passed on to Dr. Ross, speaking from Manhattan, NYC.
Dr. Ross talked about his education. He has never experienced student debt because he went to school in Scotland where tuition was free (and it still is at the moment). He stated that Scotland is one of the many industrialized countries that have tuition-free colleges, but none of those countries are as affluent as the United States.
He presented a campaign called "Jubilee South," which believes that the external debt of countries of the south is immoral and illegitimate. "Most of the household debts are unpayable because they can't afford to pay them, and it has been increasingly becoming more clear," stated Dr. Ross.
His book, "Creditocracy: And The Case for Debt Refusal," discusses the implication of indebtedness in the U.S. and suggests ways for Americans to respond. Further in the discussion, Dr. Ross talked about his campaigns.
His first campaign was "Occupy Student Debt," which had the goal to get one million signatures from students to refuse debts. However, the goal has not been reached. Worse, the number of debt defaulters each year was more or less one million.
During the summer of 2012, the "Strike Debt" campaign was formed. The campaign hosted many debtors assemblies. Chapters began to grow between cities, including Seattle, but mostly active in the Bay Area. The campaign had developed iconographies to go with the movement. They focused on making concrete products that people can use, noticeably "The Debt Resisters' Operations Manual." The book aims to inform the American people how to negotiate their debts, and get their debts off their backs. Dr. Ross emphasized the fact that the book is written in plain English and not in Wall-Street language because the book aimed to reach a wider range of audience.
Another campaign was formed: "The Rolling Jubilee," now closed but is planned to be reopened in the future under a different name. This campaign was a mutual aid project that raised money to buy off people's debts and educate people about debts. When the campaign informed people that their debt had been abolished, they sent a little gift package alongside, too.
Another campaign formed is "Debt Collective." The campaign functions as a debtors' union with a network in Capitol Hill, hence the union can start pushing matters to be resolved early and influence elected officials.
At this point under the Biden Administration, there are more than 2 billion dollars of debt discharged. Even though President Joe Biden has the authority to cancel all debts, it would just mean that people would still have debt in the future since colleges in the United States are not free.
Then, "Biden Jubilee 100" was formed by 100 student debt strikers since the struggle of the COVID pandemic, facing eviction, food insecurity, medical costs, rising tuition, unpayable bills, and the fear of illness have impacted many people and the president and his administration needs to act immediately on cancelling student debt.
Further in the discussion, Tate-Malone asked a question for Dr. Andrew Ross: "Was there a minimum amount of money you needed to buy on the secondary debt market?" "Whatever you can get and whatever the market can get is bearable, but there are certain rules but to make a substantial buy. It would be around 1 million dollars and we need someone familiar with the market to get around it. When we wrote to people that their debt has been repaid, they thought they had already paid it" Dr. Ross responded. It is from that doubt that debt creditors make profit.
Another question from Althea Lazzaro: "Do you have any thoughts about the role of faculty union members working with students that might play in regards to tuition-free college?" Dr. Andrew Ross described that we need debtors' union as necessary and inevitable entities. Higher education debtors' unions are needed to lobby legislators.
Under the College for All Act that is being proposed, families making up to $125,000 are entitled to tuition-free educations at public universities, while the federal government pays 75% of the cost and states will pay the remaining 25%. "We've tried to build in some language about requiring states to recognize workplace unions in higher-education institutions." However, the language didn't make it to the current legislation. If this becomes active policy, states will have to decide whether to follow the funding plan or not.
A participant from the discussion asked Dr. Andrew Ross to clarify how Scotland, Mexico and other countries have free tuition, whereas the U.S. does not. "It is not an issue of cost, it is more of a political priority," expressed Dr. Ross. He explained that some of the colleges in previous generations were not as expensive as they are now; some were even free. That time was when higher education was high on political priority.
However, that is not the case anymore. As a result, states have reduced funding for higher education which causes student debt to rise. "The US is the only country that has transformed higher education into a profit making [tool]." Moreover, the biggest party that is profiting the most is the government, not the schools. "Those interest rates are outrageous!" expressed Tate-Malone. There has not been any proof that the profit has been placed back in the education system. Dr. Andrew Ross believes that the states are at fault for withdrawing their funding for education.
One of the reasons we are on the brink of student debt abolition is because it is being seen as a form of stimulus to jumpstart the economy. A proper economy cannot be maintained by having a large variety of undergraduate students who are not able to afford tuition. That is why the issue is placed on the president's table.
Finally, Tate-Malone asked a question regarding people who have private debt and if there will be a solution for those groups. Dr. Ross explained that there would be a lot of pressure to cancel private loans, since they carry more interest rate than the federal debt.
At the end of the discussion, Tate-Malone thanked professor Andrew Ross for speaking on this social issue, and she thanked all the participants who came to this COSI.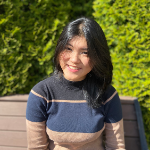 A young STEM student aspired for Mechanical Engineering and a staff writer at the Collegian. She's interested in design, machines, and the advancement of technology. Her dream is to use her design and technology skills to achieve a significant role in a dominantly male field. She enjoys playing video games, cooking, and mostly spending her time studying.