On a brisk, sunny winter day December 5, 2020, a crowd of neighborhood residents stood amassed outside the corner of 24th Avenue and Union Street, awaiting the grand opening of Communion Restaurant & Bar.  Chef Kristi Brown and her son Damon Bomar, the owners of Communion, mingled and celebrated with friends and family just outside the entrance, and at 3PM made the grand opening official with the cutting of the ribbon.
"Originally we were going to open in May/June but because of the [pandemic], construction was delayed for almost two months, which delayed us all the way to where we're at now," said Damon Bomar, co-owner of Communion. "Finding the energy and wherewithal to move through this was a lot, but it also allowed us to take our time, which was a blessing, because this is not something to be rushed."
Communion is situated in the Liberty Bank Building, a Central District landmark that houses the Pacific Northwest's first Black-owned bank, and offers 115 units of affordable housing to community residents, among many more noteworthy advocacy and support efforts. Community Roots Housing (formerly Capitol Hill Housing) and AfricaTown initially reached out to Kristi and Damon to discuss the prospect of occupying the once vacant space in the Liberty Bank Building in a continued effort to propel more Black-owned businesses to operate and thrive in the community.
"The war that we're facing, while it is physical and violent on our bodies, is also economic," said Bomar. "I understand the ails of capitalism, but that's the system that we're in, and in order to have a fighting chance we have to engage with it." Bomar continues, "We have to find economic power in order to create and sustain our own communities; it's all about value and how we transfer our value in our community."
Chef Kristi has a longstanding reputation in the community, starting That Brown Girl Cooks 28 years ago, a full service catering company wherein she catered for non-profits, city, county and government organizations. "She pretty much grew it by herself with her own determination and work ethic," said Bomar. In 2009 she closed the business due to the recession and lack of access to funding, but reopened again in 2012 as "THE Hummus," which featured her patented black eyed pea hummus that is currently sold in various markets and shops in the community.
Chef Kristi and Bomar were both precise and intentional when considering the atmosphere and mission of Communion. "The Black community of Seattle needs a place that they feel is ours, for us, caters to us, and that's what we're here to do," says Bomar. "A lot of people need a place of respite, to rest; a place to feel where they belong; a cathartic space and a space of intimacy – and food heals the soul."
Chef Kristi and Damon worked with specific organizations and architects to achieve a certain style that reflected the very nature of communion and belonging. Personal tastes and aspects of their lives were incorporated into the architecture itself. "We wanted to create a modern look and feel, with elements that would promote a classic, timeless vibe," says Bomar. My mom is a fan of mid-century modern and I'm a fan of the New Orleans, Southern styles. That's where the dropped ceiling and tufted seating came from." The restaurant also features copper ceilings and a copper bar top, as well as a large wood block table for larger parties to gather. Another noteworthy feature is the open kitchen that allows Chef Kristi and the kitchen crew to interact with customers. "We wanted to go with the open kitchen so Chef Kristi's personality could shine through that," says Bomar. We couldn't see her being behind a closed kitchen wall, so we needed to give her that opportunity."
The Communion menu features a unique, flavorful and eclectic mix of items, fusing southern traditions with cultural Seattle inspirations. "Here we have a large Asian population, so [Chef Kristi] drew inspiration through all of these cultures through proximity to the neighborhoods and their open markets," said Bomar. "I grew up on 19th and Jackson, a couple blocks up from Little Saigon, and that's the only place we would shop."
"We also have a large East African population, and it's evident in the smoky Berbere chicken that we do, or the slow burn hummus," says Bomar. "So, having access to these experiences, to these cultures, inspired [Chef Kristi] to create the dishes for what we call 'Seattle Soul': African American traditions as well as the innovations that Seattle brings."
Communion also offers an arsenal of distinctive house-made alcoholic beverages, currently sold in mason jars for to-go orders, utilizing ingredients and products made by various small businesses in Seattle. Communion also intends to sell various food products of other Black-owned businesses in the community.
For now, Chef Kristi, Bomar and the Communion family are only taking online orders and offering limited outdoor seating. It remains undetermined as to when indoor seating will become commonplace. For more information on Communion and their menu and offerings please visit their website at https://www.communionseattle.com/.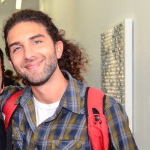 Jordan Somers is currently in his second year of Visual Media at Seattle Central College. He specializes in photojournalism and documentary work, with a particular emphasis on social movements happening throughout the city. His 2020 documentary, Hope is Not Cancelled, was an official selection at the Local Sightings Film Festival, and won an award for best editing at the Oregon Documentary Film Festival. Jordan is an avid traveler when granted the opportunity, and has a keen interest in psychology and existential philosophy.