Seattle Central offers a wide variety of classes. The difficulty is finding the right one for you, your budget, your schedule and your sanity. Worse yet, one might and often does find themselves stuck in a boring, but requirement-filling class that goes for three hours – through lunch time, with only a 10-minute break in the middle. Or you might find the perfect class, but at the worst possible time of day. Now, the robins are singing, the trees are budding, and spring quarter is hurtling towards us faster than this writer's botany grade can hit the ground. Here we've selected a few of the more unique classes coming up this quarter, along with their details.
1) ENGL204 – English Language and Linguistics. Taught by Nada Oakley, this class is "[an] overview of the fundamental structures of English from the perspective of linguistic studies. Emphasis on the basic principles and tools of the field of linguistics, contemporary theories of morphology, syntax (grammar), semantics, and study of historical, geographical, and socioeconomic variations of the English language." It aims to delve into the nitty-gritty structure of the English language and its sublanguages. Fulfills the VLPA (Visual Literary and Performing Arts) degree requirement. Meets daily, 12:00 PM to 12:50 PM.
2) ENGL120 – Digital Literature. Taught by Greg Bachar, who leaves this message about the class: "NEW CLASS! We will explore literature created & presented in a variety of digital formats (& make a few of our own). Great class for anyone interested in social media, technology, video games, interactive fiction, virtual reality, apps, film, music, art & creative writing. No specialized computer knowledge required (this is a reading & writing class). Online readings (no textbook to buy)." As multiple forms of digital media come forth, literature itself evolves, which this class aims to cover. Fulfills the VLPA degree requirement. Online class.
3) GEOL106 – Dinosaurs. That's right, dinosaurs! Taught by Alecia Spooner. "Studies dinosaurs and the world they lived in. Covers origins, evolution, biology, behavior and extinction of dinosaurs and their relationship to birds and mammals. Intro to history of the biosphere, Earth's climate and its changes." Fulfills the Natural World degree requirement. Meets Mondays and Wednesdays, 1:00 PM to 3:30 PM.
4) HUM270 – Comic Books, Manga and Graphic Novels. Taught by Leonard Rifas. "Survey the history of comic books, manga and graphic novels. Study cartoonists' works as channels of human expression and as evidence of changing and differing cultural conditions. Learn the basics of cartooning. Research self-chosen questions pertaining to "sequential art."" Sure, we all know comic books, but do you know their true weight as a medium of expression? Satisfies the VLPA and U.S. Culture degree requirements. Meets daily, 11:00 to 11:50 AM.
5) HIST124 – Pacific Northwest History. Taught by Jennifer Smith. "Surveys history of the Pacific Northwest and Washington state from the earliest times through exploration, settlement, and the modern era. Emphasis on the growth of the Northwest in relation to national developments, including ethnic contributions. Includes a unit on Seattle history." Learn more about the Pacific Northwest and Seattle, the city that once burned down because of a glue pot. Satisfies the ICS (Individuals, Cultures and Societies) and U.S. Culture degree requirements. Meets Tuesdays, Wednesdays, and Thursdays, 11:00 to 11:50 am. Hybrid class.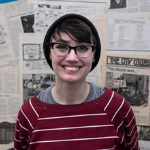 Danny Barber is the Managing Editor of the Seattle Collegian and an English student at Seattle Central college. She enjoys writing creatively, drawing, baking, video games, and going on long-winded random internet research sessions. After Seattle Central, she plans on getting her Master's in English and working on the editorial board of another paper someday.