After getting their acceptance form I-20 from the college of their choice and attaining an F-1 visa, international students have an important decision to make: where they are going to stay while abroad.
Finding a good place in a completely foreign city is not easy and involves many factors. Students may want to stay with other international students. On the other hand, they may want to experience the culture of the country and practice the language with natives. There are also financial problems. There have been stories of students not registering for a dormitory then having to rent an apartment at the last minute for a higher price or with difficult roommates. Most problems arise because students do not thoroughly understand the types of housing, or they don't understand the lease or rental contract they sign. Accommodation is an important factor affecting success at school, so students need to understand their options and the conditions they are agreeing to before signing any lease or contracts.
1) Homestay
A homestay allows international students to live in a household with an American family. This is one of the most well-known housing options for international students. Ideally, homeowners will welcome you as a family member. This way, even though you are away from home, you will have family support. With the friendliness and comfort of your host family, you will feel as comfortable as your own home. One student said, "The majority of us here live with the natives, they are very friendly. They are willing to correct our pronunciation and teach us many English words of native speakers. Choosing to live with a native speaker is helpful for you who want to improve your foreign language skills!"
As you start to integrate with the new language, you will have difficulty with standard pronunciation, but you will get better in time since you get the chance to practice the language with your hosts. In particular, you will be eating dinner, attending parties and traditional festivals which will give you more knowledge about the culture you are visiting. Engaging with your host family's activities will help both your language learning and understanding of the culture, as one student noticed, "On the weekends, I often go with the family to cook traditional dishes like Fish & Chips! Not only do I learn how to cook, but I also hear stories about their culture and customs!"
A homestay is a viable option for students under the age of 18, especially those who are worried about being away from home and living in a new country. Living in a family atmosphere, can help with feeling homesick and lonely while studying in a foreign country. Many of Seattle Central's students have become attached to their host family and consider them a second family.
According to the ABODE Homestay Company, who has worked with many international students from Seattle Central College, the average monthly cost for a homestay is $620 for Bed & Breakfast Homestay option and $780 for the Traditional Homestay experience. The Traditional Homestay option include three meals a day, with your host family making you dinner each night. The Bed and Breakfast option includes use of your hosts kitchen but no promise of meals.
2) Dormitory
Many international students chose to live in dormitories, in part because they are often inside the premises or close to campus, so it is convenient to walk to school. If you want to save as much time and money on commuting as possible, staying in a dormitory in the school is the most convenient option. Not only is it convenient to attend classes, but you will also have easy access to other places such as libraries, cafeterias, and other school facilities.
Dormitories can be rented in the form of common rooms. Some colleges offer single rooms. Of course, you should stay in the common room to have more friends from different cultures as well as a having someone who can help you throughout your time here in the U.S.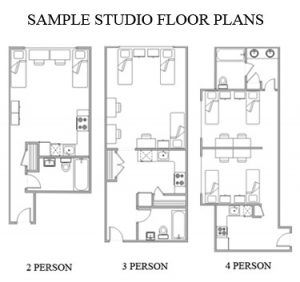 Another great advantage of living in a dormitory is that you have many opportunities to socialize, make friends with students in the school, expand your relationship and become more confident in your communication. Moreover, most dormitories are under the management of the university. Therefore, students are guaranteed security.
Some disadvantages of living on campus involve certain restrictions such as quiet hours and the high cost of renting a dorm. The average cost of student dormitories in the United States is usually up to three times the amount of the off-campus rent. Dormitory costs range from $11,000 to $14,000 per year, while renting a room costs between of $4,300 to $8,500 per year. "I don't mind the high rental fee, if it is safe, then it's worth it," said Kim, a Korean student who is currently live in the school dorm.
3) Living off-campus
Renting an apartment is the best option for international students over the age of 18 who want to save money and enjoy an unrestricted lifestyle. Compared with homestay and dormitory style housing, students can save a significant amount of money if they hit the jackpot with an apartment that is both decent and a good value.
Universities in the United States often have a faculty advisor or committee to help with housing issues, particularly for first-year students. Contact them as soon as you start looking for housing. There are also apps like Zillow or HotPads that can help you find a perfect apartment within your price range. These apps will help you contact an apartments' managers for setting up tours.
Some of the other issues that you need to consider when renting a home are the overall security of the area, electricity, internet, etc. Before you search for a home, you should open Google maps and use the Street View option to get a quick glimpse of the areas near the school where you may want to rent.
It's important to note that students need to understand their leases. Reading the contract will help you to consider whether to take a rental. Once you have decided to take the property, you need to read the agreement carefully, and then read it over and over again. Understand even the smallest detail, ask a lot of questions, and make sure that your parents, guard or college advisor takes a look at the contract. Do not ignore any details as they could be detrimental. Also keep a copy of any contracts, leases and communications with your landlord or apartment manager.
The cost of renting varies between cities and neighborhoods within cities. However, it is usually a lot cheaper than living in the dormitory. Students must pay for electricity/gas, telephone network, internet access and food costs along with room rental. Many students find friends to rent apartments with. It's common for four friends to share a one-bedroom apartment with two using the living room as their living space, and two sharing the bedroom. Anh Vu, an international student at Seattle Central, said, "Me, my boyfriend and another roommate were lucky to seal a deal with a one-bedroom apartment for $1500/month, which is pretty cheap considering it's in the Capital Hill neighborhood. We each pay $500, so it is much cheaper than staying with a host or living in the dorm. Plus, it is close to our college too, so I can say that I'm happy with where I'm living."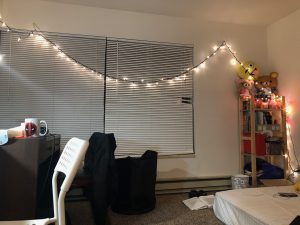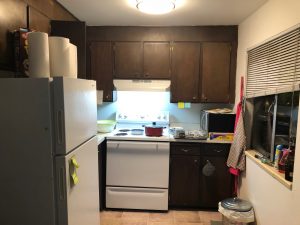 Unfortunately, it is unlikely that an affordable rental will have as nice of an environment as a homestay or dormitory. Your neighbors are unlikely to be students, so it is not easy to make friends with your neighbors. Students also have the habit of renting a house with friends from their home country for easier conversations, which significantly reduces the chances of communicating in English.
Whether you rent a dorm or an apartment issues with your roommates can be disruptive to your studies. These issues usually happen when people don't get along well after moving in together. Make sure you communicate thoroughly with your roommates about the common rules before moving in to avoid conflicts.
"My roommates used to kick me out of the apartment just because they suspected me of stealing their stuff. I couldn't do anything since my name wasn't on the lease. I was forced to move out in 1 week!" said Alex, a student at Seattle Central College. Though roommate issues can happen in an apartment or dorm, an apartment does not come with the assistance of the school and roommate issues can be a much bigger threat, as they were for Alex.
Living in a completely foreign country is very exciting and promises new experiences, but also extremely complex and risky. International students need to cautious consider their living options before making financial commitments.