Dragging myself out of bed on a Monday morning, I was waking from a hazy neon fever dream to see my drab reality — back to the daily grind. After that weekend, returning to reality was a hard pill to swallow. The four nights prior I was on a cosmic sonic bender that steered me through 30 performances across various Ballard venues. It was the Freakout Festival, and it was time to get psyched out.
I spent some time familiarizing myself with the artists playing this year before the festival, which was no easy feat considering there were around 100 acts scheduled. The playlist put together by Freakout's Guy Keltner was a solid primer. It helped me look at the schedule and map out a daily route from venue to venue. Unfortunately, there were some acts I wanted to see playing around the same time at different venues. Some hard decisions had to be made. If I wanted to see two bands playing the same time slot, I would have to bail on one set halfway through to catch the last half of another. Sometimes a set was too good to leave, so there were missed opportunities. Hopefully, those I missed this time around will be back again soon.
The venues were clustered within a few blocks of one another, which made getting from one to the next quick and easy. All of were relatively small and intimate, and the bars had Freakout drink specials thanks to sponsors like Stoup and Ilegal Mezcal. The Stoup Freakout Italian Pilsner was especially delicious. The Salmon Bay Fraternity of Eagles operated as the hub where the box office, Freakout merch, Mad Alchemy Liquid Light Show, and headliners would be. The venue had two stages dubbed Hi and Lo, with Hi operating as the main stage. It got difficult to get into the main stage as the fest progressed, and there were long lines to get in when the headlining acts played. In lieu of waiting in a queue, I opted to check out the smaller acts playing at other venues to maximize my experience. Over the four nights, I saw 30 performances. That number is modest considering I could've cut a few more sets in half to see others, but like I said, some were just too good.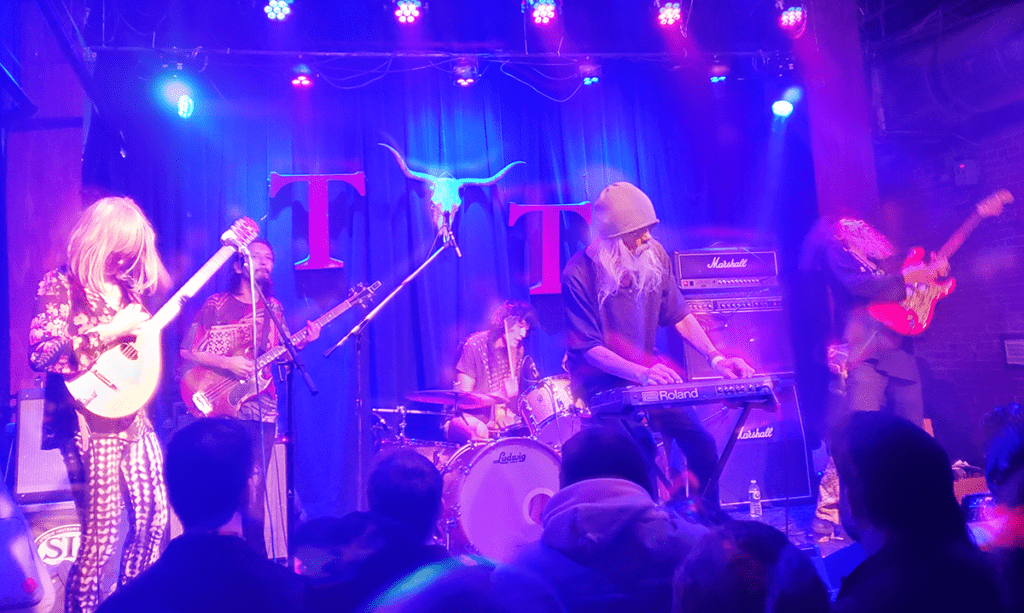 The first night Mexico City's Carrion Kids and local punk stalwarts The Spits brought raw power to Salmon Bay Hi. Draped in colorful swirls of psychedelic lights, each act ripped through their sets as the frenzied crowd moshed and pogoed about. When the pit broke out during Carrion Kids, it erupted right where I was standing and my glasses were lost in the process. Bless the heroic samaritan who returned them to me when the song finished. On Friday night, Acid Mothers Temple was a serious standout. I missed a few opportunities to see them over the years, so I was determined not to this time around. Seeing them live was worth the wait, the Japanese mind-melters absolutely blew me away. Earlier in the evening, Mala Suerte, a Freakout supergroup featuring members of Acid Tongue, The Grizzled Mighty, and the aforementioned Carrion Kids, brought the energy, swagger, and rock n' roll chops their pedigree suggests. The crowd went insane during their cover of "Demolición" by Los Saicos, myself included. Mengers, also from Mexico City, were one of the bands I was most excited for. They had me banging my head so much I nearly lost my glasses again. Sextile from Los Angeles were a major highlight on Saturday. Their blend of post-punk and goth electronic got the crowd moving — at times devolving into feral thrashing. Nestter Donuts played three of the four nights and generated a lot of buzz. I finally caught him on Sunday, and the wild card from Alicante, Spain was pure insanity. After pounding his forehead with the mic, blood dripped down as he sang about offensive body odor. Not long after, he was wearing only his guitar. Truly wild stuff.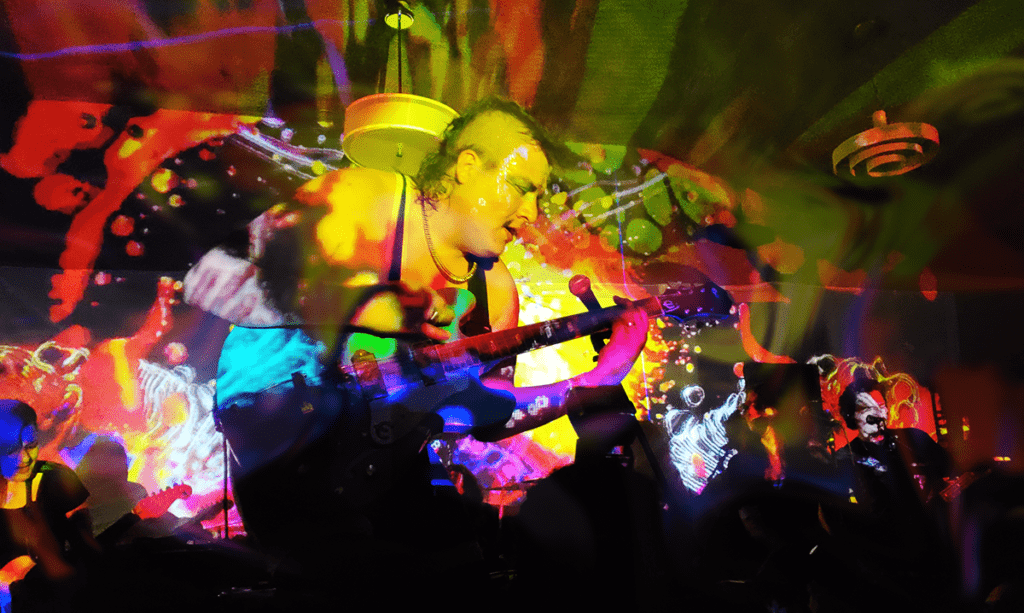 Beyond the bands that generated a lot of buzz heading into the fest was a musical landscape of sonic riches. Prior to the fest, I'd only heard a song or two by many of the acts, if any at all. After the fest, I'd become a full-fledged fan of more than a few. Chokecherry from San Francisco are a perfect blend of grunge, shoegaze, and pop that fits like a well worn sweater in the land of Sub Pop. Local left-fielders, Diminished Men craft a unique sound that pulls from surf rock, film soundtracks, and musique concrète. It was impossible not to smile and shake about during Death Valley Girls. Denver's cumbiadelic Ritmo Cascabel were equally infectious and had folks seriously grooving. Sunset Images from Mexico City thoroughly slayed, sounding like Russian Circles channeling Joy Division. Forty Feet Tall from Portland's angular punk was sharp and precise. While New York's 95 Bulls featured some seriously heated vocals over driving Farfisa organ, sounding like more menacing B-52's. Chico California's The Wind-Ups played short, fast punk songs in the lineage of the Ramones with slightly less attitude and more self-deprecation. Marion Raw's classic balladry was beautiful and heartbreaking in the best way. And zzzahara played emotional shoegaze with an effortless cool that belied the intimate nature of their songs. I could go on and on.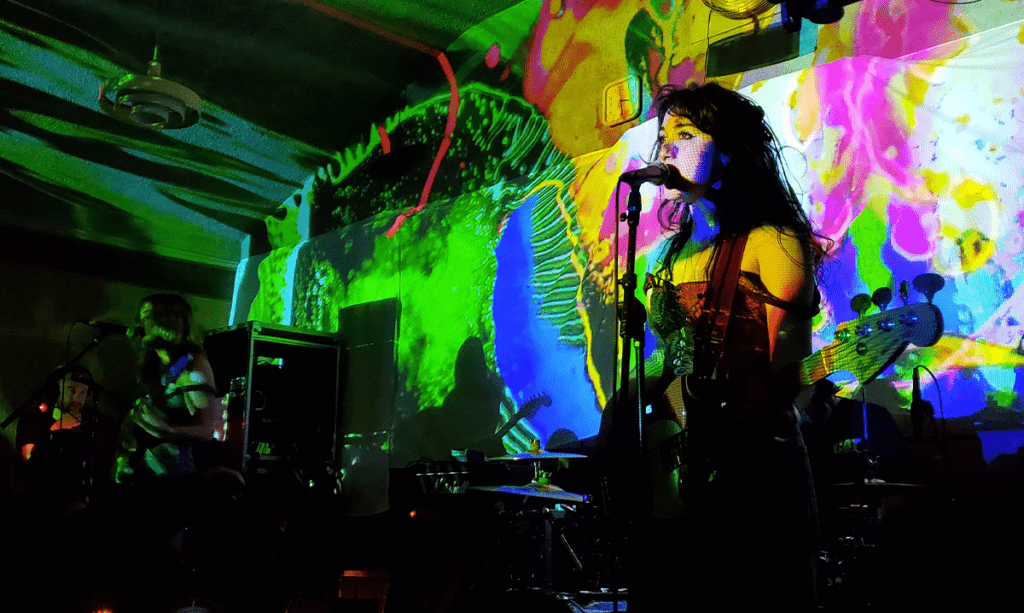 Needless to say, I had a great time! The bands were amazing, the crowds were lively, and there was a real sense of connection. Seattle can be a real chilly place socially, but chatting with complete strangers about music was not uncommon at the festival. I'm excited to see what next year's event will have in store. In the meantime, there's the Freakout Weekender happening in Belltown on March 2-3. For anyone looking to experience a little of what their big shindig in the fall is all about, this will give you a taste.
Big time shout out to Guy, Skyler, Jake, and everyone at Freakout. What a weekend! Do yourself a favor and follow Freakout on Instagram @Freakout to keep up to date on all the events and happenings they're hosting. Be sure to check out their website for more information, records, and merchandise. See you at the Weekender and next year's fest!
Art damaged music nerd occasionally hugging trees and decrying the brutal nature of capitalism.