In the dead of winter 2013, a group of friends set up an epic party dubbed the Psychedelic Holiday Freakout. It was successful enough to make a yearly tradition. In the decade since, the Freakout Festival (as it was rebranded in 2017) has grown, but one aspect remains constant — it's still an epic party, and this year's iteration may be the most epic yet. It's hosting more than 90 local and international musical acts across seven venues over four days with trippy visuals from Mad Alchemy Analog Liquid Light Show and a night of classic jams courtesy of Boots! 60s Dance Party. Calling it an "epic party" feels like an understatement.
Taking place from Nov. 2. To Nov. 5., attendees will descend upon the Ballard neighborhood to get down to diverse sounds from artists around the globe. Las Pijamas from Mexico City, El Khat of Tel Aviv, Jonathan Bree from New Zealand, and Japan's Acid Mothers Temple, will all be performing, to name a few. Local favorites and Freakout staples like Acid Tongue, Biblioteka, and The Grizzled Mighty will be on hand to represent Seattle. Many of the artists skew heavily psychedelic with a healthy smattering of alternative, shoegaze, punk, funk, cumbia, and then some.
Thanks to the experience of its founders, Guy Keltner as a touring musician, and Sklyer Locatelli's connection to KEXP, their network reaches far and wide. Considering the decadent spectacle that the festival is shaping up to be, it's easy to assume that Freakout is a runaway success story — but it wasn't long ago that their future was in question.
Operating as Freakout Records since 2016, the label served as an outlet for Guy's band, Acid Tongue, and the artists they've connected with over the years. It wasn't a lucrative business, but making money was never the motivation. It was always about the music, growing a community of like-minded artists, releasing music they felt passionate about, and putting on lively performance showcases to spread their psychedelic gospel.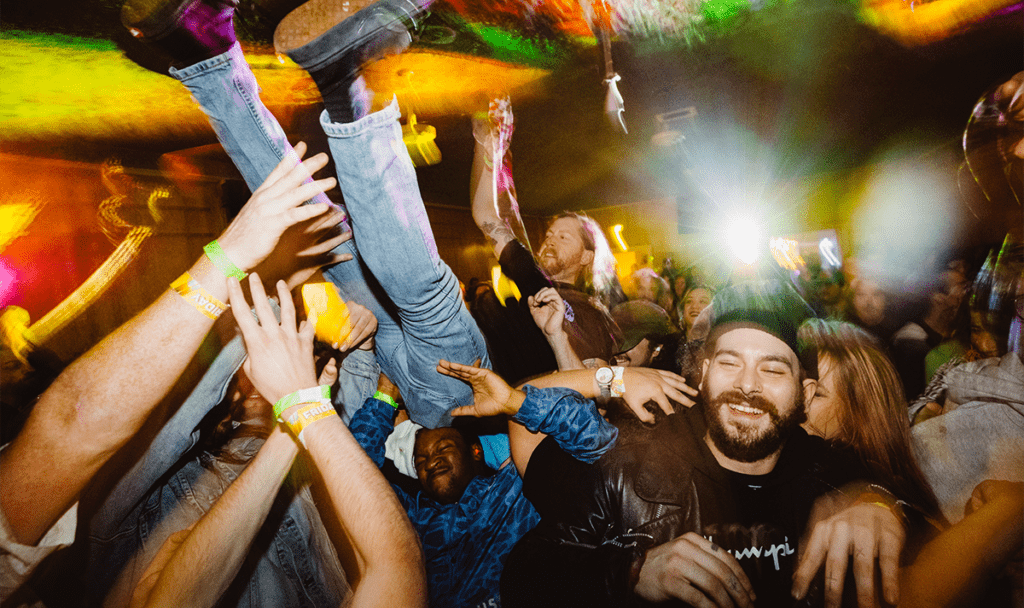 I reached out to Freakout founder, Acid Tongue's Guy Keltner, to share his experience transitioning to a nonprofit and this year's festival.
Please give a brief description of Freakout? What's its mission?
The short answer is Freakout is an annual underground psychedelic, punk and rock & roll festival. We like to say "music for people, not for profit" as our tagline, however you can read our full mission statement here. Over the past decade, our organization has hosted events in Seattle, Los Angeles, New York City, Austin, San Francisco, and Boise. We've curated stages at SXSW, Treefort Music Festival, Psyched Radio Fest in SF, and Off Beat Music Festival in Reno. We've also partnered with Mexico City's NRMAL Festival in the past to bring a diverse array of artists from Latin America to perform at our flagship fall festival in Seattle. With our finger on the pulse, our goal has been to resuscitate rock music and create a unique live experience not found at any other festival in the United States.
This year Freakout transitioned to a 501-C3. Has much changed day-to-day now that you're functioning as a non-profit status? If so, what are the biggest differences?
The biggest difference is that we are now owned and operated by a board of directors. Freakout's original owners (Skyler Locatelli & myself) are now the co-executive directors of Freakout. The board is made up by a wonderful team of individuals, and includes staff from KEXP, the Crocodile, Hardly Strictly Bluegrass Festival, and Sonic Guild. The addition of this larger team means more hands on deck to improve the overall experience at Freakout Festival and all other future events we produce. The ability to now apply for grants means that we can sustain our events for years to come, which was not the case when we were operating as a for-profit enterprise.
The festival has continued to grow over the decade since its inception. This year looks to be the biggest and best edition yet. What are you most excited about this year?
I am especially excited to bring The Gories back to Seattle. This has been a dream of mine since I founded Freakout Festival in 2013. This band is legendary and worthy of so much praise, I think it will be a truly killer set. I'm also stoked to finally host Sextile, they are another act that I've wanted to book for many years and I think they are going to blow some minds. But the weekend's wildest antics will likely come from The Spits. These guys are true punks and I have never been disappointed by a Spits show.
There are a number of international acts coming to perform at the fest this year. Which acts would you say are not to be missed?
I've been telling everyone from the press that my pick this year is Nestter Donuts. We love this artist so much, we gave him three sets the weekend of the fest. He's a one-man band from Alicante, Spain and performs his own brand of "Flamenco Trash." He's basically a Spanish version of the King Khan BBQ Show. We're also bringing up the excellent Son Rompe Pera from Mexico, a band that performs a unique blend of cumbia and punk. If your goal this year is to completely trip out and lose your head, the Japanese band Acid Mothers Temple will be right up your alley. And garage rockers Tuesday Violence will be trekking out from Brussels, Belgium to lay down a serious dose of kick-ass rock at this year's event.
Any advice for anyone attending the festival for the first time this year?
Don't spend too much time at one stage! Do your best to move around the neighborhood and see something you have never seen before. Get outside of your comfort zone. Try to meet new people and don't be afraid to talk to the artists. Many of the bands spend the whole weekend at the festival and will be attending shows too; they want to make friends with everyone and this experience is really about connecting artists to the people that fuel the music scene.
Check out freakoutrec.com for more background, the-freakout.com for festival info, and this Spotify playlist for seven hours of solid jams from this year's lineup. The Freakout Festival takes place Nov. 2. Through Nov. 5. in Ballard with four-day, two-day, and single-day passes still available.
Art damaged music nerd occasionally hugging trees and decrying the brutal nature of capitalism.