This coming Thursday, March 14th marks the start of Emerald City Comic Con. ECCC is a three day gathering at the Washington State Convention Center that by their own description "delivers the best that the comics and pop culture industry has to offer directly from the creators". The con features booths highlighting a diverse range of media from print comics to clothing that all embrace varying elements of popular subculture.
This year, Sad Riot clothing company will bring their own element of subculture to ECCC for their second year in a row. Sad Riot is a design company that makes an assortment of different media including but not limited to clothing, candles, and tarot decks. This is all designed, produced, and  illustrated by the two contributors, Sam Gutierrez and Gabby Park. This company-running couple are both involved with the arts culture of Capitol Hill as Sad Riot, and have been individually for many years now.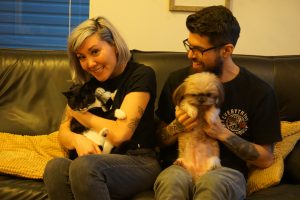 One of the original founders of Spin Cycle records, Gutierrez helped run the shop for 3 years before moving to Idaho and starting his very own Collective Tapes and Vinyl, a record shop that would run from late 2014 until the summer of 2016. Determined to be a presence in the arts culture of Seattle, Gutierrez would choose to design more, inspired by Park' desire to promote their art together. Gutierrez works full time as a barista, and nearly full time as a designer the minute he's off of work, though this year for ECCC he would be the first to admit to the hard work paying off, stating that this year they are "more tired, and less stressed," in comparison to their appearance at last year's con, some two months after the unveiling of the company.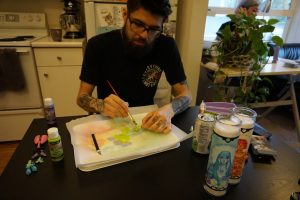 Sad Riot's business came into fruition by Gutierrez' surprise gesture of printing Park's designs on a few pieces of clothing in May of 2017- a gift for his partner and now business partner's birthday. Park took this ball and decided to run with it, as the company got an official city and state licensing within six months of the initial "gift" printing by Gutierrez. Within a nine month period these designers were able to begin showcasing their work at a number of different expositions, including Punk Rock Flea Market in January of 2018, and Portland's Rose City Comic Con.
Gabby Park makes her living working full-time for the Sad Riot machine, as well as being an on-call substitute instructor for the Seattle Central culinary program, and she taught all of fall quarter 2018 while Chef Regis Bernard was on leave. Park is able to maintain the social media end of the company, as well as produce one half of the content for their company. Park enjoys teaching for the school as a supplement to her artistic endeavors, drawing much inspiration from her students' work ethic and determination. "It's humbling and inspiring to watch people work with each other", an element that Park and Gutierrez are no strangers to, both having management experience within varied fields.
Sad Riot will be at Emerald City Comic Con 2019, starting this Thursday and going until Sunday the 17th. The comic and content couple will have their own table each day, and have tote bags (pictured above) available any day at Spin Cycle Records on Broadway. Gabby Park can be found subbing still for the Seattle Central Culinary program.