With its closing performance on May 21, the Seattle Opera featured Italian composer Giuseppe Verdi's much loved tale, "La Traviata" (The Fallen Woman). The production featured South African singer Vuvu Mpofo and German singer Mané Galoyan as alternating sopranos for the leading character Violetta, along with Dominick Chenes and Duke Kim as her counterpart and lover Alfredo. With strikingly complex stage sets, the performance lasted two hours and 30 minutes (including one 25 minute intermission) which makes "La Traviata" a shorter spectacle – good for first-timers.
The opera was composed and first performed in March of 1853, which yielded controversy with its, at the time, shocking exposure of the 19th century elite. Taking place in 1800s Paris, the plot revolves around Violetta, a well-known prostitute (commonly referred to by the euphemism of "courtesan") within the Parisian high-class, and her tragic love story. Act I begins with a lavish party in celebration of Violetta's recovery from her illness (tuberculosis), and the very famous aria "Libiamo, ne' lieti calici," also known as "The Drinking Song." Commonly heard in popular culture as an iconic reference to opera, characters are seen holding drinks in their hands, referring to wine as a catalyst for joy and delight, as well as implicit descriptions of physical pleasure in sex. The song is a fast-paced waltz, setting it apart from most other arias in the spectacle. Violetta's illness, however, is ongoing during the entire plot, and worsens at certain moments. It becomes clear that her lifestyle, exhausted by countless parties and the entertainment she is required to provide to guests, greatly influences her already impaired health.
The parties that occur throughout the opera depict the sex life of the elite in an orgy of joyful songs (and some productions have chosen to make it a bit less implicit). During one of the parties, which emphasize eternal hedonism, Violetta is introduced to Alfredo, a young member of the French bourgeoisie, who confesses his long-term love for her. Taken aback by a genuine demonstration of love, which she had never experienced, Violetta begins to question the life she has led. Can she trust Alfredo tells her the truth and won't abandon her if she chooses to leave her lifestyle behind for him? Is one great love a better choice than a life full of fleeting passion? Is one great love even possible? And more, is she herself capable of such?
Both characters express their thoughts in the duet "Un dì, felice, eterea" ("One day, happy, ethereal"), where Alfredo sings his signature melody, which bears slower tempo and a minor key change, conveying his proposal of a loving, faithful union of stability. Violetta, responding to his propositions, sings a faster melody, maintaining a major key, explaining to him that she prefers fleeting joy, passion, and is accustomed to her bohemian life which has no place for love. However, by the end of the song, Violetta is found matching Alfredo's melody, showing the audience that although her words may say differently, her heart has made a choice. A common theme in opera is that the words of the music let the audience know the thoughts of a character, but the music itself reveals the character's feelings, similarly to the separation that sometimes happens between our own hearts and minds, when feeling contradicts logic and reason. A popular way of defining love.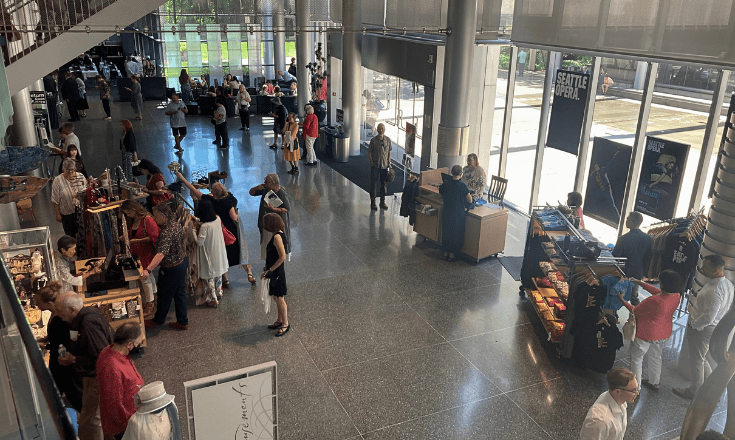 Once Alfredo leaves the scene and Violetta is left alone onstage, she turns back to reason and attempts to convince herself that her lavish and bohemian lifestyle is right for her, in the iconic soprano aria "Sempre Líbera" ("Always Free"). This is one of the most famous female arias in opera, not only for its joyful, catchy melody, but for the amount of dexterity and dynamics it takes to properly sing. Full of coloraturas, trills, and an amazing E6 high note at the end (which was not originally on the score, but added by performing artists and later made popular, and which soprano Vuvu Mpofo gracefully and briefly sustained), Violetta claims she wants to "frolic, free and aimless from joy to joy," but is soon interrupted by an off-stage Alfredo saying that "love is the heartbeat of the universe, mysterious, the torment and delight of the heart." Violetta still tries to hold onto her "madness, euphoria!" life, but she realizes she loves Alfredo. Act II begins with both protagonists living together later on, showing that Violetta has, indeed, left her old life behind for Alfredo. Her health improves as she moves to the countryside with her lover, and experiences a genuine relationship.
Coming back to the social critic of the story, Alfredo's father Germont interrupts the couple's union by (behind Alfredo's back) requesting that Violetta leave his son. Germont justifies the request by explaining to her that Alfredo's sister is soon to get married to a wealthy man who will not tolerate a courtesan in the family, and will refuse to marry Alfredo's sister if Violetta is still in his life. The encore flyer received by the guests at the Seattle Opera contains an article by Naomi André, PhD, which analyzes this scene relating it to "fatherly love": "[Germont's] narrow focus on ensuring the future of both his children makes him capable of ruthless tactics … As far as his family is concerned, [Violetta] is a second-class citizen," states André. In his aria, Germont compares his daughter to an angel, pure, making it clear that Violetta is not an angel, is not pure, and thus challenges her belief that she is deserving of love. This reflects the great stigma around non-marital sex and prostitution (which is still very relevant nowadays), and brings out the hypocrisy of the time (and of our current time).
After much suffering, and jarringly knocking a porcelain vase off the table, Violetta agrees. Part of her agreement comes from her inherent understanding of her ever-decreasing health, which is counteracted when Germont uses her "youth and beauty" to convince her that she can find another love and has much to live for. Another part of her agreement, never voiced, is her realization that "her dream of an honorable domestic partnership with Alfredo is impossible," as put by Naomi André in the encore, which leaves the protagonist hopeless and eager for a loving figure in her life who accepts her as she is, which she never had. Violetta then returns to her old life.
By the end of the tale, Violetta understands she has lost her long battle to her illness, and sings (in my humble opinion) the most beautiful aria of the opera, "Addio Del Passato" (Farewell to the Past). In certain productions and/or recitals, the piece might reach over five minutes, but in the Seattle Opera's May 2023 performances, the aria was beautifully sung and short-lived – like Violetta herself. She sings this in her hospital bed, gazing back at her life story and the intense love she once shared with Alfredo – a love she now tells us has abandoned her. Despite dramatic, her lyrics are lucid, explaining that now all joys and sorrows shall at last perish. She also revisits the fact that she led an "unholy" life, claiming for God's forgiveness and acceptance.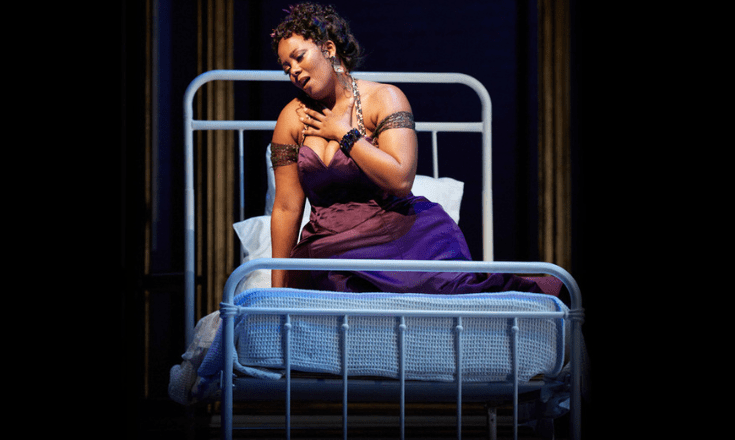 Now moments from her death, Violetta re-encounters her long-lost love as Alfredo enters her hospital room. In a lapse of joy and hope, Violetta becomes truly alive one last time, standing up from her bed and claiming she is well again, and that the illness is no longer with her. This moment, full of subjective significance, also reflects a medical symptom of impending death known as terminal lucidity, commonly observed and reported since the 19th century. It refers to a moment of sudden and unexpected return of mental clarity or regain of consciousness in the moments that precede a person's passing. The moment, as depicted in the opera, may also be interpreted as Violetta's moment of death, where all earthly ailments are left behind. The Seattle Opera's production featured guests from past parties and carnival dancers from earlier in the story passing behind the windows of her room, as perhaps a last memory, a last farewell she gives to a life full of people she once knew and was a part of. Or, perhaps, it is a farewell said by the people from her life to her. It is both. After one last high note, soprano Vuvu Mpofo, standing on Violetta's bed, lets her body fall back onto the mattress. Alfredo, along with the other characters present in the scene, realizes her death.
Once the long, red curtains closed, and the spectacle room slowly began to fill with light, the actors, producers, and orchestra were received by a long-lasting standing ovation – including by myself, as I dropped everything that was on my lap to the floor to stand and applaud another amazing production at the Seattle Opera. This moment shared by the audience and the performers is a precious reminder of the artistic nature of humans, and the ease of which we may come in contact with profound emotions that are common to us all.
The performance I watched was labeled as a Family Day at the opera. It also coincided with Mother's Day, and by a last minute coincidence, my own mother was able to attend the opera with me. There were many children and young adults accompanied by their older family members, which I thought was a suitable reflection of the opera we had just witnessed: "La Traviata" is a depiction of a life, from beginning (Violetta is "reborn" as the first act opens with her celebration party) to end. For this reason, Violetta's part requires a singer which is able to traverse to and from different types of the soprano range, in order to properly deliver all of the character's issues, fears,  joys, sorrows, and fluctuating physical health.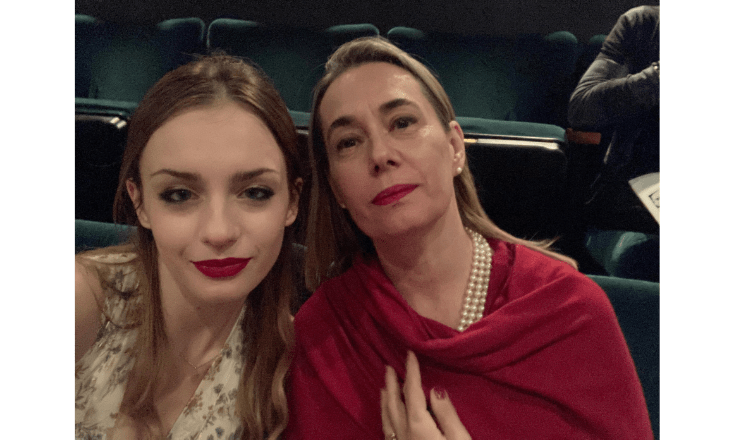 Before the spectacle and during intermissions, guests are welcomed to eat and drink, with many spaces to sit down and have a glass of wine, a cup of coffee, a sigh, a tear, or a laugh. The facility also provides various disability accommodations, and you can rent binoculars for $5 cash to see the actors up close from farther away.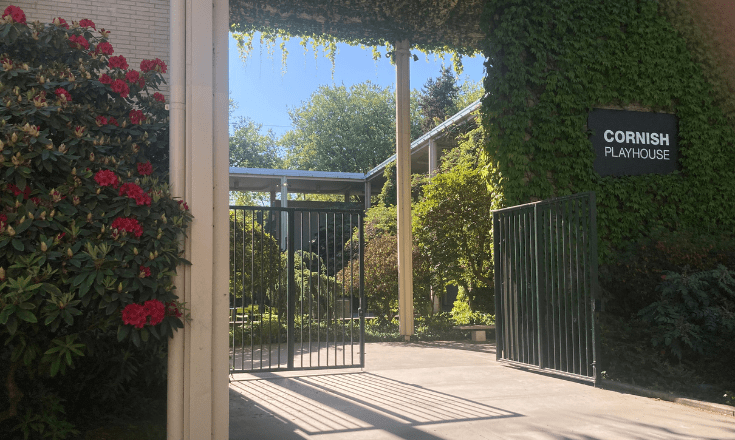 As I walked out of the opera house, I encountered a warm, sunny day of mid-spring, which strongly reminded me of my own home: Brazil. Strangely, I felt exactly like I imagine Violetta might have felt when seeing Alfredo return with his vows of love moments before her death. This was not the only moment I have emotionally related to characters in opera. As a listener, there may come a time in life in which you will find yourself sharing the thoughts and emotions of many iconic characters in the history of opera, which is but an honest portrait of the human spirit. A cathartic strength is found in classical singing technique, which demands the usage of one's entire body to produce a sound which is bigger than an audience of a thousand people. It's a sound which is not commonly heard nor produced by humans in our daily lives, but which our voices are certainly made for.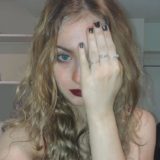 Sophia is an international student from Brazil, who recently moved to Seattle to pursue her higher education. Music, writing, and Science are her broadest and greatest passions. Sophia is a young classical singer, as well as an internationally published author with her book Primeira Pessoa. Despite being highly artistic and emotional, she bears great love for the Natural Sciences, and has the desire to pursue a Physics & Astronomy later in life. At the moment, she works for both the Seattle Collegian and the M. Rosetta Hunter Art Gallery. Within all forms of writing, she believes the greatest role of the writer is to bring forth the truth, the honesty, and the humanity that echoes within each one of us. Journalism, while Art, is for her a portrait of the fraternity of the Earth, in the broadest possible way.