To celebrate the start of the 2020 Winter quarter, the One World restaurant is open from January 21st to 31st with their Pacific Northwest menu. One World is located in Seattle Central College's Broadway-Edison building, at BE2120. Along with Square One Bistro, its a restaurant run by the college's culinary class students, and is part of Seattle Central College's culinary department. Since January 21st was their first open hour of the week, the place was busy preparing stuff and opened a little later than usual.  Before starting the meal, my impression of the place was that it was pretty clean. The walls are painted white and accented with wood furnishings, and a dark colored carpet with a tree look-alike pattern adorns the floor (as shown in the picture). There are two types of seating in One World: bar style tables, and regular tables. The regular table allows people to sit in a group of up to 6. One World is a good place for a small group gathering since no reservation is needed. Sometimes, the restaurant plays calm music for its customers. One positive thing about sitting on a bar-style table is that a customer gets to see the kitchen area, and watch the food being prepared. This gives customers a chance to see how clean the kitchen is as well as the food. 

The servers of the restaurant were nice, kind people with great service. After greeting us, they brought the restaurant's menu. They serve a wide range of drinks, from bottled water to beverages such as cola. For the dishes, the menu comes with two types for appetizers, and five types of entrees. The main dishes include soup and salad. A customer can choose between a salad and soup, and I chose salad over soup. While waiting for the dishes to be served, the restaurant offered drinks and a couple of slices of bread with cheese spread. One noticeable thing with their spread was that it came with coarse-grained salt. 

After waiting for a while, salad was served. The options available were Pomegranate-Tangerine Vinaigrette with two beets and rogue bleu fritters, or Cauliflower soup with bitty butternut squash and cacao nibs. The coarse-grained salt was sprinkled on the salad as well. This feature made this restaurant distinctive from other places, along with the pomegranates. The taste of beets felt like a good mixture of salty and sweet, which was impressive.

Then the appetizer, which consisted of licorice clams, big beans, house-made Bacon, and mojito pistou was served. Licorice clams and the bacon was excellent, and one noticeable thing was that the beans were delicious.

There are five options available for the entrees. Their availability depends on the kitchen situation. However, some of them may be unavailable at the time depending on the situation of the kitchen as they can run out of certain ingredients. I tried the Cider Braised Short Ribs, Celeriac Smash, and Frizzled Roots. The celeriac mash was soft, and the frizzled roots were the notable part, as they had a great taste. The ribs were cooked perfectly; not too raw and not too burned. They were soft enough so they were easily sliced with a knife.

Restaurants that serve haute cuisine are often thought of as a place where food will be served in small quantities. A positive thing about One World is that their cuisine will fit the needs of most customers, in both quality and quantity, and with reasonable price. Both the servers and chefs are very kind people. The kitchens are kept in hygienic condition, and the dining tables are always clean.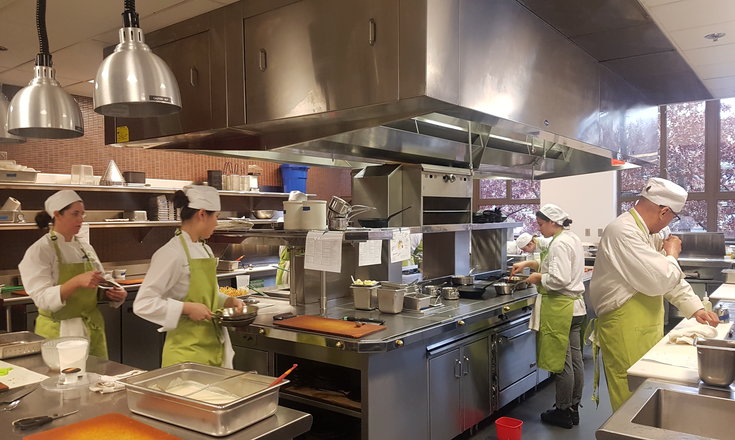 Another thing to point out, is that One World restaurant is a place focused on cuisines that may take a long time to cook. "If you are in a rush because you have a class starting soon, for example, we recommend you [try] Square One Bistro, which is also part of the school's culinary division," said the manager of One World. The opening hours are 11:15 a.m. to 1:00 p.m. It's because One World is a restaurant run by the students from the school's culinary classes, and it would be impossible to be open until late at night or early in the morning. To meet the various needs of different customers, gluten-free and vegan options are also provided.