The Seattle Weekly, formerly a weekly tribune, discontinued their run as The Stranger's predecessor and only alternative press rival, as of March 1, 2019. The last hard copy version of the paper was printed on Wednesday, February 27th. From their humble beginnings as an alternative to mainstream Seattle newspapers, the Weekly's relevance as a print paper has been compromised by the rising assimilation of local online publications like Crosscut and the Stranger's online publication, the Slog. Just as the Seattle Post-Intelligencer decided to adjust to an online-only format almost exactly ten years ago, current Weekly owners Sound Media have decided to discontinue the print version of Seattle Weekly's once widely available arts and culture journal.
Sasquatch/Quickfish Media created the Seattle Weekly in 1976. In 1997 the Weekly was sold to Stern Media. David Brewster, founder and publisher until Stern took over, might be the first to admit the lack of necessity for this paper being still in print. When Stern Media took over, the Weekly was still publishing substantial coverage of Seattle events; the publication had devolved from a weekly piece running up to some 200 pages to a bi-weekly piece seldom reaching more than 50 respectively. Brewster has admitted, after leaving in 1997, that the Seattle Weekly "hasn't made financial sense for a long time," and the decision to move to an online format might be the most logical step to ensure the publication will be able to continue having a successful staff of journalists.
As convenient as a free publication may be in terms of ad revenue and availability, the cost-to-price ratio doesn't prove to be an effective method of production. Just over four years ago, short-time publisher Bob Baranski laid off 6 of the 21 staffers at the Seattle Weekly, stating that the journal would be making the transition to "a variable-cost model, another way of saying freelance versus (full-time) staff." According to Baranski, a full time model did not establish the attention to detail needed to upkeep an establishment like the Weekly. Though at the time "optimistic" with his decision to cut almost a third of staff with little over a weeks' notice, this trend would only continue.Shortly after this mass layoff, Knute "Skip" Berger would declare his resignation from the paper, having served as the Weekly's Editor-in-Chief for more than a decade. Berger, someone hired shortly after the rise of grass-roots paper The Stranger became a mass-produced alternative to Seattle Weekly, would be one of many to give up their seat in the writer's room as the majority of staff would leave or be replaced at Seattle Weekly between 2005 and 2010. This mass-transition would be notable as what became a slow transition out of print and into an online format for the journal.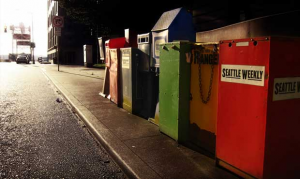 As daunting as this transition may be, looking realistically at how journalism has changed between now and 1976 may be the most mature and objective way to reach an audience of Seattleites. Berger, the aforementioned former editor of the Weekly, describes the paper in its past form as being a publication people paid for "aimed at yuppies, young professionals, on their way up," in the mid nineties. The relevance of print advertising has been on a rapid decline since that time. Seattle Weekly once was able to provide a platform for classifieds and personal ads, a trait that at the time was in high demand but has since been dominated by sites like Linkedin, Craigslist, and Glassdoor. In the present day, any young professional looking through a print paper for information to enterprise their career would be scoffed at. It is difficult to see the point in looking for a job in technology in what is now one of the most overlooked forms of media. Publications like Crosscut, the online alternative publication, will relish in this loss as the website is able to capitalize on a growing population of Seattle occupants- the technology industry.