In order to change the lack of diversity in STEM, collaborative efforts and programs at Central offer tools and support for navigating an often hostile environment for People of Color, LGBTQ+ and women majoring in math and science. Whether your major is in Computer Science or Environmental Chemistry, there are options for you to guide you on your STEM journey!
Recently, I had the pleasure of meeting with Marilyn Saavedra-Leyva (MESA director), Dr. Chelsia Berry and Dr. Wendy Rockhill (Associate Dean and Dean of Science, Technology, Engineering and Mathematics, respectively).
Dr. Saavedra-Leyva, Dr. Rockhill and Dr. Berry met with me to discuss the ways in which underrepresented students are able to thrive within their field of study. As Dr. Saavedra-Leyva mentioned, the most evident component needed for Latinx students to stay on track is their connection to a community where they feel safe to be themselves, and where they can relate to others by sharing the ups and downs of being a scientist who also happens to be an immigrant and of color.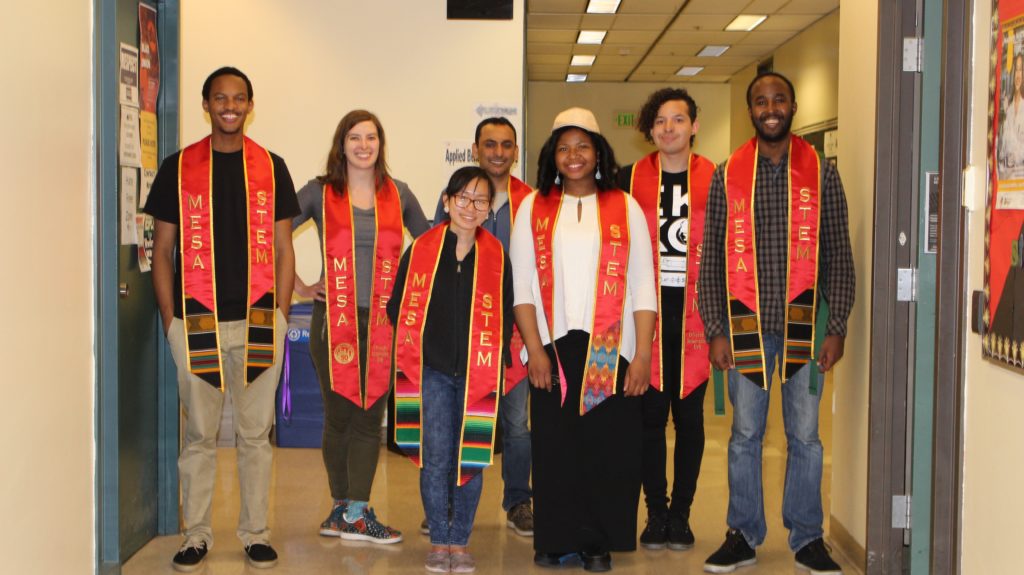 We also discussed these collaborative community-based efforts to attend to these needs. This  is where programs like MESA come in. In addition, representation within school leadership roles (such as the intentional hiring of more women of color) was also one of the key topics in our discussions involving the positive changes being made in order to ensure that our STEM students have the support and resources they need. Here are programs which are recommended by our faculty. Programs in this list have been selected as examples of what has been effective in promoting the equity and inclusion of Women, students of color, and those in the LGBTQ community.
MESA stands for Mathematics, Engineering, and Science Achievement.  A holistically-facilitated wrap-around service program, both MESA and Academic Support Excellence workshops provides support for the students. These organizations have been instrumental in the development of a new generation of young STEM leaders who come from groups traditionally underrepresented in the field.  Students are offered support services in their academic and professional goals, as well as a place to find connection in a welcoming community of other students who may often face similar systemic barriers. Before MESA, educators found that what was missing among the underrepresented students–many of whom are first-generation college students–was community at the school. At Academic Excellence workshops, students of similar backgrounds can study, eat and fellowship with each other, and support one another.
One point that Saavedra-Leyva wants students to remember is that coming from diverse backgrounds is an asset to becoming a scientist or mathematician. As she pointed out when discussing the long history of geometry which we see in traditional Indigenous art: "It's in our DNA".
 "It is best for the student to tell us what they need."
"It takes a lot of courage for students to advocate for themselves and issues which affect them because of the levels of intimidation commonly present between the student, instructor, and president", Dr. Berry states. "The leadership here attempts to break down those barriers that allow the students voices to be stifled." Quarterly luncheons with Seattle Central President Dr. Sheila Edwards-Lange, where students can express their concerns, lets students know that they have access to communication with key leaders and decision makers. Other leaders also allow and welcome students and their voices as they come in, assuring that those voices are the loudest. When it comes to our idea of what student success looks like, we cannot say what makes a student successful. Berry also says that,  "It is best for the student to tell us what they need."
Dr. Berry also informs us that the dynamic leadership at Central extends far beyond STEM. In fact, Dr. Edwards-Lange comes from a social-justice background with a focus on diversifying educational practices. The strategic plan for Central and the district, Dr. Berry informs, is one that focuses on eliminating institutional racism and gaining equity in diversity and inclusion. Dr. Berry adds, "Student success is a priority here and that's also exciting." Other goals Berry mentions are those surrounding student retention and completion, as well as recruitment within the district. Dr. Berry says she is "most proud to be here, because of the efforts in diversifying not just the STEM-pipeline, but education as it reflects the community in which we live."
Dr. Wendy Rockhill works with Dr. Berry at SCC's STEM-B division, where she has been the Dean for the last 10 years out of the 25 that she's worked here at the college. Rockhill adds that having a unique history of student activism and a community of involvement sets SCC students apart.
Collaborations such as those with Black Girls Code, STEAM (Science, TEchnology, the Arts, and Math), and NSF (National Science Foundation Scholarships) ensure that STEM students have opportunities to participate at the college and not have to go out and work outside of the STEM fields. Recalling the most recent event with Black Girls Code, Berry describes the event as,  "About 30 young African-American girls, ages 7-17, are able to come to campus and do lots of coding and robotics with those who are in the industry, and also work with student volunteers in order to gain early STEM Exposure."
Undergraduate Research Coursework is also helpful for students in that it provides added co-curriculum in undergraduate research which students can take with them when they go to UW, Seattle U, or whichever university they attend. These efforts are seen in research to diversify the STEM-pipeline in order to reflect the population that it reaches. This is why efforts to appoint those reflecting the diversity at Seattle Central are so important. Dr. Chelsea Berry, newly-appointed Associate Dean of STEM and Business, points out the fact that what makes Seattle Central special is that "it is a very liberal college central to the community which speaks to the needs of all students." She adds that "this means not only diversifying and differentiating instruction, but [also] the services that are provided here at the college."