Capitol Hill's new Jewish deli, Ben & Esther's Vegan Jewish Deli, opened last fall to excitement and curiosity. Seattle's bagel scene gets a new fighter every year, but the cruelty-free brisket and fishless Gefilte fish makes Ben & Esther's a strong candidate. Once inside, guests can expect the comforting nostalgia of homemade pickles and a hearty pasta salad waiting for them. Grab your laptop, your iPad, and a recording of that 8 a.m. lecture, because we've got a new Capitol Hill Study Sesh.
With my MacBook and my veggie bagel sandwich, I felt like Carrie Bradshaw in New York. Ben and Esther's location is optimal for people-watching, as you get a front-row seat to the eccentricities of our beloved Pike Street. Also, the limited coffee menu is pretty neat as well. If you're one to get overwhelmed by cinnamon toast crunch lattes or pistachio macchiatos, Ben & Esther's simplifies the complexity of the 2023 coffee climate. The deli's crowd was also eclectic. We know the establishment has roots in Portland, and its patrons reflect that. You'll get the typical Pacific Northwest essence of Carhartt beanies, trench coats, tiny framed glasses, and overalls; you're picturing that person in your head, you know what I'm talking about. The other half of the demographic was older, and one I don't see often in Capitol Hill, which was actually really lovely. The mix of ages makes the deli appear more like a community space rather than just a restaurant.
I also loved the music. They were playing Ice Spice, SZA, Frank Ocean, and PinkPantheress. I was singing out loud and didn't even think of listening to my own music. This was a very rare experience that I appreciated.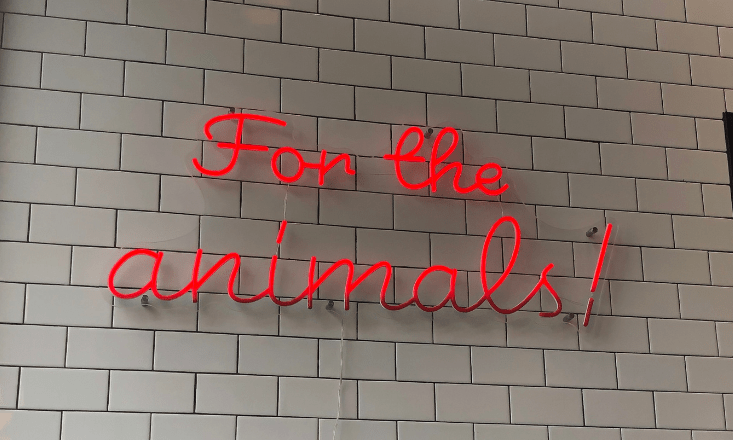 Onto my sandwich; I have a lot of mixed thoughts. I went with the hummus sandwich that consisted of onion, tomato, lettuce, cucumber, and hummus on a bagel. The bagel itself was dense but crunchy. It is on the more expensive side at $9. I know that we're in Seattle, but $9 for a bagel sandwich the size of a Bagel Bite was still a shocker. Also, no sides were offered with the sandwich. If I'm getting a hamburger, a sandwich, or even a hotdog, I'm expecting a free side. Where was it? I was expecting at least a pickle or some chips, but if you want that, you have to pay an extra $2. I didn't appreciate that aspect. The overall atmosphere was more of a pull for me than the food, but it was still good. If you just got paid, go for it! If it's the week before your next paycheck, maybe not.
This is more of a solo study spot. The space has two levels, but it is still tiny. If you bring a friend, don't, because seating isn't guaranteed, and trying to share a table will be a struggle. The older folks make it work, but their meetups are more casual and free from laptop clunkiness.
Ben & Esther's is a delightful surprise. The food is yummy, and the environment is unique blend of west-coast and east-coast sentiments, but the amount of space and the price of food might make the deli more of a rarity than a study location staple.
Price: $$-$$$
Ambiance: Casual, Fun, Laid-back
Music: Trendy, R&B, Hip-Hop, House, Pop
Best Time: Morning, Noon, Afternoon
Best Assignments: Discussion Questions, Essays, Applications, Quizzes, Anything with Research
Meet Haylee, a writer with a passion for the unique and the strange. When she's not writing for The Collegian, you can find her binge-watching Real Housewives or getting lost in the world of plane documentaries. When she's not in front of a screen, she's either tide-pooling or sipping on an oat milk latte, both of which provide her with a sense of peace and calm as a chihuahua dog mom. With a unique perspective and an eye for detail, Haylee uses journalism as a way to understand the world and the people that make it special.