On November 12th, a workshop session about sex was held through Zoom at 12 PM. Featuring La Shonda Lipscomb, the Director of Basic and Transitional Studies from the Seattle Central College and Sex Educator, the event focused on discussing sex and the importance of consent.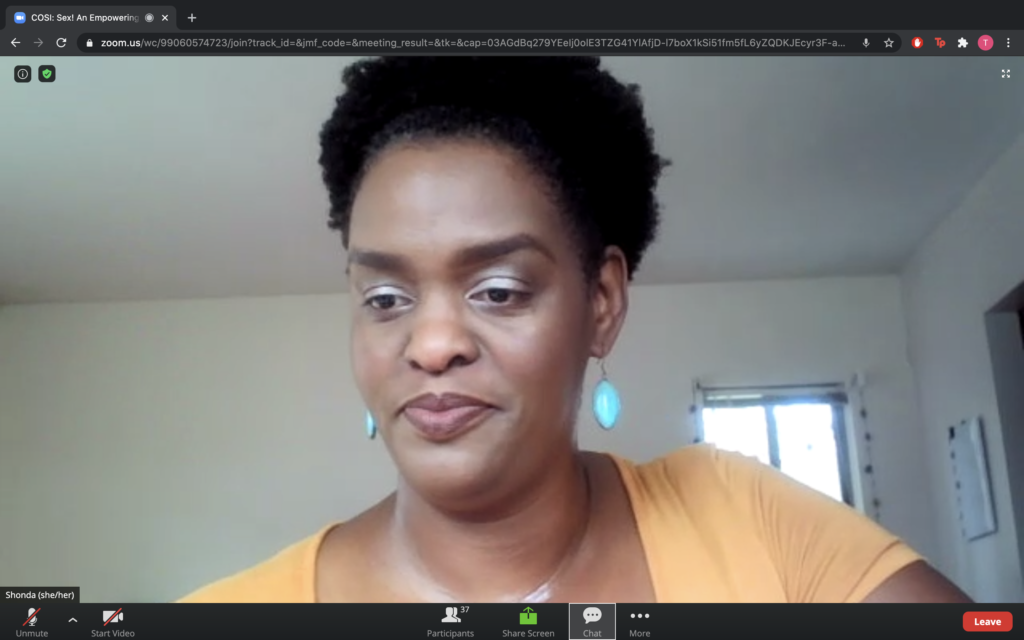 For starters, Shonda played the song "Taki Taki" by DJ Snake, setting up a fun, energetic and welcoming vibe before diving into the discussion. After a short introduction, Shonda began the discussion by talking about the reason why she decided to create the workshop today. As Shonda mentioned, sex is a topic that can be seen everywhere these days, however it is the fear of shame and difference that makes it so hard to talk about, and that is what inspired the workshop's intention: To open up together about sex and to help each other overcome the difficulty in the communications of sex.
To break the ice, Shonda started a discussion about the words used to mention private parts. Besides the original ones and the common slangs, everyone had a great opportunity to learn about terms from other languages and exclusive terms from different cultures. After a good laugh and giggles, the discussion moved on to the definition of sex.
Shonda began by giving out her own definition, which is very straightforward and scientific. Quite contrary to her definition, others coined the term as something that is more emotional, such as intimate, pleasure or understanding. After learning more about the definition of sex, members were invited to take a poll that surveyed whether sex is enjoyable and about having enough sex to feel satisfied and happy. It was really good to see that even though the pandemic is still going on, people are still able to find pleasure and feel good.
Shonda then broke the workshop members into two discussion groups, but not before going through the talk about shame. She defined shame as "A feeling of guilt, regret, or sadness because you have done something wrong". Shonda then introduced three questions to be discussed in breakout rooms:
Is sex "wrong"?
Answer: In short, sex is not wrong. It is something that is natural, and it is just people who tend to overcomplicate it into many different things. However, there are still certain situations where sex is wrong, such as nonconsensual sex, wrongful age of consent, and when power and authority affect sex. Because of these reasons, it is important to care about children, as they are one of the most vulnerable groups.
How does shame show up with sex?
Answer: Shame shows up in sex mainly because of the difference in the perception of beauty that people have and the fear of being body shamed. Other reasons included the lack of confidence to satisfy other partners or lack of boundaries and actualization during sex. Shonda noted that feeling happy and comfortable is extremely important since it is the key to not feeling shame.
What would sex look like without shame?
Answer: Without shame, sex would be something that is life-giving by making us feel empowered. It also gives us a great opportunity to open-up with other people and learn more about different cultures.
As the participants returned to the main meeting room, they spent a moment to discuss how the cultural differences around the world regarding sex are so fascinating. Shonda and others shared experiences they have had in different countries, where they didn't have to rush and "feel awkward when leaving quickly afterwards because they are strangers".
The discussion moved on to one of the most important points of the workshop: Consent. Shonda emphasized how consent is everything in sex. To better understand the importance of consent, members were shown simple guides to improve their communications, and even had a chance to practice by playing a small scenario game. Many of the responses were very helpful and logical, and some of them gave people good laughs.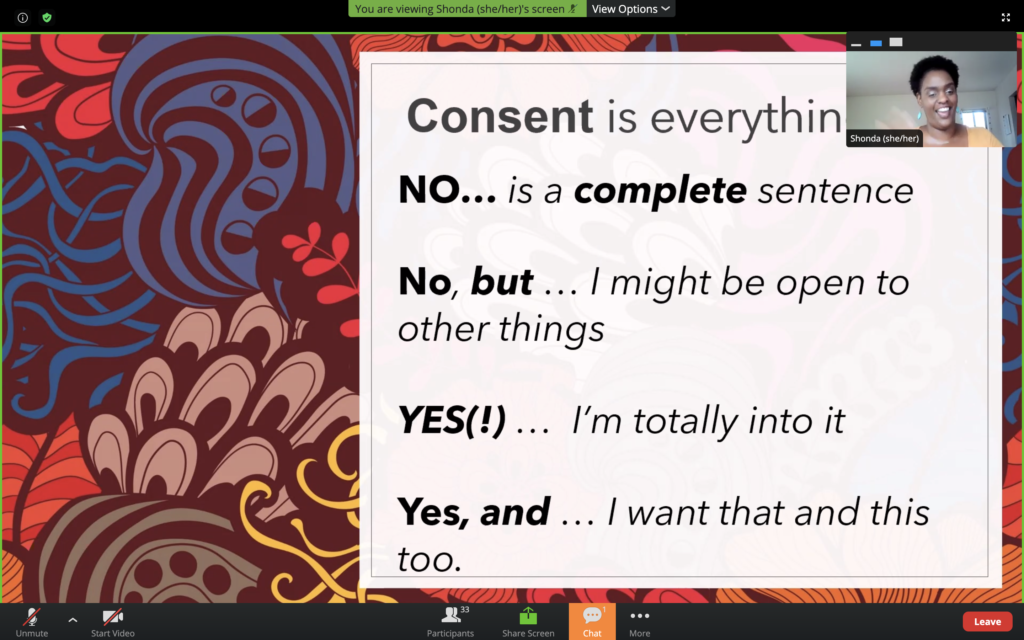 To conclude, Shonda gave members tips for a better sexual experience regarding understanding each other, frequent communication, the importance of hygiene and safety during sex, and constant check-ins on both sides. After that, Shonda wrapped up the discussion, wishing all the best and pleasures, and bid everyone goodbye.