In the shadow of T-Mobile Park, on a night when the Mariners face off against the Texas Rangers in a must-win game to keep their postseason hopes alive, a much more intimate spectacle is about to take place in a nearby performance space. This performance is as far removed from the world of professional sports as you could get. I am about to enter into a world of abrasive noise and conceptual performance art. I am about to enter the Teatro de la Psychomachia.
According to co-founder Vanessa Skantze, "Teatro de la Psychomachia is a ritual performance space hosting national and international sound, movement, text, and performance artists since 2010." Herself an artist and performer initially working in text-based and spoken word formats, she transitioned to movement in 2001 founding the movement-based-improvisation ensemble Death Posture with Donald Miller and Rob Cambre in New Orleans. In 2003 she became a student of Jinen Butoh founder Atsushi Takenouchi and trained under Butoh leaders such as Mari Osanai, Seisaku, Yuko Kaseki, and Natsu Nakajima, who is credited as the first female Butoh dancer and one of the first to introduce the style to Western audiences. Vanessa occasionally lends her captivating movements as a visual accompaniment to musical acts, performing with Peter Kowald, Jarboe, Tatsuya Nakatani, and most recently with death industrial act To End It All. Having studied movement for over two decades, she now teaches workshops on yoga and Butoh at Teatro de la Pyschomachia.
The space is artfully curated and imbued with a sense of gothic romanticism blended with pagan mysticism. Red lace curtains adorn the windows, dead dried flowers hang, and sculptures made of bone stand next to shelves covered in mementos and trinkets, many of which have some spiritual quality. Rows of wooden folding chairs line the back of the room, while the front row is made up of comfy cushions on the floor.
"The space is created to allow an enveloping of the audience by the vision and energy of the performers in an intimate environment," says Skantze.
The space is indeed intimate as it is not only her studio — but her home. Like any good host, Vanessa offers water and earplugs for those in need. I'm grateful, as I realize mine are not in my bag as I had initially thought.
The first performer is RN White, which is the harsh noise wall project of scene fixture Rachel LeBlanc. At times seated at a table covered in effects pedals and other noisemakers and manipulators, she begins to build a sonic squall. Microphone in hand, she uses her voice to color the cacophony with anti-capitalist commentary. She gets up and restlessly belts and builds the intensity. The swell subsides and a percussive thrum emerges, pulsing steadily as LeBlanc returns to her seat to craft another wave of aural abrasion. Again, as the intensity reaches its zenith, she is on her feet letting out one final howl before returning to her seat. Seemingly spent from breathing fire into the room, the noise slowly subsides.
Next up is Portland-based power electronics act Sleeping With the Earth. Old black and white footage of newborn kittens is projected behind the performer and his table of equipment. The set starts slowly with droning swells of low end creating a bass-heavy foundation. Occasionally taking out a small flashlight to see the multitude of knobs and buttons on his boards in the darkened room, samples are triggered and manipulated as felines frolic on the screen behind. Sounds collide with tectonic force as the performer begins to scream into his microphone over the wall of noise. Dissonance dissipates and a warped piano melody warbles and fades. The intensity of the sonic assault soundtracking wholesome footage of kittens at play is an immensely entertaining juxtaposition.
Compactor is next in the lineup. The New York-based industrial performance artist embodies the guise of "The Worker." His output is highly conceptual and influenced by the plight of the American working class. Donning a gas mask and military style clothing, The Worker is a representational laborer toiling under the brutal capitalist regime of the fictional Waste MGT Corporation. Through this avatar, Compactor uses repurposed electronics and makeshift instruments to build a bombastic, anti-capitalist soundtrack. He is draped in chains and what looks like a cigar box guitar masquerading as a mallet. Contact mics pick up percussive strums and the rattling clang of the chains. Behind the Worker are projections of shackles, at-will employment contracts, coins and dollar bills behind chains, and hypnotic spirals suggesting we have been brainwashed by the robber barons subjugating us into wage slavery. The set is derived from the latest Compactor album, United, which takes its influence from the Pullman Strike of 1894 that resulted in a massacre at the hands of the US military. While labor policies have softened in the century since, Compactor is here to remind us that we are still far from free in this brutal capitalist society.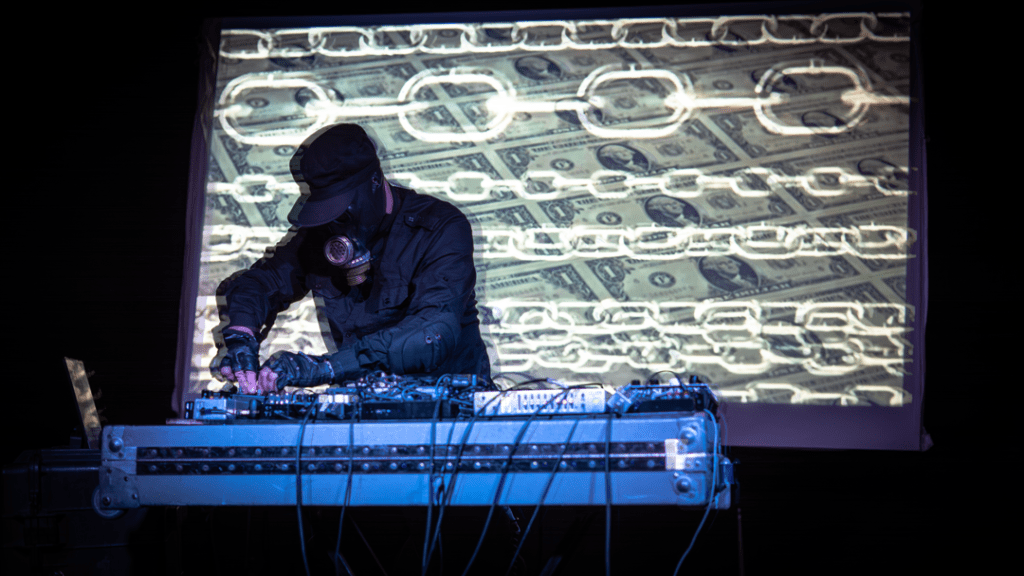 The final act of the night is Lye Feast, the death industrial guise of Serpentent's Anne K. O'Neill. Waiting behind the black curtain that partitions off the performance space, LeBlanc assists by tapping one of the effects pedals before joining the audience. The music begins to swell and drone as desaturated projections of bubbling, swirling water lights up the screen. The performer slowly emerges from behind the curtain. Crawling on all fours, adorned in a black cloak and wrapped in chains that clang against the wooden floor with every move, slowly dragging herself towards the equipment across the room. All the while growling and hissing some seemingly sinister prophecy. Rising up at the center of the room, we see her stark face painted white and red in a manner similar to black metal corpse paint. Writhing and contorting, fully immersed in the character she inhabits, O'Neill eventually makes her way to the pedalboard and mic situated stage right. From there the music is distorted and becomes increasingly imposing. She continues to writhe and hiss as it all builds to a fever pitch. The audience is fully entranced by the horrific spectacle. Following the theatrical climax, O'Neill breaks from character to thank and inform the audience of her lone piece of merch; A t-shirt. Proceeds of which go towards the legal fund for the activists in DeKalb County, Georgia, fighting the much-maligned "Cop City" project.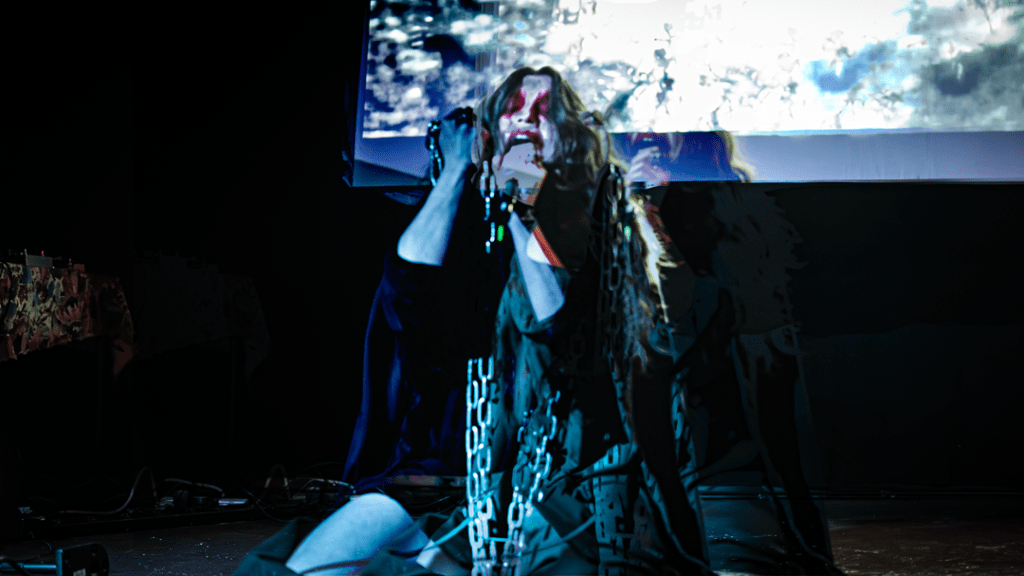 After the show I asked LeBlanc for her thoughts on performing here. She says, "The feeling of performance at Teatro de la Psychomachia is ineffable. It's one of those places you hear about in much more cosmopolitan cities but don't think exists here in Seattle." Indeed, spaces like this are rare and often ephemeral as cities grow and shift in demographics. She points to many of the independent spaces that have shuttered in the last five years. Yet Teatro de la Psychomachia persists.
"They've just been quietly doing their thing, and I bet that's part of why they've lasted so long," remarks LeBlanc. "They provide a very intimate experience as a performer that you don't really get anywhere else in Seattle. It feels very special in a way that's hard to pin down."
Here's to hoping this unique and intimate venue continues to provide a space for artists and performers to share their creative energy with the community for years to come.
If you'd like to know more about Teatro de la Pyschomachia, visit their Facebook page or follow on Instagram @pyschomachia.arts. If you're interested in setting up a show or hosting a workshop, please email Vanessa Skantze at pychomachia.arts@gmail.com.
Art damaged music nerd occasionally hugging trees and decrying the brutal nature of capitalism.