On April 16th, Seattle Central college faculty, staff, and students all took part in the ROC Walk Out. North and South Seattle Colleges also participated. ROC stands for ReInvest in Our Colleges, and it was sponsored by the American Federation of Teachers (AFT). At the Seattle Central campus, our very own Ruth Contreras (reporter) and Bryant Ouch (videographer), were on the scene to document the event, interviewing the participants and speakers, including the college President Sheila Edwards Lange and Councilwoman Kshama Sawant. Check out the video below, and look for our full coverage article in our next print edition, coming soon!
For background on the walkout, click here.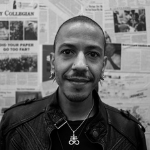 Astro (they/them) is the Editor-in-Chief of the Seattle Collegian, the President of Seattle Central's Queer Cooperative club, a fully-professed Guard with the Sisters of the Mother House of Washington, a social worker and behavioral scientist, founder of Transgender Day of Remembrance at Seattle Central (TDoR), Board Member-At-Large with Diversity Alliance of Puget Sound (DAPS), and a self-identified Queer-Alien-Person-Of-Color. They have won awards for their journalism and community service work as well as for innovation in leadership and academic excellence, and are an active and outspoken advocate and activist for both the LGBTQ+ and recovery communities. They speak regularly at events relevant to these causes, and work closely with their fellows to support these communities. Social justice, diversity, equity and inclusion are their banners, and their belief in the gifts, strengths, and resilience of all minoritized communities is the driving motivation behind their work and their mission: using the powers of journalism, self-expression, creativity, conversation and connection to uplift and foster acceptance for all peoples.