On Oct. 27th, 2020, M. Rosetta Hunter, former associate dean of humanities and social sciences at Seattle Central College, passed away. 
Her career at Seattle Central began as a member of the faculty teaching courses in the Social Sciences Division before being promoted to the dean of the Humanities and Social Sciences Department.
As a dean, she founded and developed the Coordinated Studies Program, now called Learning Communities. This program challenged a diverse population of faculty and students to exchange, respect, and learn from different yet confluent perspectives and disciplines. Teams were sent across the country to train other faculty on how to replicate this program's success.
She also established the Jazz Program, expanded the Drama Program, and defended the arts. An exchange program with Evergreen State faculty was included in her vision for building learning communities as a pedagogy. She hired activist faculty and was a dedicated social activist.
"Rosetta defined the socially aware education that Seattle Central came to be known and honored for," said Peter Knutson, a professor in the Anthropology department at Seattle Central. "As a dean, she was concerned that both students and faculty grow intellectually, politically, and inclusively. Life-long learning was her mantra. She was a woman with a powerful, transformative, liberatory vision of education. She was not afraid to hire offbeat faculty like myself who evidenced active commitments to social justice."
Dean Hunter's commitment to the goals of inclusion and diversity enabled Seattle Central to have the most diverse personnel of any of the community colleges in the Pacific Northwest. The interdisciplinary and multicultural curriculum was unmatched.
Due to her creative leadership, Seattle Central was named the "Best Community College in the United States" in 2001 by Time magazine.
"She had a sense of humor and a zest for life," said Tracy Lai, a professor in the history department. "As a sociologist, she wanted students to grab hold of life and make it their own … She led by example and inspired many others to take risks and make a difference."
Seven years ago, when she returned to Seattle to celebrate her 80th birthday, Seattle Colleges held a gala in her honor and announced the M. Rosetta Hunter Scholarship.
"I was very fortunate to be mentored by her and other colleagues of color in collaborating through Coordinated Studies," Lai continued. "Rosetta strongly supported several team-taught programs", said Lai, which included "Speaking for Ourselves" which talked about communities of color's history and social justice movements and "Eyes on the Prize" which dealt with the civil rights movement through firsthand accounts and literature.
The M. Rosetta Hunter Art Gallery at Seattle Central College was also named in her honor and for her abundant love and support for the arts.
The gallery targets the college population as its primary audience and source of support. It provides vital opportunities for Seattle Central's students in the visual arts to exhibit within a formal setting. Through the gallery, emerging artists gain exposure and recognition of their work.
The gallery typically presents nine exhibits throughout the academic year and one show during the summer quarter.
It is tragic to hear of the death of a diligent and passionate spirit, especially at a time where the country is at the brink of chaos. Rosetta Hunter's work for Seattle Central will continue to be remembered for a long time.
"While her legacy lives on, Dean Hunter will not be replaced," Knutson acclaimed.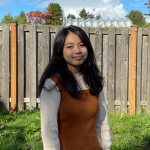 Alex Su is a Biochemistry student and a staff writer at the Collegian. Harboring a passionate love for fiction, she enjoys writing prose as much as reading books. She's fascinated by the complexity of living things and aims to work in the medical field. She likes writing for the Collegian as much as bullet journaling, drawing, and eating.