A COSI talk on the misrepresentation of Juneteenth, the widely known date of June 19, was held via Zoom on May 27. The talk featured Carl Mack, former president of Seattle King County NAACP and former executive director of the National Society of Black Engineers. Mack emphasized the importance of learning our correct history.
Mack dove into the topic of conversation quickly, explaining how the majority of people, including government officials, mistake Juneteenth as the day chattel slavery was abolished in the US. He listed the 49 states that have approved June 19 as a paid or legal state holiday so far (South Dakota is the only holdout state).  He emphasized that he had no problem with celebrating Juneteenth as long as it was celebrated with the correct reason and history in mind. 
Mack used the proposed legislation from Washington state as an example of how widely misrepresented Juneteenth is. In said legislation, it stated that it "intends to designate Juneteenth as a state legal holiday to celebrate the end of chattel slavery." Mack informed us that other states have used similar language to describe Juneteenth as a holiday. He provided another example from Virginia state where the governor, Ralph Northam, stated, "It mattered then because it marked the end of slavery in this country." 
Mack emphasized the lack of scholarship among the people and even among government officials. He explained how Juneteenth came to be because despite the fact that Abraham Lincoln's Emancipation Proclamation was issued more than two years earlier on January 1, 1863, the order was not received in Galveston, Texas due to the lack of Union troops in the state. 
He went on to explain how an amendment becomes an amendment. He clarified that Georgia was the 27th state to ratify the proposal, which became the 13th Amendment on December 6, 1865 and ended chattel slavery. This obviously means that slavery did not end on June 19 that year. In the six months leading up to the creation of this amendment, there were still 225,000 slaves in Kentucky and Delaware. 
He then showed us what 225,000 people look like with a picture of the 1963 March on Washington. 
Mack then emphasized that it would not have mattered for the slaves in Galveston, Texas if the slave owners got word of the proclamation that day. This was because Texas had already been a part of the Confederacy. Eleven states, South Carolina, Mississippi, Florida, Alabama, Georgia, Louisiana, Texas, Virginia, Arkansas, Tennessee, and North Carolina banded together to form their own nation. "They elected their own president and wrote their own constitution", Mack said. "They would not have listened to Lincoln."
Mack concluded the talk by reiterating that June 19 is not the day the last slaves in the US were freed. "I understand ignorance," he said. "But there's ignorance and there's stupidity." He encouraged the participants to share this valuable information with others. "Truth matters and Black lives matter," Mack said. "These 225,000 souls matter."
Mack mentioned Carl Livingston and thanked him for listening to him and accepting the true history. "We can celebrate it as long as we celebrate it truthfully," Livingston said. The discussion ended with Mack and Livingston sharing a wholesome moment of gratitude towards one another. Mack then wrapped up the talk and wished everyone a good day.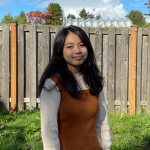 Alex Su is a Biochemistry student and a staff writer at the Collegian. Harboring a passionate love for fiction, she enjoys writing prose as much as reading books. She's fascinated by the complexity of living things and aims to work in the medical field. She likes writing for the Collegian as much as bullet journaling, drawing, and eating.